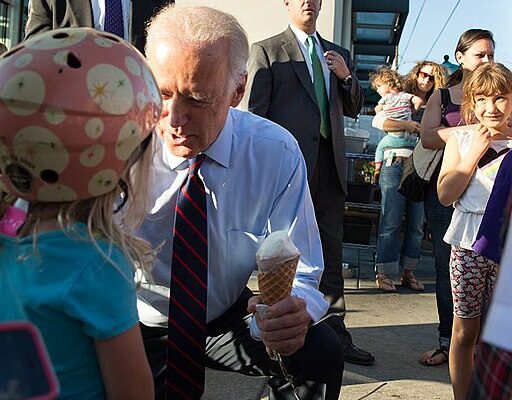 The World Professional Association for Transgender Health recently released an announcement saying that children as young as 14 who believe they are the wrong gender should begin to receive sex hormone conversion therapy and Democratic officials, including President Biden, are in full support. The group also announced that it believes the appropriate age for a person to have their genitals removed is between 15 and 17, roughly a year younger than their previous guidance. 
The association provided The Associated Press with an advance copy of its update ahead of publication in a medical journal, expected later this year. The international group promotes evidence-based standards of care and includes more than 3,000 doctors, social scientists and others involved in transgender health issues.

The update is based on expert opinion and a review of scientific evidence on the benefits and harms of transgender medical treatment in teens whose gender identity doesn't match the sex they were assigned at birth, the group said. Such evidence is limited but has grown in the last decade, the group said, with studies suggesting the treatments can improve psychological well-being and reduce suicidal behavior.

Starting treatment earlier allows transgender teens to experience physical puberty changes around the same time as other teens, said Dr. Eli Coleman, chair of the group's standards of care and director of the University of Minnesota Medical School's human sexuality program.

But he stressed that age is just one factor to be weighed. Emotional maturity, parents' consent, longstanding gender discomfort and a careful psychological evaluation are among the others.

"Certainly there are adolescents that do not have the emotional or cognitive maturity to make an informed decision," he said. "That is why we recommend a careful multidisciplinary assessment."
The group acknowledged "potential risks" but said withholding early treatment is "unethical and harmful," and thus worth it. But, "potential risks" is a misleading euphemism. The New York Times reported in January, "Some of the drug regimens bring long-term risks, such as irreversible fertility loss. And in some cases, thought to be quite rare, transgender people later 'detransition' to the gender they were assigned at birth. Given these risks, as well as the increasing number of adolescents seeking these treatments, some clinicians say that teens need more psychological assessment than adults do." 
President Biden has thrown the full power of the presidency behind allowing minors to take hormone therapy or have their biological genitals removed without any state or parental restrictions. The president signed an "Executive Order on Advancing Equality for Lesbian, Gay, Bisexual, Transgender, Queer, and Intersex Individuals" on Wednesday. 
Sec. 3. of the order addresses "Exposure to So-Called Conversion Therapy" and does the following:

(a) The Secretary of HHS shall establish an initiative to reduce the risk of youth exposure to so-called conversion therapy. As part of that initiative, the Secretary of HHS shall, as appropriate and consistent with applicable law:

(i) consider whether to issue guidance clarifying for HHS programs and services agencies that so-called conversion therapy does not meet criteria for use in federally funded health and human services programs;

(ii) increase public awareness of the harms and risks associated with so-called conversion therapy for LGBTQI+ youth and their families;

(iii) increase the availability of technical assistance and training to health care and social service providers on evidence-informed promising practices for supporting the health, including mental health, of LGBTQI+ youth, and on the dangers of so-called conversion therapy; and

iv) seek funding opportunities for providers of evidence-based trauma-informed services to better support survivors of so-called conversion therapy.

(b) The Federal Trade Commission is encouraged to consider whether so-called conversion therapy constitutes an unfair or deceptive act or practice, and to issue such consumer warnings or notices as may be appropriate.

(c) To address so-called conversion therapy around the world, within 180 days of the date of this order, the Secretary of State, in collaboration with the Secretary of the Treasury, the Secretary of HHS, and the Administrator of the United States Agency for International Development, shall develop an action plan to promote an end to its use around the world. In developing the action plan, the Secretary of State shall consider the use of United States foreign assistance programs and the United States voice and vote in multilateral development banks and international development institutions of which the United States is a shareholder or donor to take appropriate steps to prevent the use of so-called conversion therapy, as well as to help ensure that United States foreign assistance programs do not use foreign assistance funds for so-called conversion therapy. To further critical data collection, the Secretary of State shall instruct all United States Embassies and Missions worldwide to submit additional information on the practice and incidence of so-called conversion therapy as part of the Country Reports on Human Rights Practices.
Biden and his liberal supporters are purposely deploying the term "conversion therapy" when discussing minors receiving gender reassignment surgeries and taking puberty blockers because it conjures up images of "gay conversion therapy" or "praying the gay away" instead of insisting a 16 year old girl, for example, speak to a psychiatrist before having her breasts removed, or "top surgery" as part of a transition to identifying as a man.  
Prominent gay activist, writer, and political commentator discussed the sleight of hand with New York Times writer Jane Coaston, who identifies herself as queer. The latter wrote, "Yes, therapy aimed at making people not be trans is conversion therapy, and conversion therapy is bad." on Twitter, and was responded to by Sullivan who asked, "So no therapy for children seeking to permanently change their bodies? Just instant affirmation and fast-track to puberty blockers and hormones? That's your suggestion?"
When challenged that Coaston did not mean what he suggested she meant, he added context to his initial response: "Yes it is. If it isn't I'm sure she will respond. But this is the model being proposed by the far left and Biden. The minute a kid says they're the opposite sex, they have to be taken to be trans….This is rooted in the assumption that *any* questioning of a kid identifying as the opposite sex is "conversion therapy". These activists use language to deceive and manipulate."
He continued: "The current debate is whether an exception should be made to accommodate children saying they are the opposite sex. The new orthodoxy is that this should be definitive: the patients' self-diagnosis. Questioning it is "conversion therapy."
When asked if 14 year olds should receive therapy when they come out as gay, Sullivan explained the difference, writing, "Of course not. But they're not planning to irreversibly change the core endocrinology of their bodies. Gay kids need no medication or intervention. Which is why the T attachment to the G in this case is so outrageous." Coaston later responded by saying she wasn't talking about medical transition but social transition. 
The first writer to endorse same-sex marriage in the United States, Sullivan has been outspoken in his criticism of the rising "queer theory," which he has argued will unravel gay rights by not acknowledging the reality of biology. 
Democrats have taken the completely opposite tack. They seem to believe that fighting this kind of "culture war" will be popular with regular voters. Politico noted that the president's executive order "comes on the heels of Florida Gov. Ron DeSantis' move to end gender-affirming care for minors. The Republican governor also banned Medicaid from covering treatments such as hormone replacement therapies and sex reassignment surgery.
Republican Gov. Greg Abbott in February ordered the Texas Department of Family and Protective Services to investigate parents who provide their children with gender-affirming care, comparing it to 'child abuse.'"
Biden is not the only Democrat who believes that focusing on LGBTQ issues might save the midterms for the party. Earlier this week, Speaker of the House Nancy Pelosi walked down the runway on a drag queen television show. 
Michigan Attorney General Dana Nessel told a civil rights conference that "Drag queens make everything better. Drag queens are fun." before ending with, "A drag queen for every school." 
New York Mayor Eric Adams recently stated, "Drag storytellers, and the libraries and schools that support them, are advancing a love of diversity, personal expression, and literacy that is core to what our city embraces." 
The tactic does not seem to be working. On Tuesday, Republican Mayra Flores flipped a South Texas congressional district with a population that is 85 percent Hispanic. Barack Obama won the same district by over 20 percent in 2008 and 2012. The conservative Flores will be the first Mexican-born person to serve in the House of Representatives. 
[Read More: Hunter says that Joe thinks 'he's a god.']