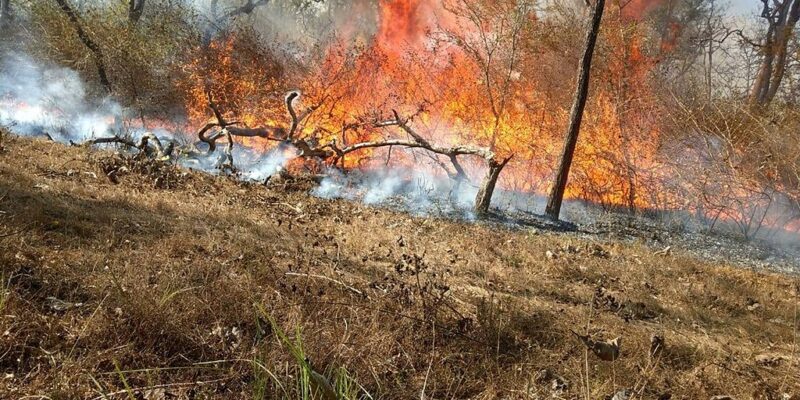 Climate Change is often blamed for the bad things that happen in the world. In 2013, a cabbage shortage in Ireland was blamed on it. Getting angry in traffic too. In 2015, it was blamed for causing longer flights. Others have blamed their dogs fleas on Climate Change. Forest fires are almost always pinned on on Climate Change, especially when blame can easily be attributed to people being bad at their jobs.  
Yahoo senior editor Ben Adler recently pointed to climate change in a recent as the reason for the current inferno occurring in New Mexico. He described the scene in The Land of Enchantment: "The smoke emerges, like a white veil draped across the sky, on the drive up from Albuquerque to this picturesque city of 84,000. Historically, New Mexico's wildfire season begins in May or June, but this year, wildfires sprung up in the drought-parched New Mexican desert in April. By April 23, more than 20 wildfires were burning in 16 of the state's 33 counties. Last week, two of them merged into one megafire, the Hermits Peak/Calf Canyon Fire."
Adler also wanted to make sure we knew who the culprit was. He wrote, "Scientists say that this is not just a freak occurrence but rather the new normal caused by climate change." It turns out, however, that climate change may have had some help from the United States Forest Service just lighting forests on fire on accident.
Reuters reported, Two blazes that grew into New Mexico's largest ever wildfire were both started by the U.S. Forest Service (USFS), the agency said on Friday, prompting the state's governor to demand the federal government take full responsibility for the disaster.

Forest Service investigators determined the Calf Canyon Fire was caused by a "burn pile" of branches that the agency thought was out but reignited on April 19, the Santa Fe National Forest said in a statement.

That blaze on April 22 merged with the Hermits Peak Fire, which the USFS started with a controlled burn that went out of control on April 6, the agency previously reported.

The combined blaze has so far torched over 312,320 acres(126,319 hectares) of mountain forests and valleys, an area approaching the size of greater London, and destroyed hundreds of homes.

"The pain and suffering of New Mexicans caused by the actions of the U.S. Forest Service – an agency that is intended to be a steward of our lands – is unfathomable," New Mexico Governor Michelle Lujan Grisham said in a statement.
The USFS has been performing planned burns in American forests for years. CNET has explained, "The basic idea is to reduce the amount of fuel in the forest so that when a fire inevitably does roll through, it's easier to contain and less likely to lead to a devastating crown fire. Crown fires can happen when abundant fuel load on or close to the ground feeds a fire that burns up to the forest canopy, leading to widespread destruction of the forest and anything else in its path." 
Ronald Moore, a fire service chief with The Forest Service, said in a statement that "In 99.84 percent of cases, prescribed fires go as planned." 
Oopsie Daisy, I guess. 
Don't worry, Moore continued by explaining that accidentally causing a massive forest fire and then blaming it on climate change could be blamed on climate change. He concluded, "Wildfires are increasingly extreme because of climate change, drought and dry fuels across many parts of the country. Prescribed burn operations are essential tools managers need to protect communities and first responders, improve forest conditions and reduce the threat of extreme fires."
Good to know. 
[Read More: Are We Approaching Recession?]