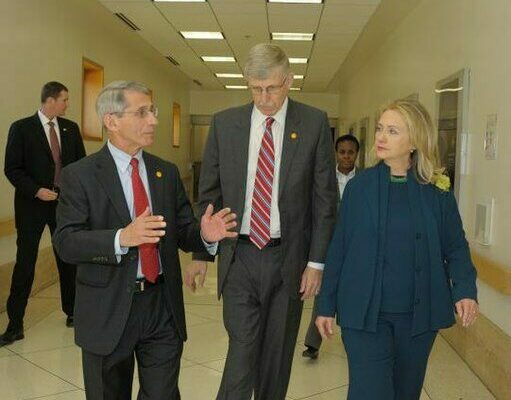 When Barack Obama appointed Francis Collins as head of the NIH in 2009, it came as a slight surprise. Collins, famous for leading the Human Genome Project, which mapped all the genes that make humans human, also wrote a best-selling book called The Language of God: A Scientist Presents Evidence for Belief. 
Obama's nominee was, predictably, harshly attacked by atheists and scientists because he believed in Christ. Slate wrote at the time, "When rumors of the appointment began to circulate in May, University of Chicago professor Jerry Coyne blogged, 'I'd be much more comfortable with someone whose only agenda was science,' saying he was worried 'about how this will affect things like stem-cell research and its funding.' (In fact, Collins is clear on his support of stem-cell research.) Sam Harris was predictably unimpressed with Collins' ideas. 'Most reviewers of The Language of God seem quite overawed by its author's scientific credentials,' Harris wrote shortly after it was published. "His book, however, reveals that a stellar career in science offers no guarantee of a scientific frame of mind.' 
Things may have become clearer during his tenure as the leader of NIH. The Daily Caller is reporting that his agency recently worked with a university to cover up anger about running scientific tests on the bodies of aborted infants. 
"The National Institutes of Health (NIH) appears to have colluded with the University of Pittsburgh (UP) to dispel public outrage over its research on human fetal remains, including those obtained through abortions, according to documents obtained by Judicial Watch through a Freedom of Information Act (FOIA) request.

Dr. Jeremy Berg, associate senior vice chancellor for science strategy and planning in the health sciences at UP, asked then-director of the National Institutes of Health (NIH) Francis Collins for help in combatting negative media coverage in October 2021 after its experiments on human fetal remains were made public through a FOIA request. The NIH then arranged a meeting with UP to discuss the matter, emails revealed.

"Taxpayer funds obviously were being used because there were government officials at NIH working with the University of Pittsburgh to try to mitigate the public outrage at the fetal chop shop that was being run up there with public financing," Tom Fitton, president of Judicial Watch, told the Daily Caller News Foundation.

"It seems that this is an organized attempt to delegitimize science based on fetal tissue rather than to identify misbehavior (although, of course, any misbehavior does create opportunities for outrage)," Berg's email to Collins said. "In light of this, we feel that the scientific community would benefit if more institutions could stand together to take some of the power out of the one at-a-time strategy that appears to be operating."
This is not the first time that the NIH has been charged with an alleged cover-up under Collins's leadership. Republican members of the House Select Subcommittee on the Coronavirus Crisis have been demanding an investigation into whether the American government, via the NIH, funded research, with the approval of Anthony Fauci, conducted at the Wuhan Institute of Virology that may have launched the coronavirus pandemic that has transformed much of the world over the past two years. 
The Washington Examiner recently reported, "The calls center on a group called EcoHealth Alliance and its president, Peter Daszak, who received taxpayer-funded grants to conduct gain-of-function research on bat coronaviruses in Wuhan. EcoHealth and Daszak violated the grant terms and potentially worked to hide the origins of COVID-19, according to the members.
EcoHealth received $3.7 million from the National Institutes of Health in 2014 to study bat coronaviruses. NIH has said that the viruses studied under the grant were too divergent from COVID-19 to have caused the pandemic."
This is not the first time that Collins has allowed Fauci to play mad scientist. Last year, a watchdog group reported that the Chief Medical Advisor to the President of United States also funded sickening tests on puppies in which dogs were "eaten alive" by flies infected with diseases. "Fauci's NIAID used taxpayer funds to drug beagles and lock their heads in mesh cages filled with hundreds of infected sand flies." The story led to PETA calling for everyone at NIH to resign.
Both Collins and Fauci have been routinely criticized for trying to shut down all criticism and debate of the COVID-19 pandemic. Francis Collins retired from NIH at the end of 2021. 
[READ NEXT: How Much is an Eagle Worth? Feds Fine Green Energy This Much Over Eagle Deaths]