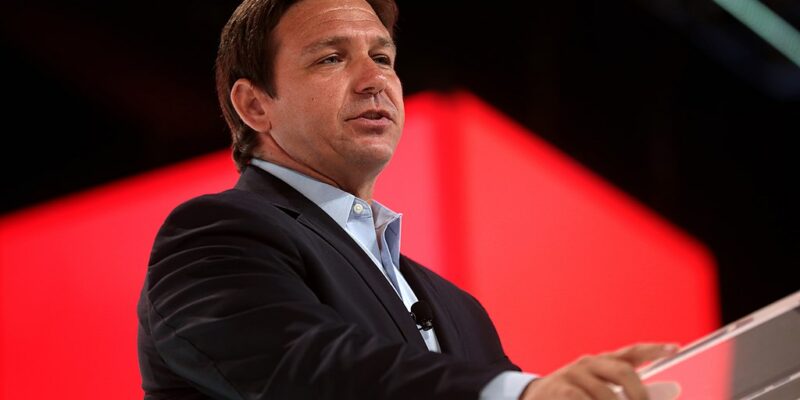 Florida Governor Ron DeSantis has shown that he's unafraid of taking on the big guys. Disney has run the Sunshine State, getting millions in subsidies, for a very long time. Democratic and Republican governors, including former governor Jeb Bush, have bent backward to protect them. The megacorp could do anything it wanted.
Not anymore. As we reported previously, "Florida Governor Ron DeSantis recently took on one of the biggest influencers in his state. Defending a potential law that would prohibit classroom instruction of sexual orientation and gender identity in kindergarten up to third grade, the Navy lieutenant commander said, 'The chance that I am going to back down from my commitment to students and back down from my commitment to parents' rights simply because of fraudulent media narratives or pressure from woke corporations, the chances of that are zero.'"

Now the tough-nosed governor is even going a step further. For decades Disney World has been allowed to be its own little fiefdom outside of Orlando. Literally, a "kingdom" with its own rules called the Reedy Creek Improvement District. For over 55 years this "special zone" has given the company "considerable control over the planning and permitting process for construction on its 25,000-acre property, including road building. Reedy Creek also levies taxes on Disney to pay for the resort's own fire and medical response battalions, among other services. Disney World even generates some of its own electricity through Reedy Creek." The people of Florida subsidize the park–by shielding it from taxes and regulations–to the tune of "as much as $200 million per year, by one lawmaker's estimate." 

Disney has so much autonomy in the area that they have the authority to build their own nuclear power plant at Disney World. 

DeSantis said enough is enough and called a special session of the Florida Legislature to take on the corporate behemoth. According to local Florida news, the governor "said lawmakers will consider stripping Disney of its self-government power in the state. The governor called the special session originally to work specifically on congressional redistricting.

'They also will be considering termination of all special districts that were enacted in Florida prior to 1968 and that includes the Reedy Creek Improvement District,' DeSantis said.
DeSantis then issued a proclamation calling for the special session to be expanded to include consideration of terminating all special districts enacted in Florida prior to 1968.
Minutes later, Republican State Rep. Randy Fine from Brevard County filed the legislation and tweeted: 'Disney is a guest in Florida. Today, we remind them.'"
Florida Democrats have been trying to protect their corporate overlord, which attacked Florida's bill prohibiting sex education for kindergarteners but was happy to censor references to being gay at the behest of communist China. Dems tried to water down the bill. "Senate Minority Leader Gary Farmer, D-Fort Lauderdale, tried to amend SB 4-C so that instead of getting rid of the special districts next year, the state would conduct a study to determine what impacts the bill would have, if any."  
The Democrats failed and the Florida Senate passed GOP bill to end Disney's self-governing Reedy Creek Improvement District by a vote of 23-16.
National Democrats have also come out to defend Disney. Governor Jared Polis, fresh off passing one of the most radical pro-abortion bills in history, tweeted, "Florida's authoritarian socialist attacks on the private sector are driving businesses away. In CO, we don't meddle in affairs of companies like @Disney or @Twitter. Hey @Disney we're ready for Mountain Disneyland and @Twitter we're ready for Twitter HQ2, whoever your owners are."
Worth hundreds of millions of dollars as an internet entrepreneur, in 2017, Polis joined other Democrats in filing an amicus brief saying that a small cake shop should have to bake a cake, even if it violated the baker's conscience. For Democrats, what's good for the goose, is apparently not good for the gander.  
A frontrunner for the 2024 Republican presidential nomination, Ron DeSantis is one of the most popular governors in America. A recent poll said, "64 percent of Florida voters approve of the job DeSantis is doing, versus just 24 percent who disapprove. Support for DeSantis is broad across nearly all political and demographic groups."
[Read More: Don Jr. Whacks Liberal Journalist Going After Conservative Woman]