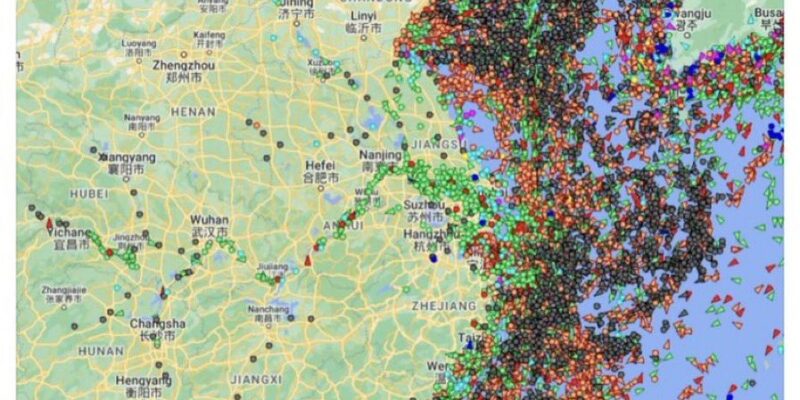 China's insane zero COVID policies are once again threatening the world's economy, and it's expected to hit our pocketbooks again. Containers filled with everything from frozen food to chemicals have stacked up as the country's biggest port of Shanghai continues to be locked down amidst a new outbreak of COVID-19. Harsh testing rules have prevented truckers from even getting to the docks to pick up boxes.
FORTUNE magazine reported, "A shortage of trucks to haul containers from the port is impeding the clearance of imports, Ocean Network Express said in a customer advisory Wednesday. While the port is operating normally, the "critically high" numbers of refrigerated containers and items classified as dangerous goods piled up at two storage yards means some ships carrying those types of cargo may not be able to unload any more boxes at the port, it said.

Shanghai is now the epicenter of China's worst Covid outbreak in two years, with almost 20,000 new cases reported just on Wednesday. The shortage of trucks is also hitting companies in the city which have been able to continue working through the lockdown, with chip giant Semiconductor Manufacturing International Corp. struggling to secure trucks to ship out finished goods.

Truckers form a crucial component of supply chains in China, moving raw materials from coastal ports to factories further inland. The backlog is likely contributing to growing ship queues off China, threatening even more delays and higher freight rates in coming months.

Tightened restrictions on truckers in other parts of China are also delaying the delivery and return of containers to ports, according to freight forwarders. There is a possibility that containers of frozen food or hazardous items like lithium batteries or chemicals won't be able to land at Shanghai and will need to be re-routed to other ports, ONE said.
Massive delays are beginning to impact America, again, and "experts say that the damage has already been done." Ships awaiting berth at the Port of Shanghai now tally over 340, a 34% increase over the past month. Shipping something from a warehouse in China to one in the United States currently takes 74 days longer than usual. A recent study by analysts at Royal Bank of Canada (RBC) stated that a fifth of the global container ship fleet was stuck in congestion at various major ports.
CNBC stated, "Monthly surveys released in the last week showed sentiment among manufacturing and services businesses fell in April to the lowest since the initial shock of the pandemic in February 2020." Over half of European companies operating in China said they were cutting revenue projections. There's not much reason to think Americans won't feel squeezed too. 
During Shanghai's lockdown, a disturbing video showed thousands of people screaming from the windows of their apartments as food became scarce and they were forced into a lockdown for over a month. People in Beijing, another important global economic hub, are fearing they will be locked down next. 
Inflation hit a 40-year high in March, and we shouldn't expect a reprieve anytime soon. In January, Secretary of State Pete Buttigieg was touting his great successes at getting shipping moving again. In reality, he took paternity leave during a supply chain crisis, and we're now we're left unprepared for the latest shock to the system. 
Earlier last month, Transportation Secretary was schmoozing with Prince Harry and Meghan Markle at the Invictus Games. He was most recently spotted at Kentucky Derby. Next time you need to buy a dishwasher or your mechanic is waiting on a part, remember, at least Pete Buttigieg is having a good time on the taxpayer dime.
[Read More: Update: Kavanaugh's Home Illegally Picketed]