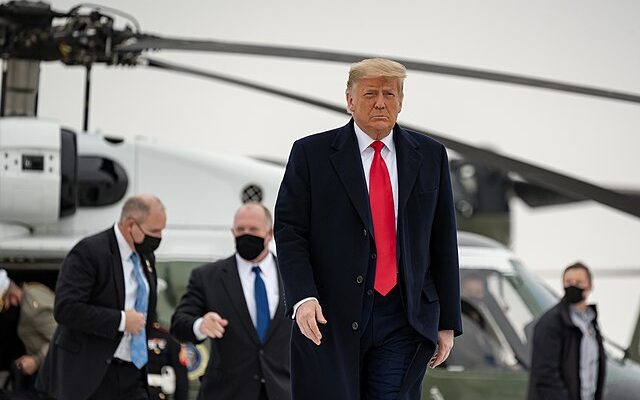 A few weeks ago, Ron DeSantis shook up the primary race by landing the endorsement of Kim Reynolds. The governor of Iowa has been seen as a major power player in the party, and the Florida governor's landing her support was seen as a coup in Hawkeye State. 
But, as he normally does, Donald Trump took a blow and punched back twice as hard. The former president has received the endorsement from an even more important governor. 
Texas Governor Greg Abbott announced his support for Trump to be the nominee in 2024 at a rally near the southern border on Sunday. 
"I'm here to tell you that there is no way, no way that America can continue under the leadership of Joe Biden as our president," Mr. Abbott said in Edinburg, Texas, after he and Mr. Trump greeted Border Patrol agents. "We need a president who's going to secure the border. We need a president who's going to restore law and order in the United States of America," reports The New York Times. 
Mr. Abbott, a three-term governor with a strongly conservative record, castigated President Biden for reversing Trump-era policies that had expedited deportations and required asylum seekers to remain in Mexico while awaiting hearings, and claimed that Mr. Biden was facilitating terrorism.
Mr. Abbott has taken extraordinary measures on border crossings during the Biden administration — including putting razor wire along the border and buoys in the Rio Grande — that have injured many migrants. Under his administration, Texas has also bused tens of thousands of newly arrived migrants around the country, frequently to big cities run by Democrats.
His aggressive policies align him closely with Mr. Trump, whose plans if elected to a second term include detaining undocumented immigrants in camps, relying on a form of expulsion that doesn't involve due process hearings, and deputizing local police officers and National Guard troops from Republican-led states to carry out immigration raids.
The endorsement out of Texas might sting the DeSantis campaign. Abbott and DeSantis. In September, the two conservative governors pulled off the greatest political maneuver in a generation, forcing Democrats to reveal their hypocrisy when it comes to immigration and their support for "sanctuary cities."
Politico noted over the summer that "Ron DeSantis and Greg Abbott — leaders of the two most-populous Republican-led states — have become the most controversial and influential conservative governors on immigration in the country. Over the last year, they've transported tens of thousands of migrants to Democratic-led cities, sued the Biden administration in federal court over border policies and deployed Black Hawk helicopters, unmanned aircraft and thousands of troops to the southern border.
Florida's DeSantis signed legislation this year that, among other things, requires state hospitals that receive Medicaid funding to ask patients about their immigration status and no longer recognizes out-of-state driver's licenses issued to unauthorized immigrants.
Texas' Abbott last month signed a package of bills that creates a grant program to pay landowners for property damage caused by trespassers committing "border crimes" and gives him authority to form interstate compacts to share law enforcement intelligence on illegal border activity without congressional approval."
Abbott and DeSantis assert that they're filling the void left by the Biden administration and Congress to tackle one of America's most intractable issues."
Working together, the two governors have completely changed the way Democrats discuss immigration, with some going so far as to label Biden's border policies an "embarrassment."
"For decades, leaders from both parties have produced empty promises on border security, and now it is time to act to stop the invasion once and for all," DeSantis told a crowd while visiting the border town of Eagle Pass, Texas.
Abbott's endorsement of Trump over DeSantis did not sit well with some of his supporters. Dan Mclaughlin, who has defended the Texas governor from some of the Left's most ridiculous attacks, wrote, "The most frustrating modern sin is self-destructiveness. It is hard to help people who are bent on actively harming themselves — or at least refusing to help themselves — and then persistently shift the costs of doing so to their friends, family, co-workers, and allies. For those of us who wish to see the Republican Party succeed, the self-destructive streak in the party has long been a great source of frustration, and never more so than in watching people line up to help the Democrats by renominating Donald Trump.
Sadly, that self-destructiveness has been abetted by any number of people within the party who ought to know better, and probably do know better. Texas governor Greg Abbott became the latest of these, joining a line of depressingly foolish endorsements of Trump by Steve Daines, Mike Johnson, Bobby Jindal, Lee Zeldin, Lindsey Graham, John James, Brian Mast, and Pete Sessions. Politicians will often disappoint when making endorsements: I'm old enough to remember Rudy Giuliani endorsing Mario Cuomo for reelection in 1994, even while Giuliani was in the midst of a revolution in conservative urban governance that changed the face of New York City for decades. There are frequently any number of motives at work in these."
The conservative commentator says he thinks Abbott's endorsement of Trump is likely driven by a mix of personal and political considerations. Abbott, who might be eyeing a presidential run in 2028, could benefit from aligning with Trump, especially if Trump secures the nomination. However, this move also serves to safeguard Abbott against potential challenges, particularly from within the MAGA movement, in the 2026 primary. 
He also suggests that Abbott believes that Trump's victory in the primaries is almost certain, making an early endorsement a strategic move to maintain party unity and avoid divisive primaries, given the recent internal struggles within the Texas GOP. This decision, influenced by Abbott's desire for local unity and concerns about the party's internal divisions, reflects a broader belief in some political circles that primaries should be minimized for the sake of party cohesion.
Knowing how Trump operates, he probably just offered Abbott a plum job in the cabinet. Whatever the reason, however, it was a power play by the former president, and it has put his strongest challengers in another bind as the primaries begin in just over a month and a half. 
[Read More: Racist Signs Against House Leader From 'Squad' Allies Stirs Dems]