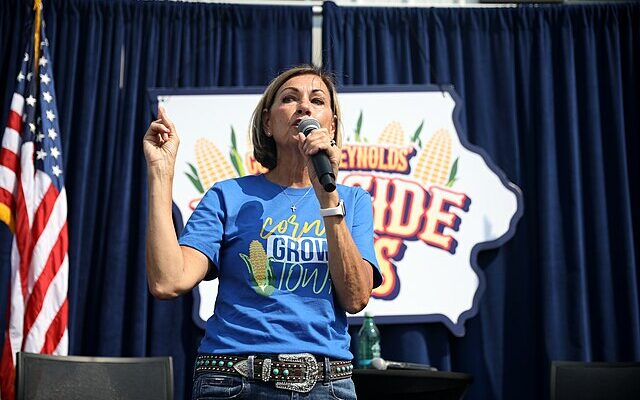 If reporting is correct, on Monday there will be a major endorsement in the Republican primary that could change the race, or at least change the race in the first contest of the upcoming political year. 
The governor of Iowa, Kim Reynolds, a popular conservative who won the Hawkeye state by 20 points, is set to endorse Ron DeSantis for President. 
The Des Moines Register writes that "after months of quietly signaling her support for Ron DeSantis, Iowa Gov. Kim Reynolds will formally endorse the Florida governor for president at a Des Moines rally Monday, sources close to both confirmed to the Des Moines Register.

The endorsement is an enormous win for DeSantis, who hopes to harness Reynolds' star power among Iowa Republicans as he looks to jumpstart his stagnant campaign and establish himself as a clear alternative to front-runner Donald Trump in the race's critical final months.

Reynolds plans to speak at DeSantis' predebate rally Monday as well as a Davenport meet-and-greet Tuesday morning. She will then fly to Miami to help him fundraise around Wednesday's debate.

"I think what she's been able to do in Iowa has really been a model for how people should govern," he said. "… Clearly, I think she could have a really significant impact. And I think any candidate running would be a fool not to want to have the support of Reynolds."

The Reynolds endorsement has long been sought by Republicans running for president. She's very popular in Iowa and seen as an effective conservative who gets things done, which is something she likely sees in the Florida governor.
The Iowa governor's support will likely boost DeSantis in the primary, but will also help him in the general, especially if she becomes the Republican vice presidential nominee–something that has long been rumored regardless of who's on top of the GOP ticket against Biden next year.
The cool thing about the Kim Reynolds endorsement is that it helps you in the primary election AND (this is important) in the general election.

And her primary endorsements aren't based on personal spite. They're based on the ability to pass policy proposals into law. pic.twitter.com/q28Bz5JuBy

— Max (@MaxNordau) November 5, 2023
Fox News wrote that "while she remained neutral in the 2024 GOP nomination battle as the field of contenders grew to over a dozen candidates, Reynolds – who convincingly won re-election to a second term last year – had repeatedly not ruled out endorsing as the Jan. 15 Iowa caucuses neared.
DeSantis has concentrated the vast majority of his campaign trail time and resources in Iowa the past couple of months, and has so far made stops in 87 of the Hawkeye State's 99 counties.
Trump's the commanding frontrunner in the race for the 2024 GOP presidential nomination as he makes his third straight White House run. He saw his lead expand over his rivals during the spring and summer as he made history as the first former or current president in American history to be indicted for a crime. Trump's four indictments – including in federal court in Washington, D.C., and in Fulton County court in Georgia on charges he tried to overturn his 2020 presidential election loss – have only fueled his support among Republican voters."
As is typical for when things don't go his way, former President Donald Trump responded to the endorsement news with threats. Former President Donald Trump took to social media to launch broadsides against the popular conservative governor, saying that her choice of DeSantis would be "the end of her political career."
'If and when Kim Reynolds of Iowa endorses Ron DeSanctimonious, who is absolutely dying in the polls both in Iowa and Nationwide, it will be the end of her political career in that MAGA would never support her again, just as MAGA will never support DeSanctimonious again," Trump said in a Truth Social post. "Two extremely disloyal people getting together is, however, a very beautiful thing to watch. They can now remain loyal to each other because nobody else wants them!!!'"
The move signals that Iowa conservatives believe that the polls are not reflective of what's happening on the ground in the first contest of the primary. 
According to an October Des Moines Register/NBC News/Mediacom Iowa Poll, "Trump leads among likely GOP caucusgoers with 43% picking him as their first choice. DeSantis and former United Nations Ambassador Nikki Haley are tied for a distant second place at 16%."
The Register also documented that "in August, the poll found that 81% viewed her favorably, including 50% who viewed her very favorably. Another 18% viewed her unfavorably and 1% were not sure.  
In the October poll, which did not ask about Reynolds, 69% of likely GOP caucusgoers say they view DeSantis favorably and 26% view him unfavorably. Another 5% are not sure.  
Trump is viewed favorably by 66% and unfavorably by 32% with just 1% not sure."  
Reynolds has had several chances to survey each Republican hopeful. The newspaper noted that the Iowa governor "has appeared on the campaign trail with every presidential contender, including hosting them all in a series of one-on-one conversations at the Iowa State Fair in August. But she appeared to strike a strong, early relationship with DeSantis, introducing him to Iowans during his first trip to the state in March and appearing frequently with him and his wife, Casey."
DeSantis's best hope for becoming the nominee likely revolves around the primary being similar to the Hillary-Bernie primary of 2016. Then, a widely-known Hillary Clinton, holding nearly universal name identification among voters but with several scandals plaguing her campaign, spent much of the year leading up to Iowa with a commanding lead before being shocked by the strength of Bernie Sanders, the only one who was willing to challenge her coronation, once the voting started. 
In order to save her campaign, the Democratic National Committee ended up "rigging" the primary for her against the outspoken Vermont senator. 
Only time will tell if that's what happens for the Republicans in 2024, but Kim Reynolds seems to be staking her political future on it. 
[Read More: White House Daughter Steering Cash To Hamas]