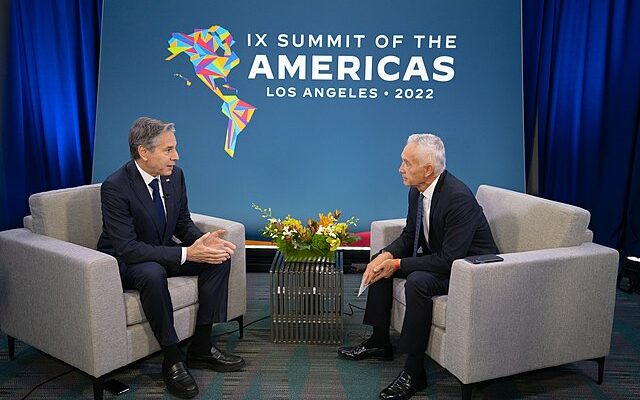 If there's one thing that liberals hate, it's a member of a minority group who will not adhere to their beliefs. Whether it's conservative Supreme Court Justice Clarence Thomas routinely having racial epithets thrown at him or Donna Brazile purposely mispronouncing Vivek Ramaswamy's name, Democrats have shown time and again that underneath the veneer of caring about the demands of minority voters lies a racist screaming to get out and hold power. 
No better example of this tendency exists than a privileged, white octogenarian Joe Biden, claiming to have the authority to determine who is and is not Black, telling an African American interviewer in 2020 that "If you have a problem figuring out whether you're for me or Trump, then you ain't black."
Now, liberal ire has moved away from Black voters who support Trump to Latino voters who do. Some Democrats have begun calling for a boycott against the nation's most popular Spanish-speaking television networks. Its crime? It treated Donald Trump fairly in an interview. 
The Washington Post reports that the nation's largest Spanish-language media company, Univision, faced growing backlash Friday for its handling of a recent interview with former president Donald Trump, as major Latino advocacy groups delivered a letter of protest to the network's executives and the Congressional Hispanic Caucus prepared to request a meeting with the network.
Actor and comedian John Leguizamo, who recently took a turn as host of Comedy Central's "The Daily Show," also posted a video on Instagram on Thursday night calling for a boycott of the network until it stopped its rejection of Biden ads, some of which were canceled just before the Trump interview aired.
"I am asking all my brothers and sisters who are actors, artists, politicians, activists to not go on Univision," he said in a message in English and Spanish.
The pushback comes after a Nov. 7 interview with Trump at his Mar-a-Lago Club in Florida that was arranged with the help of Trump's son-in-law Jared Kushner and attended by a trio of senior executives at Univision's parent company. The interview was notable for its gracious tone, lack of follow-up questions and Trump's assertion in the first minutes about owners of the network.
Latino voters are key to Democrats maintaining power. That's why the Trump campaign has launched a major effort to capitalize on the recent success of the GOP among Latino voters in places like Florida. According to Axis, the former president has begun aiming "at voters of Cuban, Venezuelan and Colombian descent — and that casts Trump as a victim of overzealous socialists."
Trump's move makes sense. Poll after poll has shown that Black, Hispanic and voters of other backgrounds have rejected President Biden.
The Hill detailed the blooming disaster for Democrats in 2024. "A New York Times/Siena Poll released earlier this month found that 22 percent of Black voters in six key battleground states would choose former President Trump in next year's election over Biden.
While that number still favors Biden in absolute terms, it's a huge increase for Republicans over the historical baseline.
Trump won only 12 percent of the vote from Black Americans in 2020 and just 8 percent in 2016, according to the Roper Center for Public Opinion Research at Cornell University, citing exit polling data from CNN and CBS News.
The Times/Siena poll had 42 percent of Hispanic voters in swing states leaning toward Trump and 50 percent leaning toward Biden. The 2020 breakdown for Hispanic voters, according to the Roper Center, was 65 percent for Biden and 32 percent for Trump."
The poll also found that a majority of voters from other nonwhite racial backgrounds favor Trump, while just 39 percent favor the current president.
The shifting away from the Left by Latinos in the United States is not merely an American phenomenon. On Sunday night, Argentina shocked the world by electing a Libertarian president who ran explicitly against socialism and wokeness. 
[Read More: 'Squad' Pals Lob Grotesque Insults At Dem Leader]