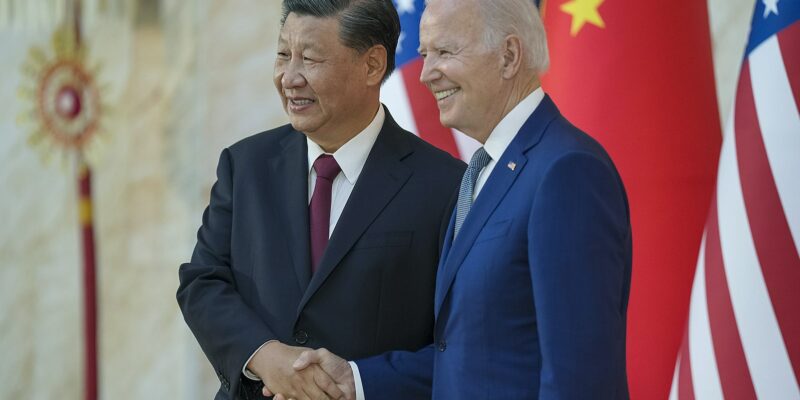 The communists in charge of China have once again tried to lock down its people in a futile attempt to implement their "zero COVID" strategy, but this time the people have had enough. Over the weekend cities and college campuses all over the country turned into rare protests against the government as outraged Chinese took to the street to demonstrate against their leaders. 
'Down with the party! Down with Xi Jinping!' Free Xinjiang!' pic.twitter.com/q5jwUQrz5Z

— Eva Rammeloo (@eefjerammeloo) November 26, 2022
The Washington Post reported, "Residents in Shanghai, China's most populous city, came together Saturday night and early Sunday, calling for the end of pandemic lockdowns and chanting, "We want freedom!" and "Unlock Xinjiang, unlock all of China!" according to witnesses at the event….'There were people everywhere,' said Chen, a 29-year-old Shanghai resident who arrived at the vigil around 2 a.m. Sunday. 'At first people were yelling to lift the lockdown in Xinjiang, and then it became 'Xi Jinping, step down, Communist Party step down!' he said, giving only his surname because of security concerns.
The immediate trigger for the demonstrations, which were also seen at universities in Beijing, Xi'an and Nanjing on Saturday, was a deadly fire in Urumqi, the capital of Xinjiang, in China's far northwest on Thursday. Ten people, including three children, died after emergency fire services could not get close enough to an apartment building engulfed in flames. Residents blamed lockdown-related measures for hampering rescue efforts.
Officials on Friday denied that covid restrictions were a factor and said some residents' "ability to rescue themselves was too weak," fueling more ridicule and anger that swept across Chinese social media platforms. Residents in Urumqi, one of the most tightly controlled cities in China as a result of a broader security crackdown, turned out to protest Friday. Many waved China's national flag and called for lockdowns to be fully lifted.
That unrest spread. On Saturday, Shanghai residents gathered for a candlelight vigil on Wulumuqi Middle Road, named after Urumqi, that turned into the demonstration. Photos sent to The Washington Post by a photographer at the scene showed protesters holding up blank sheets of paper — symbolic opposition to the country's pervasive censorship — and placing flowers and candles for victims as the police looked on."
Crowd of at least 100 making its way to Tiananmen Square in Beijing on Sunday night, chanting, "We want universal values," "We want freedom, equality, democracy, rule of law," "We don't want dictatorship," "We don't want personality cult." pic.twitter.com/JSW7OHMIAG

— Simina Mistreanu (@SiminaMistreanu) November 27, 2022
The brunt of the ire was against President Xi Jinping, a Winnie the Pooh lookalike who recently consolidated his control over the second-largest economy in the world. In October, reports said that the communist party "effectively removed Premier Li Keqiang from senior leadership. Li, the nation's No. 2 official, is a proponent of market-oriented reforms, which are in contrast to Xi's moves to expand state control over the economy.
The weeklong meeting, as it wrapped up Saturday, also wrote Xi's major policy initiatives on the economy and the military into the party's constitution, as well as his push to rebuild and strengthen the party's position by declaring it absolutely central to China's development and future.
Analysts were watching for signs of any weakening of or challenge to Xi's position, but none was apparent. The removal of Li, while not unexpected, signaled Xi's continuing tight hold on power in the world's second-largest economy."
The people seem to have grown tired of Xi's use of COVID to take a stranglehold on their lives.
According to the AP, "Protesters angered by strict anti-virus measures called for China's powerful leader to resign, an unprecedented rebuke as authorities in at least eight cities struggled to suppress demonstrations Sunday that represent a rare direct challenge to the ruling Communist Party.

Police using pepper spray drove away demonstrators in Shanghai who called for Xi Jinping to step down and an end to one-party rule, but hours later people rallied again in the same spot. Police again broke up the demonstration, and a reporter saw protesters under arrest being driven away in a bus.

The protests — which began Friday and have spread to cities including the capital, Beijing, and dozens of university campuses — are the most widespread show of opposition to the ruling party in decades.

In a video of the protest in Shanghai verified by The Associated Press, chants against Xi, the most powerful leader since at least the 1980s, and the Chinese Communist Party sounded loud and clear: 'Xi Jinping! Step down! CCP! Step down!'"
Things have become so ridiculous regarding COVID restrictions that Chinese state television wasn't allowed to show crowds at the World Cup not wearing masks.
This is amazing. Due to the backlash from Chinese fans seeing unmasked crowds in Qatar, Chinese TV is now replacing live crowds shots during games and instead cutting to close-ups of players and coaches. pic.twitter.com/vg0qozUawc

— Mark Dreyer (@DreyerChina) November 27, 2022
The protests follow on the heels of a conflict at the world's largest Iphone factory in China after a COVD lockdown there forced a work stoppage. CNN noted, "Workers at China's largest iPhone assembly factory were seen confronting police, some in riot gear, on Wednesday, according to videos shared over social media.
The videos show hundreds of workers facing off with law enforcement officers, many in white hazmat suits, on the Foxconn campus in the central Chinese city of Zhengzhou. In the footage, now blocked, some of the protesters could be heard complaining about their pay and sanitary conditions.
Videos of many people leaving Zhengzhou on foot had gone viral on Chinese social media earlier in November, forcing Foxconn to step up measures to get its staff back. To try to limit the fallout, the company said it had quadrupled daily bonuses for workers at the plant this month.
On Wednesday, workers were heard in the video saying that Foxconn failed to honor their promise of an attractive bonus and pay package after they arrived to work at the plant. Numerous complaints have also been posted anonymously on social media platforms — accusing Foxconn of having changed the salary packages previously advertised."
In #Zhengzhou, China, factory workers at the Foxconn iPhone plant protest over delayed pay & terrible working conditions. Both have resulted because of China's strict Covid-19 lockdowns. Take a look as Chinese police flee from protesters:pic.twitter.com/WbV7UgZjmq

— Steve Hanke (@steve_hanke) November 24, 2022
While China's people may dislike Xi, Joe Biden seems to love him. A couple weeks ago the two presidents met in Bali while attending the G-20 economic conference in Indonesia. 
While Biden said that he would defend American values and that a war over Taiwan was not imminent, Lt. Col. Robert Maginnis, (ret.) took the president to task for his weakness. Writing for Fox News, he said, "It's safe to say that the scene revealed much about the two men and our emergent relations as global powers. Xi has just came from the 20th Chinese Communist Party Congress which granted him an unprecedented third term as chairman, making him the most powerful Chinese leader since Chairman Mao Zedong. Xi intends to aggressively press toward his goal of world dominance and as he told the 20th Congress, "the East [China] is rising while the West [the U.S.] is declining." 
By comparison, Biden came to the Xi meeting weakened by the likely loss of his party's majority in the U.S. House of Representatives and a host of troubling issues at home including a deeply divided citizenry and a military arguably in decline.
Biden failed to mention whether he pressed the Chinese leader on important issues such as the regime's maligned economic behaviors like its failure to abide by trade agreements, its military aggression in the South China Sea, the supply of precursors used to make fentanyl which annually kills tens of thousands of Americans, the origins of COVID, the rampant stealing of our intellectual property, and whether it will dial back on its well-documented human rights violations.
The president allowed only four questions after his remarks at the press briefing. He was asked whether a Cold War with China is avoidable. 'There need not be a new cold war' with China, said Biden. Rather, we are in 'competition' with China. That response ignores the contrary history of 'unrestricted warfare' China is waging against the West using all Chinese instruments of power such as economic, military, ideological, geopolitical and technological." 
Biden has been a friend to China. Over the summer, he tapped America's Strategic Oil Reserve to sell the communists some oil. The Washington Free Beacon reported: "Biden's Energy Department in April announced the sale of 950,000 Strategic Petroleum Reserve barrels to Unipec, the trading arm of the China Petrochemical Corporation. That company, which is commonly known as Sinopec, is wholly owned by the Chinese government. The Biden administration claimed the move would "address the pain Americans are feeling at the pump" and "help lower energy costs."
It was later revealed the Biden family has a major "relationship with China" through, you guessed it, Hunter Biden, who invested millions in Chinese energy companies. The Washington Post investigated the president's son and found that "over the course of 14 months, the Chinese energy conglomerate and its executives paid $4.8 million to entities controlled by Hunter Biden and his uncle, according to government records, court documents and newly disclosed bank statements, as well as emails contained on a copy of a laptop hard drive that purportedly once belonged to Hunter Biden."
[Read More: Biden Family Gathers To Plot Run For Second Term; Newsom Bows Out]