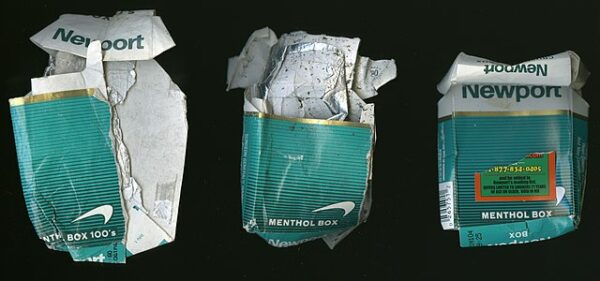 Joe Biden says that he wants to make the southern border safer, but law enforcement officers are warning that his latest restriction on menthol cigarettes will allow drug cartels another stream of revenue. 
"The Food and Drug Administration (FDA) last week sent the rule to the White House for review, the last regulatory step before it gets issued," wrote The Hill.
"A menthol ban has been more than a decade in the making and would be one of the most consequential policies from the FDA since it began regulating tobacco in 2009. Health officials and tobacco-control advocates have said such a move could save hundreds of thousands of lives, particularly among Black smokers.
Public health and civil rights groups have long argued Black Americans have been disproportionately harmed by menthol cigarettes, as the tobacco industry deliberately targeted Black communities for decades. 
An estimated 85 percent of Black smokers use menthols, according to the FDA, compared with 30 percent of white smokers. It is estimated that approximately 40 percent of excess deaths due to menthol cigarette smoking in the U.S. between 1980 and 2018 were those of African Americans."
It's a typical case of liberals not being able to leave people to their own devices having massive, dangerous unintended consequences.  
"Our southern border is in crisis mode, providing illicit opportunities for transnational organizations, i.e., criminal cartels, to exploit their violent and criminal enterprises for greed," said Sheriff Mark Dannels of Cochise County, Arizona.

Dannels, also the chairman of the National Sheriffs' Association's Border Security Committee, told Secrets that making "a product in the United States illegal to possess redirects the problem to criminal behavior."

The potential of making the U.S.-Mexico border more dangerous also has many border politicians angry at Biden. Several have urged the White House to drop its plan, marketed as a play to boost health.

"As Biden's FDA moves to ban menthol cigarettes and flavored cigars, a reminder that criminal gangs in Mexico are seeking to exploit black market opportunities," Sen. Marco Rubio (R-FL) said.

"Biden's ridiculous ban on menthols will have wide-ranging consequences, including providing cartels with another opportunity to profit from our porous border," Sen. Thom Tillis (R-NC) said on X, formerly known as Twitter.

The menthol ban has been roundly criticized by minority groups that Biden pretends to care about. The Coalition of Large Tribes, an group representing over 50 tribes, wrote turning menthol tobacco into an outlawed product will cause more problems for their law enforcement on reservations and could lead to their citizens using products that could be laced with other drugs. 
In a statement to the FDA, the group's leader said, "As with other forms of prohibition, unregulated supply chains will take over once legal pathways to adult consumers are closed off. Banning the legal sale of menthol and nicotine-containing cigarettes will cede control of the market to illicit producers."
The statement continued, "Tribes are painfully aware from our experience with the fentanyl crisis that criminal interests in China, the Middle East and Mexico already use various channels to traffic drugs through and concentrate drugs on our reservations, where the jurisdictional maze and chronic underfunding of tribal law enforcement leaves a persistent gaps for public safety. The Rules will strain already overburdened tribal law enforcement.
"We are very concerned that illicit markets borne from the FDA's forthcoming Rules — Native American smokers who obtained such products will have no idea what foreign illicit cigarettes might be laced with — just like certain foreign drugs today are routinely laced with fentanyl," said OJ Semans, COLT Executive Director. "As a career tribal police officer, I can tell you that the risks of FDA's prohibitions on menthol and nicotine are huge for Indian Country.
In addition to intensive public safety concerns, COLT is also dismayed that the FDA has not consulted with tribes at all on the Rules, despite the strong policies of the Biden Administration and numerous Executive Orders. COLT is also concerned that tribal tobacco manufacturers could be severely impacted by both Rules, and that tribal ceremonial use of tobacco could be severely restricted, infringing on tribal cultural and religious practices. " 
Black leaders have also spoken out against Biden's ban, seeing it as just another law that will be used to target their community. Reverend Al Sharpton, civil rights lawyer Ben Crump, and George Floyd's family, who mourned the loss of their Black relative at the hands of a white police officer in Minneapolis in 2020, have contended that if implemented, these regulations could offer law enforcement an additional pretext to focus on Black individuals, potentially putting the lives of Black Americans at risk.
"What we said is, 'Y'all have got to consider unintended consequences.' Imagine some cop pulling a kid over saying, 'Where did you buy or get that Kool cigarette?' Sharpton told POLITICO Thursday after the FDA announcement. 'People are not going to stop smoking Newports and Kools because of a rule. They're going to go and get them from people that go to the street in the black market. Then what happens? That's all I'm asking.'
Members of the Congressional Black Caucus are divided but an aide to the group said that the push from civil rights leaders over recent weeks has "caused members to give greater thought to what could be potential unintended consequences."
'The proposed ban could also have serious economic and criminal justice implications for communities across the nation,' Rep. Donald McEachin (D-Va.), said in a statement. It will "disproportionately impact African Americans and lower-income communities while tobacco products commonly used by predominantly white or more affluent populations goes unchecked.' McEachin has voted against legislation that would have banned menthol cigarettes."
The FDA sent its final ruling back to the White House for approval on October 13. 
[Read More: Tlaib Gets Help From Unexpected Place]