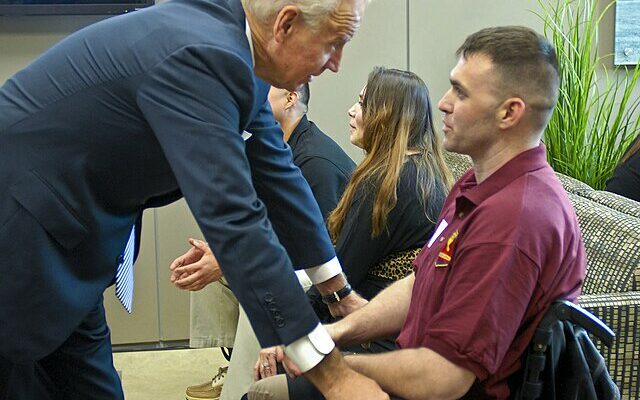 Earlier in the week, new Speaker of the House Mike Johnson said, when asked about impeaching Joe Biden, that Republicans were "trying to move forward on this very aggressively" because "desperate times call for desperate measures."
In explaining his strategy, Johnson said that he wanted to give Joe Biden the due process he deserved but also alluded to potential evidence that would directly implicate the president in "high crimes or misdemeanors." He told Sean Hannity: "The reason we shifted to the impeachment inquiry stage on the president himself was because if, in fact, all the evidence leads to where we believe it will, that's very likely impeachable offenses.
Now that evidence has been revealed. The House Oversight Committee has shown an alleged money-laundering scheme that put money from China into Joe Biden's pockets. 
The New York Post reports that President Biden received $40,000 in "laundered" funds from Chinese government-linked CEFC China Energy, according to a memo released Wednesday by the House Oversight Committee.

The 2017 transfer from first brother James Biden and his wife Sara to the future president allegedly involves the same business deal in which Joe Biden was called the "big guy" and penciled in for a 10% cut — and would be the first proven instance of the commander-in-chief getting a piece of his family's foreign income.

The $40,000 went through a "complicated financial transaction" just weeks after first son Hunter Biden threatened his father's wrath in a July 30, 2017, text message to a CEFC employee, the Republican-led Oversight Committee said in the memo.

The money ended up in Joe Biden's bank account on Sept. 3, 2017, via a check labeled "loan repayment" from his younger brother, who partnered with Hunter in the venture.
🚨 BREAKING 🚨

We've followed the money and identified how Joe Biden received $40,000 in laundered 🇨🇳 China money.
@RepJamesComer lays out the money trail. 👇 pic.twitter.com/lH69OUOHid

— Oversight Committee (@GOPoversight) November 1, 2023
The Committee explained how the laundering scheme worked: "The money trail begins in July 2017 when Hunter Biden demanded payment from his Chinese Communist Party (CCP) linked associate. On July 30, 2017, Hunter Biden sent a message to Raymond Zhao—a CEFC associate—demanding a $10 million dollar capital payment and claimed his father, Joe Biden, was sitting in the room. CEFC is a Chinese energy company linked to the CCP. The Bidens began working with CEFC when Joe Biden was Vice President.
On August 8, 2017, Northern International Capital, a Chinese company affiliated with CEFC, sent $5 million to Hudson West III, a joint venture established by Hunter Biden and CEFC associate Gongwen Dong. That same day, Hudson West III sent $400,000 to Owasco, P.C., an entity owned and controlled by Hunter Biden. On August 14, 2017, Hunter Biden wired $150,000 to Lion Hall Group, a company owned by President Biden's brother James and sister-in-law Sara Biden. On August 28, 2017, Sara Biden withdrew $50,000 in cash from Lion Hall Group. Later the same day, she deposited it into her and James Biden's personal checking account. On September 3, 2017, Sara Biden cut a check to Joe Biden for $40,000 for a 'loan repayment.'"
The House Oversight Committee's latest memo also raises the possibility that the president's brother misled federal investigators by attempting to distance himself from Hudson West III, given that he knew the organization was backed by CEFC.
"James Biden told FBI and IRS criminal investigators in September 2022 that he "was not exactly aware of the [Hudson West III] entity as he was always paid by [Hunter Biden] through Owasco, P.C,'" noted The National Review.
"However, new bank records show that Hudson West III directly paid James Biden's Lion Hall Group six times throughout 2018 for a total of nearly $77,000.
Former Hunter Biden business associate Devon Archer previously testified that then–vice president Biden joined at least 20 phone calls and/or in-person meetings with Hunter's foreign business associates during their time working together. He explained that access to the vice president served as the selling point of the Biden "brand" that allowed him and Hunter several lucrative financial opportunities, including joining the board of Burisma.
Walker previously told the FBI that Biden appeared at a CEFC meeting in Washington, D.C. with Hunter Biden. Walker acknowledged that the younger Biden had his father attend in order to increase the chances of getting a deal to work out."
Throughout the past decade, the Biden Family, including members who have no connection to business, public policy, or lobbying, have received millions of dollars from oligarchs from places such as Russia, Kazakhstan, Ukraine, China, and Romania. 
[Read More: Member of Congress Looking To Make History]