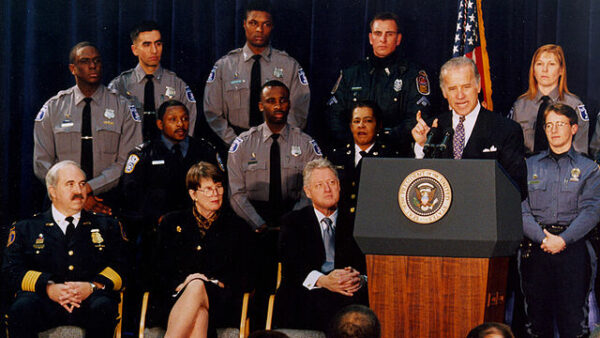 James Comer, the chairman of the House Oversight Committee, continues to investigate the Biden (Crime?) Family. Now he claims to have identified several instances where Joe Biden, who has appeared to have lied about his connection to the payments, may have shaped policy to pay back his family's benefactors. 
The New York Post writes that the Kentucky Republican said that his panel has identified "six specific policy decisions" where Biden, 80, took actions that indicate he may have been "compromised," during an appearance on John Catsimatidis' "Cats & Cosby Show" on WABC 770 Wednesday.

Comer noted that of the six policy decisions, four of them "were made while Joe Biden was president early on — [where] we cannot come to any other conclusion as to why these decisions were made, other than the fact that this president is compromised."

"This was organized crime. There's no other way to define it," Comer alleged.

The Oversight Committee chairman explained that as recently as "in the last five days" his panel has obtained banking statements and suspicious activity reports that show "more bank accounts, more shell companies and more Bidens" being involved in the family's overseas influence peddling scheme.
Continuing his interview, The Daily Mail noted that "Comer said he was 'confident' the committee investigation would prove that the Biden family took in 'at least $17million' from overseas payments.
But he added that 'the transactions could exceed $40 million plus'. He said that many of these shell companies have other owners, however. He said this allows them to 'hide the revenue or disguise the revenue from the IRS or the federal authorities or whomever'.
As part of their investigation, Comer's panel has so far identified nine members of the Biden family as having allegedly received foreign payments. This includes Hunter Biden, the president's son and his wife, Melissa Cohen Biden, and ex-wife, Kathleen Buhle. James Biden, the president's brother, and his wife Sara Biden; the widow of the president's late son Beau Biden, Hallie Biden, were also alleged to have received money by Comer."
One person in the family who won't be seeing a dime of the Biden money scheme is the president's abandoned granddaughter. NCP previously mentioned the sad tale of Navy Roberts, the daughter of Hunter Biden who "family man" Joe has completely cut out of the Biden household, going so far as refusing to even hang a Christmas stocking for her. 
New reports have surfaced that the president wants the poor little girl completely erased from public discussion, going so far as to order strategy sessions about eliminating her from the conversation entirely. 
The New York Times has shattered the lie that Joe Biden has cultivated over the years, writing that the president's "image is centered around his devotion to his family — including to Hunter, his only surviving son. In strategy meetings in recent years, aides have been told that the Bidens have six, not seven, grandchildren, according to two people familiar with the discussions.
The girl is aware that her father is Hunter Biden and that her paternal grandfather is the president of the United States. She speaks about both of them often, but she has not met them. Her maternal grandfather, Rob Roberts, described her as whip-smart and funny.
"I may not be the POTUS," Mr. Roberts said in a text message, using an acronym for the president, but he said he would do anything for his granddaughter. He said she "needs for nothing and never will."
The story surrounding the president's grandchild in Arkansas, who is not named in court papers, is a tale of two families, one of them powerful, one of them not. But at its core, the story is about money, corrosive politics and what it means to have the Biden birthright."
Biden critics have labeled the revelations about the president's treatment of his granddaughter as monstrous. Another noted that the erasure is probably not going to work:
We are a year away from "I wish I could meet my grandpa" interviews. Hell of an October surprise. https://t.co/jGfTYILwAx

— David Marcus (@BlueBoxDave) July 2, 2023
Still, one wonders why The New York Times, a typical huge ally for the liberal White House, has decided to release these stories now. 
One conservative commenter made a bold prediction: 
this reporter, from this news outlet doesn't tweet this article unless someone tells her to. it's becoming clear joe biden will not be the nominee. https://t.co/siln7HHRr7

— a newsman (@a_newsman) July 2, 2023
It might be worth repeating the question: What does Gavin Newsom know that we don't? 
[Read More: Some Liberals Have A Plan To Block Out The Sun]