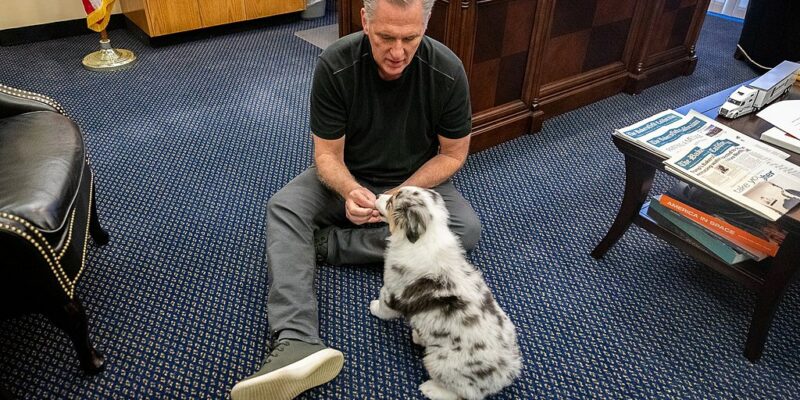 Representative Bob Good, a Republican from Virginia, really does not like Kevin McCarthy, and now the congressman has explained how he intends to make sure the current minority never becomes the next Speaker of the House. Politico writes that just days after the midterms, the Virginian stood up in a closed-door meeting and "lambasted" McCarthy. 
The magazine reports that he demanded to know why McCarthy had "spent millions in GOP primaries to try to defeat conservatives? The approach left those candidates politically wounded and financially drained for the general election.
McCarthy reminded Good that he went on to spend $2 million to help elect him that fall. But Good reminded him of his Riggleman support two years prior and shot back that McCarthy never gave him a customary congratulatory call after he defeated the Virginia Republican in the primary. Instead, when Good called the GOP leader several weeks later, he recalled, McCarthy groused about having to "spend money to keep a seat I shouldn't have to spend money on."
The Virginia Republican has bad taste in his mouth after McCarthy spent millions against him in the primary, backing incumbent moderate Denver Riggleman in 2020. It appears that Good has never forgiven the current Republican leader and plans to enact some revenge. 
Mediate noted that "Good is one of five GOP House members that are "hard no votes" against McCarthy as House speaker – a number which given the GOP's slim majority could well deprive him of the votes needed to achieve his longheld political ambition.
Good also told a Politico podcast that Kevin McCarthy "would not be in the position that he's in to become speaker based on hte merits of his leadership qualities. It's only because he's next in line and he's played the game, if you will. He's a product of the swamp cartel, the swamp system." 
He then went into details about how the anti-McCarthy group plans to derail his Speakership bid. Politico continued: "Had Republicans flipped the House by a broader margin, as they were expected to, Good would likely be dismissed by his colleagues as a gadfly. But given the unexpectedly slim margin, Good and a handful of like-minded conservatives hold McCarthy's fate in their hands — and stand ready to wield considerable power next year, no matter who ends up as Speaker.
The outlet "also learned that Good & Co. are formulating a plan for the Jan. 3 speaker vote. Anti-McCarthy members are currently plotting to back Rep. Andy Biggs (R-Ariz.) on the first ballot, he said, to prove McCarthy can't get the gavel. But once the second ballot is called, they'll begin coalescing around another, unnamed candidate — a GOP lawmaker most have already agreed upon, Good said, but will not name for fear of hurting this person's candidacy."
McCarthy's previous attempt at becoming Speaker of the House collapsed in 2015 when his candidacy ran into rumors that he had an affair with colleague Renee Ellmers, a former member of the House of Representatives from North Carolina. 
In previous discussions of McCarthy's problem in cobbling together 218 votes in the upcoming weeks, NCP reported how The New York Magazine described the 2015 rumors: "Most of the mainstream press was similarly vague, as few wanted to print a headline like "Unsubstantiated Gossip Takes Down McCarthy." Rumors of the affair percolated through the conservative blogosphere, and drew more attention when Ellmers made an odd remark about McCarthy failing to ask for her support, saying, "I'm apparently not high on his priority list."
GOP Representative Walter Jones added more fuel to the fire when he issued a letter calling on candidates to withdraw from the race for speaker if "there are any misdeeds he has committed since joining Congress that will embarrass himself, the Republican Conference and the House of Representatives if they become public." Jones later confirmed that his letter was partly inspired by a blog post he read about McCarthy and Ellmers.
Both Ellmers and McCarthy denied the affair. She soon after the scandalous headlines left Congress in 2017. Paul Ryan had to swoop in to become Speaker of the House after McCarthy's failure.  
"A group of lawmakers has approached No. 2 Republican Rep. Steve Scalise (LA) about running for House speaker in the next Congress should McCarthy's bid fail, telling him to "just be ready," sources familiar told Politico. Scalise could offer a more agreeable alternative to McCarthy, as the House minority leader has faced opposition from a handful of Republicans that has threatened to derail his speakership bid, according to some reports.
"However, the closed-door conversations could put Scalise in a difficult position. Publicly, the Louisiana Republican has declined to comment on the matter, instead pointing to previous statements he made endorsing McCarthy and maintaining he would not run against him."
Scalise has stated that he is running for the second leadership spot in the House of Representatives, the Majority Leader, rather than challenge McCarthy for Speaker. 
The Louisiana congressman became a household name when James T. Hodgkinson, a Bernie Sanders supporter, shot him in an attempt to assassinate much of the Republican House Caucus in 2017 as they practiced for the upcoming Congressional baseball game. 
'Trump is a Traitor. Trump Has Destroyed Our Democracy. It's Time to Destroy Trump & Co.' he posted on his personal Facebook page on March 22."
During that time, Democrats had reached full-fledged paranoia over the Republicans cutting tax revenue by 3 percent over a decade. The Manhattan Institute recalled, "Pelosi predicted that the tax cut would "install a permanent plutocracy in our country that does violence to the vision of our Founders." California Governor Jerry Brown's comparatively calm critique merely described this tax relief as "evil in the extreme."
And it wasn't just professional Democrats. The Washington Post ran a column predicting a sequel to the Great Depression (unemployment rate: 25 percent). Former Treasury Secretary Larry Summers predicted the bill's health provisions would kill 10,000 people annually. Bruce Bartlett told MSNBC that tax cuts are 'akin to rape.' Paul Krugman, with characteristic subtlety and nuance, titled a column, 'Republicans' Tax Lies Show the Rot Spreads Wide and Runs Deep.'"
The new Congress will meet and McCarthy's fate will be known during the first week of January. 
[Read More: 'Grandpa Grinch' Biden Abandons Family Member At White House Christmas]