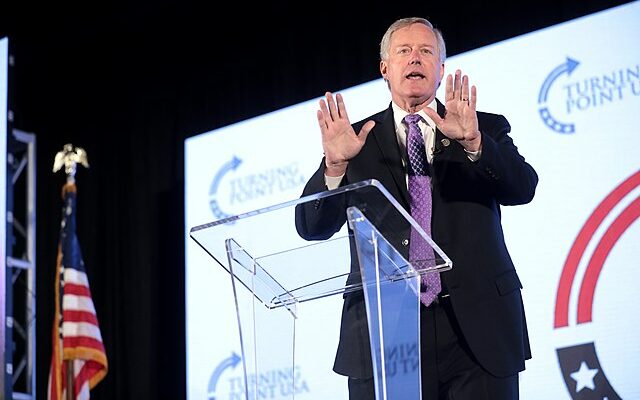 Mark Meadows, President Trump's former chief of staff, might want to grow a pair of eyes in the back of his head. That is, at least, if Jack Smith, the special prosecutor currently taking on former President Donald Trump, is right. 
In a court filing on Wednesday night, Smith accused Trump of trying to convey a clear and intimidating message to Meadows in relation to his DC election interference case.
The ABC News report said that, according to sources, Meadows was granted a form of immunity under which the information he provided to the grand jury in March — before Trump was indicted in Washington — can't be used against him in a federal prosecution.

After the ABC News report, Trump posted to his social media platform, Truth Social, that he wouldn't expect Meadows to "lie about the Rigged and Stolen" election "merely for getting IMMUNITY," but, "Some people would make that deal."

"[T]hey are weaklings and cowards, and so bad for the future of our Failing Nation," Trump wrote.

In a filing Wednesday night to the judge presiding over Trump's federal election interference case in Washington, Smith's team said Trump's "harmful" post on Truth Social was trying to "send an unmistakable and threatening message to a foreseeable witness in this case."

Smith's team argued to U.S. District Court Judge Tanya Chutkan that the alleged threat is just one more example of why a limited gag order in the case is needed as soon as possible.
Trump's allegedly threatening post on his social media website, Truth Social, can be seen below. 
Trump has long worried that his former chief of staff might "flip" and testify against him and according to reports, that's exactly what happened. ABC News stated that Smith's team "at least three times this year, including once before a federal grand jury, which came only after Smith granted Meadows immunity to testify under oath, according to sources familiar with the matter.
The sources said Meadows informed Smith's team that he repeatedly told Trump in the weeks after the 2020 presidential election that the allegations of significant voting fraud coming to them were baseless, a striking break from Trump's prolific rhetoric regarding the election.
According to the sources, Meadows also told the federal investigators Trump was being "dishonest" with the public when he first claimed to have won the election only hours after polls closed on Nov. 3, 2020, before final results were in.
'Obviously we didn't win,' a source quoted Meadows as telling Smith's team in hindsight."
While Meadows might be Smith's biggest witness, he's not the only Trump confidant to have recently agreed to testify against the former president. Sidney Powell, a close member of Donald Trump's legal team in his effort to overturn the 2020 election accepted a plea deal that will keep her out of prison in exchange for testimony against Trump. 
She was recently joined by Jenna Ellis and Kenneth Chesebro, both who have also agreed to testify in a RICO case in Fulton County, Georgia, related to attempts to contest the election in the Peach State.
Reuters reported that "it is unclear what Powell, Chesebro and Ellis have told prosecutors or how broad their testimony could be. Both Powell and Ellis are known to have had direct communication with Trump as he sought to hold onto power.
Chesebro is the only defendant to plead guilty in a scheme that prosecutors directly tied to Trump. He admitted to plotting to file false documents as part of an effort to put forward fraudulent slates of electors pledged to vote for Trump in states won by Biden.
A lawyer for Chesebro told MSNBC on Saturday that Trump should not be concerned about Chesebro's potential testimony.
Powell admitted to tampering with election machines in what prosecutors said was an effort to gain evidence for discredited vote-rigging claims."
Mark Meadows, also charged in the Georgia probe, has not been as forthcoming with prosectors in that case. In August, he challenged the DA's standing and asked for the trial to be moved to federal court. With the revelation that he's been chatting with Jack Smith, we may now know why.  
[Read More: Clinton Heckled, Left Demands She Bend The Knee]