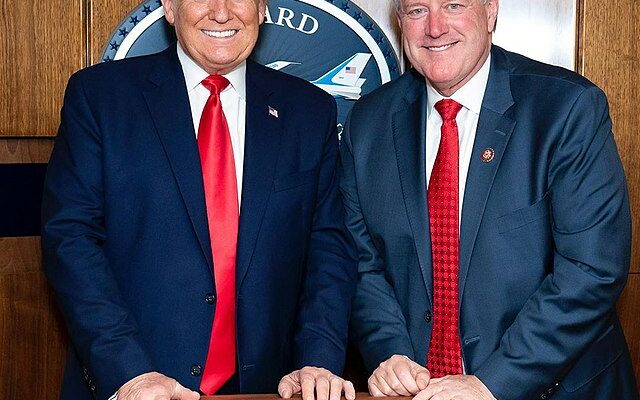 Reports have long noted that Donald Trump's former chief of staff, Mark Meadows, had been eerily quiet while an investigation into the attempts to overturn Georgia's election in 2020 wrapped up. Many, including the former president, believed that Meadows had turned on his former boss and would serve as a key witness in the case. 
Now Trump World might be singing a different tune. 
Former White House Chief of Staff Mark Meadows officially filed Tuesday to move the case brought against him by Fulton County District Attorney Fani Willis into federal court, just a day after he was indicted along with former President Donald Trump and 17 others on charges of attempting to overturn Trump's election loss in the state, writes ABC News.

The filing from Meadows' attorney George Terwilliger and Atlanta-based attorney Joseph Englert is based on a federal law that they argue requires the removal of criminal proceedings brought in state court to the federal court system when someone is charged for actions they allegedly took as a federal official acting "under color" of their office.

Trump is also expected to mount a similar effort, according to sources familiar with the matter.

"Nothing Mr. Meadows is alleged in the indictment to have done is criminal per se: arranging Oval Office meetings, contacting state officials on the President's behalf, visiting a state government building, and setting up a phone call for the President," Terwilliger wrote in the filing. "One would expect a Chief of Staff to the President of the United States to do these sorts of things."

"This is precisely the kind of state interference in a federal official's duties that the Supremacy Clause of the U.S. Constitution prohibits, and that the removal statute shields against," Terwilliger wrote.
Meadows recently made waves after reports showed that he and many of Donald Trump's other close advisors did not believe that the election had been stolen. 
The Washington Post wrote, "Mark Meadows joked about the baseless claim that large numbers of votes were fraudulently cast in the names of dead people in the days before the then-White House chief of staff participated in a phone call in which President Donald Trump alleged there were close to 5,000 dead voters in Georgia and urged Brad Raffensperger, Georgia's secretary of state, to overturn the 2020 election there.
In a text message that has been scrutinized by federal prosecutors, Meadows wrote to a White House lawyer that his son, Atlanta-area attorney Blake Meadows, had been probing possible fraud and had found only a handful of possible votes cast in dead voters' names, far short of what Trump was alleging. The lawyer teasingly responded that perhaps Meadows's son could locate the thousands of votes Trump would need to win the election. The text was described by multiple people familiar with the exchange.
The jocular text message, which has not been previously reported, is one of many exchanges from the time in which Trump aides and other Republican officials expressed deep skepticism or even openly mocked the election claims being made publicly by Trump, according to people familiar with the investigation, who spoke on the condition of anonymity due to the sensitivity of the criminal investigation.
Special counsel Jack Smith, who is leading a Justice Department investigation of Trump's activities in the weeks leading up to the Jan. 6, 2021, attack on the U.S. Capitol, has focused on exploring whether Trump and his closest advisers understood that claims of fraud in the election were baseless, even as they pressed state officials and others to overturn Biden's victory and convinced Trump's millions of supporters that the election had been stolen, people familiar with the probe have said."
Meadows faces charges for soliciting an official to violate their oath of office related to President Trump's now infamous 2020 phone with Georgia Secretary of State Brad Raffensperger. During the conversation, Trump asked the elections supervisor to "find" purportedly missing ballots that would allow him to overcome his deficit against Biden in the Peach State. 
A former member of Congress from North Carolina before joining the White House, Meadows has denied all wrongdoing.
[Read More: Calls For Corrupt Biden Official To Resign Getting Louder]