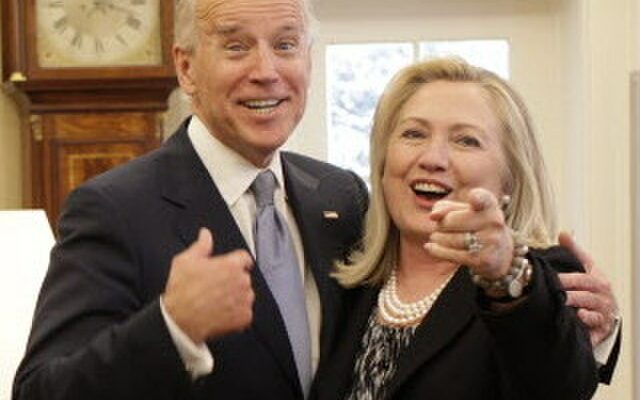 During a speaking engagement at the Institute of Global Affairs, a membership organization and think tank based at Columbia University, the former Secretary of State received an earful from a heckler demanding that she renounce Joe Biden over his support for Israel. The interruption came as the former Democratic nominee served as part of a panel discussing the 75th anniversary of the Universal Declaration of Human Rights. 
Showing those political instincts that saw her lose two layup attempts at becoming president, Clinton engaged in a shouting match with him.
My friends Robert Castle & @ZSimonMillerZ of the @SchillerInst confronted the warmongering queen herself @HillaryClinton. Robert begins by calling out her hypocrisy and clearly stating her entire talk is just warmonger. Part 2 coming soon.

"We came, We spoke, She cried" pic.twitter.com/4L3XkzXjQ5

— Jose Vega — Vote Diane Sare! (@JosBtrigga) October 23, 2023
The persistent demonstrator said Biden's $100 billion aid request to help Israel, Palestinians in Gaza and Ukraine was a rush to World War III, wrote The Huffington Post.

"I'm sorry," he said of his interruption.

"Well, I'm not sorry. You sit down," the former secretary of state and first lady shot back.

"I know you're not sorry. That's the point," he retorted, repeating a request for comments on Biden's recent prime-time speech to pitch for the funding.

"This is not the way to have a conversation," she said. She invited the man to talk to her afterward. "I do not believe you," he replied.

Undaunted, the man yelled, "The American people's voices are what need to be heard."

"That's my opinion," he said.

"Well, then sit down. We've heard your opinion, thank you very much," Clinton sniped.
The heckler was later identified as Robert Castle from the Schiller Institute, a right-wing global think tank based in Germany known for pushing conspiracy theories. 
Castle has been lambasting Biden's "warmongering" for days, writing that his "rhetoric at home slides towards more and more openly blood-thirsty war-mongering, as in Biden's remarks to Netanyahu, (intentionally or otherwise calling the events of Sept. 11th, 2001 to mind), that "if the United States experienced what Israel is experiencing, our response would be swift, decisive, and overwhelming."
Now we see our current skeletal 'President' at his absolute worst, telling his most British-Nazi-like lie of all so far, lying as poorly as a dim-witted child, feigning disbelief at having seen actual videos of children who were beheaded, when in fact no such thing was in evidence. Of course, such unconscionable manipulation of the people's emotional, implicit faith in the authority of the office of the presidency is now 'run of the mill,' "business as usual" politics. This, a "President" who is not only non compus mentus, but who is clearly quite nearly nothing other than a willing puppet, an able mouth-piece for the narratives of the racketeers of war, inextricably obligated to the aggressive push by a relative minority of war-crazed 'state of exception'-style tyrants within Israel and their policy of starving, and otherwise genociding, the Palestinians, whose God looks down, the same as Israel's God, the same as our God, weeping unimaginable, triune tears."
The Hamas terrorist attack against Israel and Biden standing with one of our closest allies has united the nutty far right with the antisemitic left.
On college campuses, there have been marches calling for the genocide of Israelis, the most recent occurring at Brown University. 
Today's genocidal chant comes to us from Brown University. They don't just want "freedom" or whatever for Palestinians. They want Jews dead, they want Israel eliminated, face it. pic.twitter.com/94AEqyoEOP

— Karol Markowicz (@karol) October 25, 2023
Later in the day, Jewish students were trapped in a library at Cooper Union University as a mob of pro-Palestinian supporters surrounded the building and pounded on the doors. 
Jewish students at Cooper Union are in the library as protestors pound on the door.

Listen with sound on. pic.twitter.com/pwYRo5KA9X

— Yashar Ali 🐘 (@yashar) October 25, 2023
Outside of campus, though not particularly living in the "real world," progressive activists have told The Washington Post that they are upset that Israel did not sit on its hands following the Hamas attack in which the terrorists burned people alive and decapitated babies [warning: graphic image]. 
To them, writes the newspaper, "Biden's handling of the violence in Israel and Gaza has been unacceptable. As the White House advocates for sending $14 billion in aid to Israel, Cox and his like-minded friends commiserate in a group text about their shared belief that, as Cox said in an interview, 'we should stop sending money and bombs to other countries while we can't fix the water crisis in Flint, [Mich.,] or feed our homeless.'
That sentiment reflects a surge of pro-Palestinian feelings on the part of progressives, especially younger ones, that could jeopardize the fragile alliance Biden has carefully nurtured with the left over the past three years. From climate change to student loans to labor activism, Biden's policies and rhetoric have won over many liberals who have long been suspicious of him, and several prominent progressive leaders vowed last summer to back Biden for another term."
The disconnect comes despite Biden having multiple anti-Israel staffers influencing immigration policy or asylum requests. Recently, leftwing staffers at the State Department and on Capitol Hill have taken part in what's been described as a "mutiny" against their elected bosses, demanding that the United States call for Israel to stop defending itself. 
That's not even accounting for the "Pro-Hamas Caucus" that has risen among House Democrats over the past month. 
Meanwhile, as liberals try to understand their antisemitism problem and "become the meme," Jews in New York City have been told by the police to stay inside. 
NYPD: Jews should stay home!!!

"Jews should definitely avoid the Area," a police source told COL.

"There's no intel at this time in which direction the protest will head,"

"Locals should definitely stay away from Eastern Parkway in that area." https://t.co/McApq8HfHT

— David Shor (@DYShor) October 25, 2023
[Read More: Trump Storms Out Of Courtroom]