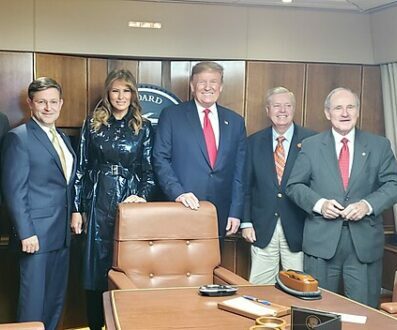 There's a new sheriff in town. New Speaker of the House Mike Johnson is not shying away from taking on Joe Biden's corruption, and Democrats and their allies in the media are getting a little worried. Over the weekend, the new top man in the House said that he'd support doing what his predecessor dragged his feet on. He wants to put Hunter Biden under oath, calling it "overdue."
"Desperate times call for desperate measures, and that perhaps is overdue," Johnson said in an interview, "We're trying to move forward on this very aggressively," according to USA Today. 
The newspaper noted, "House Republicans allege the president financially benefited from his son's foreign business dealings but have yet to produce concrete evidence Joe Biden received direct payments from sources overseas. 
Rep. James Comer, R-Ky., chair of the House Oversight Committee, which is leading the impeachment inquiry, has been touting a $200,000 check James Biden, the president's brother, sent to Joe Biden in 2018 as a 'direct payment.' However, reports suggest the payment was a repayment for a loan. House Republicans contend the White House should show documentation proving Biden made a loan to his brother." 
The chairman has previously said that he wanted to subpoena Biden family members. With a new Speaker, he might get his chance to discuss the mounting evidence for impeachment. 
Speaking to Fox News host Sean Hannity, in his first broadcast interview since becoming speaker, Johnson said that the evidence suggested impeachable offenses had been committed, but he added that he will follow due process, reported Newsweek.

Johnson said: "The reason we shifted to the impeachment inquiry stage on the president himself was because if, in fact, all the evidence leads to where we believe it will, that's very likely impeachable offenses.

"That's listed as a cause for impeachment in the constitution; bribery and other crimes and misdemeanours. Bribery's listed there, and it looks and smells a lot like that. We're going to follow the truth wherever it leads. We're going to engage in due process because, again, we're the rule of law party," he said.

"I know people are getting anxious and they're getting restless and they just want somebody to be impeached, but we don't do that like the other team. We have to base it on the evidence," added Johnson.
Conservatives who believe it is evident that the Biden Family took bribes from foreign countries are thrilled with the new speaker and see him as a natural ally willing to take on a tough fight. 
"I think Mike Johnson is more than happy to move forward, and will move forward, and the only question is the timeline," Rep. Andy Ogles of Tennessee told Politico.
Marjorie Taylor Greene agreed, telling the outlet, "I definitely think he'll be supportive."
The outlet notes that "the right flank cites two points in Johnson's favor: he brings conservative credentials to the role — compared with a less ideological McCarthy, who they saw as reluctant to make centrists take an uncomfortable impeachment vote — and his position on the Judiciary Committee, which put him on the front lines of two Donald Trump impeachments. In a speech last month backing the impeachment inquiry, Johnson appeared to signal he believes the bar had been met to vote on removing Biden, though he hasn't directly said he supports it."
"The mounting evidence … shows that Joseph Biden has engaged in bribery schemes, pay-to-play schemes," Johnson said, noting that the Constitution says a president "shall be removed from office on impeachment for and conviction of treason, bribery or high crimes and misdemeanors."
Throughout the past year, Chairman of the House Oversight Committee James Comer has compiled piles of evidence showing that the Biden Family, not just Hunter, received millions of dollars through the practice of influence peddling. 
In February, Comer offered receipts showing that Joe's brother, James Biden, "reportedly was enlisted to help settle a business dispute between a U.S. construction company and the Saudi government because of his relation to then–vice president Joe Biden.
The negotiations, involving the Philadelphia-based Hill International and the Kingdom of Saudi Arabia, took place in 2012 and yielded a $132 million settlement, according to May 2021 affidavits obtained by the Daily Mail that revealed Biden's brother's role."
In March, Comer revealed that the president's daughter-in-law, a school counselor, received tens of thousands of dollars from a Chinese energy company. 
Hallie Biden is the widow of Beau Biden, who died of brain cancer in 2015, and the mother of two of the president's grandchildren, Natalie and Robert Hunter. She dated the president's other son, Hunter, from around 2016 to 2019, a timeframe that included the Chinese dealings," The New York Post noted.
"This was organized crime. There's no other way to define it," Comer alleged.
The president has denied any involvement in his family's multiple business dealings. If the new Speaker of the House gets his way, the president may have to put his money where his mouth is and prove it. 
[Read More: CEOs Begging Biden To Stop]