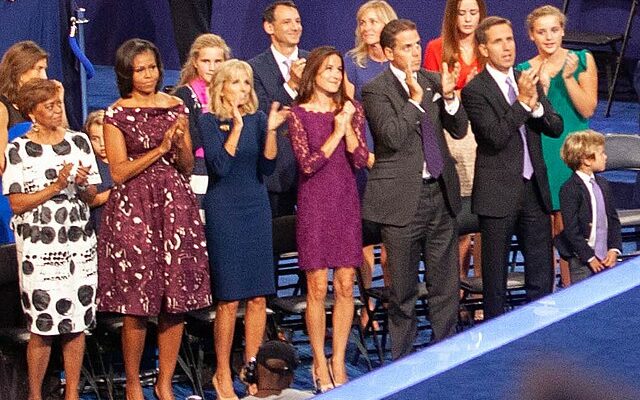 House Oversight Committee Chairman James Comer is planning to turn the heat up on the Bidens directly. On Thursday the Kentucky Congressman announced that he intends to subpoena members of the Biden (Crime?) Family as he continues his investigation in the role that Joe Biden played as his family raked in tens of millions of dollars from foreign businesses and leaders.
Earlier in the week, Comer revealed bank statements showing that Hunter Biden received a total of at least $20 million from oligarchs who the then vice president met shortly thereafter.
 For example, former Moscow first lady Yelena Baturina, wired Hunter's company millions of dollars.
In another example, Hunter Biden received the exact sum of a luxury sports car he wanted from Kenes Raskishev. 
Biiiiiiiig yikes here pic.twitter.com/kinsf6oh30

— Jake Schneider (@jacobkschneider) August 9, 2023
Baturina attended a previously unknown dinner at the Georgetown restaurant with Hunter and Joe Biden, along with Hunter's Kazakhstani partners sometime in spring 2014.
Magically, reported The New York Post, "Baturina managed to avoid Obama administration sanctions over Russia's 2014 annexation of Crimea and support for pro-Russia rebels in eastern Ukraine and she has also avoided President Biden's broader sanctions against Moscow's business elite over last year's full-scale invasion of Ukraine— as has another Russian oligarch, Vladimir Yevtushenkov, with whom Hunter also partnered on real estate scouting."
Comer has said it's time to stop dancing around the topic and plans to ask Hunter Biden himself what he was doing, under oath. 
"This is always going to end with the Bidens coming in front of the committee," Comer told Fox Business Network's "Mornings with Maria" program. "We are going to subpoena the family."

"We know that this is going to end up in court, when we subpoena the Bidens," he added. "So we're putting together a case and I think we've done that very well."

Comer has not disclosed a definite timetable for issuing the summonses. He intends to have conversations with "three or four more associates" before proceeding to ensure that all of the appropriate boxes have been checked.

The chairman did not say which "associates" would be in conversation, but noted that the Oversight committee was "communicating with a couple of them" and promised if the Biden's refuse to testify under oath voluntarily, then they'll be subpoenaed.
The Oversight chairman did acknowledge that President Biden will use every tool he has to fight the investigation, pointing to precedence set by Donald Trump when Democrats threw the kitchen sink at him while he was in the White House. 
"It's very difficult. You know how hard the Democrats tried to get Donald Trump. So this is very difficult," Comer said.
"In response to Comer indicating he will issue subpoenas, the White House pointed to a release it sent Wednesday following the Oversight Committee GOP staff memo.
'Comer and his fellow extreme Republicans in Congress are now admitting they haven't uncovered any proof of involvement or wrongdoing by President Biden. They simply will continue to spread innuendo and lies as they pursue a baseless impeachment stunt to attack the president," said Ian Sams, White House spokesperson for oversight and investigations, pointing to a portion of the memo in which Republicans argued they do not have to show direct payments to President Biden in order to demonstrate corruption.
"House Republicans can't prove President Biden did anything wrong, but they are proving every day they have no vision and no agenda to actually help the American people," Sams said. "For them, it's all about partisan games and political attacks that serve themselves and get themselves attention on rightwing media – not about taking on the big challenges facing our country,'" wrote The Hill.
The chairman has yet to say if he will tell Joe Biden that he merely wants to talk about the weather. 
[Read More: Democrats Caught Destroying Evidence]