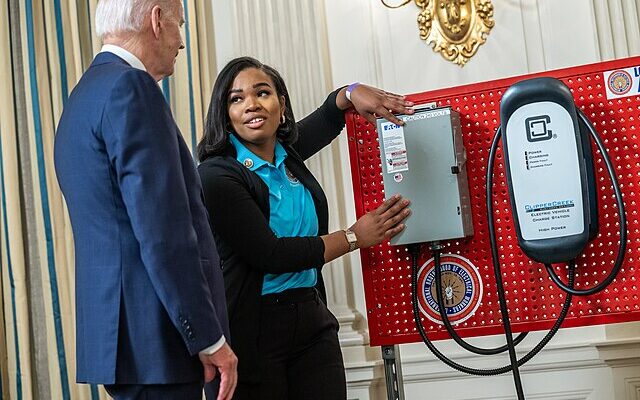 As anyone who's gone to the grocery store lately can attest, Joe Biden's signature piece of legislation, the Inflation Reducation Act, has done next to nothing to reduce inflation. Instead, the title of the bill was used as Trojan Horse to enact the liberal pipe dream of a Green New Deal. 
Celebrating its passage a year after, the president has all but admitted that he had little interest in curbing inflation, not even mentioning when touting the new law's "progress." 
Instead, the White House stated, "One year ago, on August 16, 2022, President Biden signed the Inflation Reduction Act into law – the largest investment in clean energy and climate action ever. The Inflation Reduction Act is a transformative law that is helping the United States meet its climate goals and strengthen energy security, investing in America to create good-paying jobs, reducing energy and health care costs for families, and making the tax code fairer.
Just twelve months after the law was signed, it is already having a significant impact on American workers and families, and is delivering for underserved communities and those that have been too often left behind. Outside groups estimate the Inflation Reduction Act's clean energy and climate provisions have created more than 170,000 clean energy jobs already, companies have announced over $110 billion in clean energy manufacturing investments in the last year alone, the law is delivering billions of dollars to protect communities from the impacts of climate change, and millions of seniors are saving money because their insulin is capped at $35 per month."
Now the dream of the Green New Deal is going up in smoke, and it's crushing our automotive sector by saddling them with EV production that is killing their bottom line. 
With signs of growing inventory and slowing sales, auto industry executives admitted this week that their ambitious electric vehicle plans are in jeopardy, at least in the near term, writes Business Insider.

Several C-Suite leaders at some of the biggest carmakers voiced fresh unease about the electric car market's growth as concerns over the viability of these vehicles put their multi-billion-dollar electrification strategies at risk.

Among those hand-wringing is GM's Mary Barra, historically one of the automotive industry's most bullish CEOs on the future of electric vehicles. GM has been an early-mover in the electric car market, selling the Chevrolet Bolt for seven years and making bold claims about a fully electric future for the company long before its competitors got on board.

But this week on GM's third-quarter earnings call, Barra and GM struck a more sober tone. The company announced with its quarterly results that it's abandoning its targets to build 100,000 EVs in the second half of this year and another 400,000 by the first six months of 2024. GM doesn't know when it will hit those targets.

"As we get further into the transformation to EV, it's a bit bumpy," she said.
Although Detroit keeps telling the administration that EV's are a loser, that hasn't stopped the White House from blowing more and more taxpayer dollars to push its "green energy" agenda. Last week, for example, "John Podesta, President Biden's clean energy czar, quietly assembled with the head of an electric vehicle (EV) company that relies heavily on taxpayer handouts and has floundered financially since its inception, White House visitor logs reviewed by Fox News Digital show.
According to the records, Podesta privately met with Rivian Automotive CEO Robert "RJ" Scaringe; the company's senior policy director, Chris Nevers; its senior public policy manager, Corey Ershow; and Izzy Klein, a lobbyist for the EV maker, at the White House in June. It is unclear what Rivian officials discussed with Podesta, and both the company and the White House didn't respond to requests for comment.
'Well, Podesta has the largest slush fund, un-appropriated, probably in American history. As soon as the Inflation Reduction Act (IRA) passed, Biden and company announced it was actually an investment in green energy and yet it's not appropriated to anything,' Daniel Turner, the executive director of Power the Future, told Fox News Digital. 'So, it makes sense that Rivian and other failing green energy companies are knocking on John Podesta's door.'
"The problem is that it will be sold to the American people as investment, it will be sold to the American people as combating the climate crisis,' Turner added. 'But it is just another example of corrupt government paying off people who fund their campaigns and deciding winners and losers when, at the end of the day, the real losers are the American people who are paying astronomical amounts for basic necessities because of this Biden economy.'"
Despite having connections to foreign lobbyists and being one of the most insider of the DC insiders, Biden has given Podesta enormous authority over implementing "green" policies, which has included spending billions of dollars to get rid of the Post Office's truck fleet and replace them with new electric ones. 
The problem with Biden's obsession with EVs is that no one particularly wants one, even when the government is trying to pay people to buy them. 
Writing in the Daily Caller, Stephen Moore pointed out that "last week, Honda and General Motors announced an end to their two-year collaboration in building a platform for lower-cost EVs. Honda execs said it was "too hard."
Amazingly, less than 10% of all new car sales are EVs over the last two years. This despite the fact that the U.S. government is writing a $7,500 check to people for buying an EV and some states are kicking in $5,000 more.
The Texas Policy Foundation calculates that all-in EV subsidies can reach $40,000 per vehicle. It would practically be cheaper for the government to purchase a new gas vehicle for every American car-buyer.
Meanwhile, the news is even worse for wind and solar power. The Wall Street Journal reported last week that "clean energy" investment funds are tanking with some down as much as 70% in recent months. Solar has been one of the worst performing industry stocks this year."
Say a prayer for the people of Michigan, though, not only is the White House saddling them with selling a product no one wants, their governor, Gretchen Whitmer, believes she can burnish her own presidential ambitions by imposing her own "Green New Deal" on the Great Lakes State, which will threaten the stability of the energy grid and raise the cost of living in the state. 
[Read More: Blue State Teachers Mailing It In]