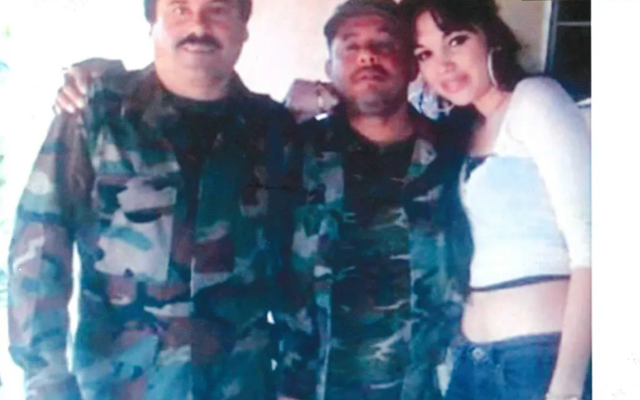 Last month, Republican presidential candidate Ron DeSantis raised eyebrows when he said he would send the military to the American-Mexico border. The Florida governor said in an interview with CBS's Norah O'Donnell that as president he would send troops to the southern border and allow them to use deadly force against individuals identified as members of a drug cartel. 
"I'm going to have the military at the border, 100 percent," he said. 
DeSantis explained that it's entirely possible to differentiate between cartels and normal people trying sneak into the United States in order to have a better life. 
"If there's a woman with a baby, they're not a cartel member. There's not going to be authorization to just shoot somebody like that. But when somebody's got a backpack on, and they're breaking through the wall, you know that that's hostile intent, and you have every right to take action under those circumstances," he continued. 
Iván Archivaldo Guzmán Salazar, Jesús Alfredo Guzmán Salazar and Joaquín Guzmán López – known as Los Chapitos – erected banners across several cities in the Mexican state of Sinaloa on Monday (October 2) telling traffickers in the region that production and transportation of fentanyl was "strictly prohibited," writes The Daily Star.

MILENIO reports that between September 15 and 20 dealers also received WhatsApp messages from suppliers announcing a "menu" change. Fentanyl was banned from being used as a mixer to enhance the effects of other drugs.

"The decision comes from above, from the brothers, and anyone caught disobeying will be punished," the message warned. That punishment, unsurprisingly, is death. And the ban appears to have been in place since Ovidio's arrest.

The dealer who shared the WhatsApp message with MILENIO said: "Everything changed when they caught El Ratón [Ovidio]. Suddenly, fentanyl was disavowed and Los Chapitos began to write off even their own sellers (who didn't listen)."
Reports say that at least ten drug dealers who refused the order have either been killed or disappeared. Those taking out the drug dealers are leaving a calling card as a warning to others, placing blue fentanyl pills on the bodies of the deceased.
The reports noted that no one is above the fentanyl ban. Luis Javier, an opioid trafficker that the US Government was offering a $1 million reward for, was part of the crew allegedly murdered for disobeying the new ban on fentanyl heading to the United States. His body turned up in Sinaloa's capital Culiacan last month.
Fentanyl is a synthetic opioid renowned for its remarkable potency in pain management. It is often administered in medical settings to alleviate severe pain, typically in the form of patches, injections, or lozenges. 
As a pharmaceutical, The New York Times explains, "it's used safely every day for anesthesia in operating rooms throughout the country, and as a prescribed painkiller. But like heroin and other opioids, it can be highly addictive. Fentanyl can be made entirely in a laboratory, unlike opioid drugs like heroin, which are derived from poppy plants.
Since 2015, fentanyl and other drugs closely related to it have gradually displaced heroin and other opioids in illicit American drug markets, leading to a surge in addiction and overdose deaths.
In terms of mortality, the current fentanyl crisis dwarfs any other drug crisis in American history.
In a recent presidential debate, Nikki Haley, the former governor of South Carolina, said that fentanyl had killed more Americans than the wars in Vietnam, Iraq and Afghanistan combined. This is true. Around 77,000 Americans died from overdoses involving synthetic opioids like fentanyl in the 12-month period ending in April of this year, according to provisional estimates from the Centers for Disease Control and Prevention. In 2022, the most recent year with complete data, this number was around 74,000. Those three wars killed a little over 65,000 Americans combined.
For comparison, around 55,000 Americans died in 1972 from car crashes, the year with the most such deaths. Around 49,000 died from guns in 2021 (including suicide), the year with the most such deaths."
Overdosing on fentanyl served as the cause of death for a third of Americans aged 25 to 34 in 2022. DeSantis and other Republicans during the last debate discussed the need to use the military to prevent the drug from being brought into the country. 
[Read More: Biden Places Hunter Colleague In Charge Of Whistleblowers]