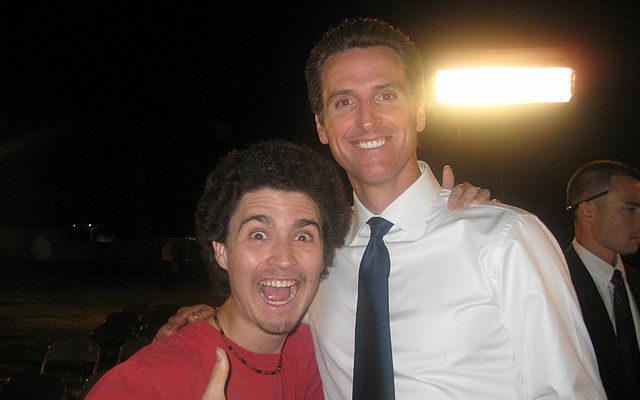 Gavin Newsom has decided that if your child is missing, the effort and resources the state will deploy into finding and recovering the lost one will be determined by your race. Rather than trying to fix disparities and make the system less racist, California has created a race-based version of "Amber Alerts."
Gov. Gavin Newsom signed Senate Bill 673 into law on Sunday, making California the first state to create an alert notification system — similar to an Amber Alert — to address the crisis of missing Black children and young women, reports NBC News.

The law, which will go into effect on Jan. 1, will allow the California Highway Patrol to activate the alert upon request from local law enforcement when a Black youth goes missing in the area. The Ebony Alert will utilize electronic highway signs and encourage use of radio, TV, social media and other systems to spread information about the missing persons' alert. The Ebony Alert will be used for missing Black people aged 12 to 25.

"Data shows that Black and brown, our indigenous brothers and sisters, when they go missing there's very rarely the type of media attention, let alone AMBER alerts and police resources that we see with our white counterparts," state Sen. Steven Bradford, also a Democrat and creator of the legislation, told NBC News earlier this year.

He added: "We feel it's well beyond time that we dedicate something specifically to help bring these young women and girls back home because they're missed and loved just as much as their counterparts are."
Yes, you read that correctly, in a display of latent racism, Black adults aged 18 to 25 will be included as "children" in Ebony Alerts because the state of California apparently considers being a young Black adult to be similar to being cognitively impaired. 
Amber Alerts are issued for only a small portion of missing child cases across the United States. A USA TODAY investigation found that "in 2021, there were 254 Amber Alerts compared with the more than 337,000 missing-child reports local police agencies logged with the FBI – less than one alert for every 1,000 children. 
From 2017 through the end of 2021, Black children made up 37% of missing-child reports and nearly 37% of Amber Alerts, USA TODAY found, indicating the alerts are issued proportionately. 
The USA TODAY Network found Black children are disproportionately classified as runaways by police, which pulls away resources to help locate them.
At the end of 2022, the National Crime Information Center said that 30,285 Black people are still missing. That same year, Black women accounted for 18% – or 97,924 – of all missing persons reports. That's despite Black women accounting for 7% of the total U.S. population, according to the U.S. Census Bureau."
Not everyone views the launch of Ebony Alerts as a positive thing for the Black community, however. The Daily Mail noted that "prominent civil rights attorney Ben Crump shared the news of the bill's signing into law on Instagram Tuesday, calling it a good thing for missing black people," but received push back from his followers. 
'I don't like this. I feel like it makes it easier to disregard our kids,' one person wrote. 
'This only reinforces "the other," and is insulting,' another shared. 
Others were in celebration alongside the attorney, saying they believe it will help to address a systematic issue that has gone on for too long." 
Ebony Alerts will join a growing group of "alerts" in the Golden State. California currently issues "Blue Alerts" for a violent attack on a law enforcement officer, "Feather Alerts" for a missing indigenous person, and "Silver Alerts" for a missing person who is elderly, developmentally, or cognitively impaired.
[Read More: Biden Had To Speak To Investigators Over His Corruption While Israel Was Being Attacked]