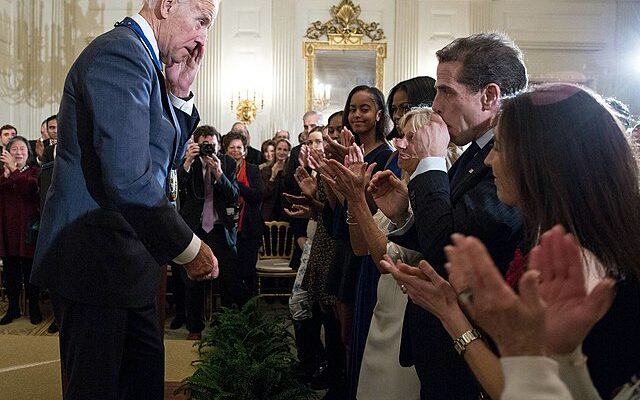 The former head of the U.S. Justice Department's tax division is encouraging the judge being presented Hunter Biden's "sweetheart" deal should toss it out. 
"Eileen O'Connor, who ran the DOJ tax division from 2001 to 2007, published an op-ed in the Wall Street Journal Wednesday outlining why the plea agreement Hunter Biden struck with the Delaware U.S. attorney's office ought to be dismissed, writes The Federalist.

'Judges can reject plea agreements,' O'Connor wrote. 'That would be an appropriate disposition here.'

O'Connor summarized the blockbuster revelations from a pair of whistleblowers within the Internal Revenue Service who came forward with allegations of DOJ interference in their criminal tax probe investigating Hunter Biden. The IRS investigation into the younger Biden began in 2018 as an 'offshoot' of a federal probe into a foreign pornography ring. The FBI even came across Hunter Biden's infamous laptop a year later, and verified the computer's authenticity, but refused to share its full contents with the IRS.

'The Justice Department's alleged foot-dragging and refusal to permit IRS special agents to follow the evidence allowed the statutes of limitations for 2014 and 2015 to expire, notwithstanding that Mr. Biden's defense counsel had, according to [whistleblower Gary] Shapley, agreed to more than one extension,' O'Connor wrote. 'Far worse, Mr. Garland's failure to designate Mr. Weiss a special counsel essentially guaranteed that Mr. Biden wouldn't be prosecuted for any of his alleged tax crimes.'"
She concluded, "Judges can reject plea agreements. That would be an appropriate disposition here. And Congress, in fulfillment of its oversight obligation, must learn and share with the American public what evidence the IRS gathered, what evidence its agents weren't permitted to obtain, and what charges might have been brought if they had."
O'Connor isn't alone. Republicans in Congress have also said that the judge should toss the deal and get rid of the two-tiered system of justice that has been exploited by the Bidens. 
"'I don't understand how any judge could bless this plea agreement now that all of this evidence of obstruction and DOJ and FBI wrongdoing has surfaced,' Sen. Ron Johnson, R-Wis., told Just the News. 'So I hope this judge does reject this, and then insists and demands on an honest investigation and an honest prosecution as well.' 
Johnson, who with Sen. Charles Grassley led a two year probe into Hunter Biden's overseas business dealings, was reacting to testimony and evidence from IRS supervisory agent Gary Shapley and another whistleblower that federal prosecutors blocked search warrants, interviews and more serious criminal charges.
Shapley first made the allegations to the Justice Department inspector general and the House Ways and Means Committee. And in an interview to be aired Thursday on the John Solomon Reports podcast he detailed how career agents, career prosecutors, the DOJ tax division and lead U.S. Attorney David Weiss supported charging Hunter Biden with felonies alleging tax evasion and avoidance all the way back to 2014 totaling $2.2 million, including failing to pay taxes on $400,000 in income he got from the Ukrainian energy firm Burisma Holdings.
Shapley said President Joe Biden's son was spared the more serious charges when the U.S. Attorneys in Washington D.C. and Los Angeles – both appointed by Biden – declined Weiss' request for an indictment and then the statute of limitations on the older alleged offenses were allowed to expire."
Despite being an appointee of Donald Trump, it's hard to think the judge will toss the plea deal. She's friends with major Biden supporters from Delaware. 
Fox News reported after being nominated to the post by Preisdnet Trump 2017, Maryellen Noreika garnered a high-profile support from Delaware senators Chris Coons and Tom Carper. 
"Under the so-called blue slip tradition, judicial nominees may receive a confirmation hearing only if they receive support from both of their home-state senators, according to the American Constitution Society. That support was given to Noreika from Delaware Democrat Sens. Tom Carper and Chris Coons.
"Delaware's courts are renowned for their judges' expertise. Maryellen Noreika and Colm Connolly are two highly-respected, sought-after attorneys who have displayed a vast knowledge of the law and a thorough understanding of the courts during their extensive careers working in the Delaware judicial system," Carper said of Noreika's nomination in December 2017.
Carper's comments were also echoed at the time by Coons, who said, "Colm Connolly and Maryellen Noreika are seasoned attorneys, with impressive trial skills, deep experience in federal practice, and profound respect for the law. I am confident that they will both be capable jurists, and I look forward to their confirmation hearings."
A Fox News Digital report from April found that Hunter Biden served as an outside adviser at one time to Coons, and was instrumental in helping him fundraise for his successful 2010 Senate bid using his network of in-state and out-of-state business associates to contribute to Coons' campaign."
Hunter Biden is slated to appear in federal court on July 26.
[Read More: Michigan Launches The Inquisition]