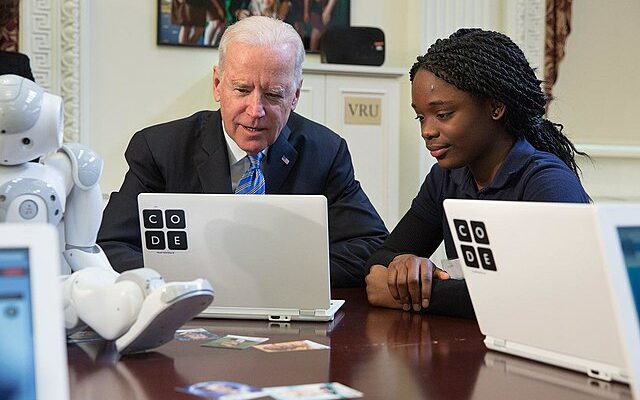 Update: Although Joe Biden is dragging his feet on rescuing stranded Americans caught in a war zone, one governor refuses to abandon his citizens. Fox News reports that "Florida Gov. Ron DeSantis signed an executive order on Thursday authorizing planes from his state to rescue stranded Americans in Israel in the middle of the battle with Hamas.
'Today I signed an executive order authorizing rescue operations in Israel to bring Floridians home and transport supplies to our allies,' the Florida governor and 2024 presidential candidate posted on X, formerly known as Twitter, on Thursday.
'We will not leave our residents behind. To the many Floridians who are stuck in Israel, trying to get home — help is on the way.'
In the executive order, DeSantis explained that Floridians stranded in Israel have requested from his office and Florida's congressional delegation 'because they are not receiving timely assistance from the U.S. Embassy in Israel and are not receiving any follow-up after enrolling in the U.S. Department of State's Smart Traveler Enrollment Program.'"
Original story:
It has happened again. For the third time in three years, Americans stuck in a dangerous situation abroad have been abandoned by the Biden Administration. 
Reports have streamed in from all over the country of Americans stuck in Israel while the American military sits on its hands at the behest of the White House. 
For example, one family from Florida, including their 8-month-old, celebrated the holiday in Israel. Now, they're stuck in a war zone and desperate to return to the United States, but their government is nowhere to be found.  
"I'm just finally starting to break a bit, but I want you guys to see what it's like, the emotions," Rebecca Solomon said a video she posted on Instagram.
"She is sleeping in the bomb shelter, that's her room. But it's like it makes me sick knowing that, I don't know, I don't know if we can get home," said Solomon.
Solomon spoke with local news back home while her she remains stranged in Rishon Lezion, just south of Tel Aviv.
"Why isn't the military stepping in? It's been days now. This attack isn't—it is going to get a lot worse before it gets better and the fear is that the airport, which is actually just a 15-minute drive that way, that that's going to shut down," Solomon said.
Solomon is not alone. The New York Post reported that "forty-six members of a California-based church group trapped in Israel without a way home are pleading with the Biden administration to intervene and help get them back.
The group is making the desperate plea after major airlines canceled almost all flights out of the country since the Hamas attack there Saturday.
As US officials warn that the conflict could last weeks if not months, the Holy Land tour group, from Impact Bible Fellowship in Riverside, Calif., is pleading with the State Department to charter flights to help evacuate Americans from Israel.
'They need to start getting Americans out," said Silver Prout, who is among the 46 US citizens stuck in Israel. "Where is the State Department?'"
This picture has become all too familiar for Americans during the Biden years. 
The Daily Caller writes, "The images of families pleading for assistance while parents beg the president to help them get their sons back is familiar to the administration. The events currently unfolding in Israel mark the third time during President Joe Biden's tenure that Americans have found themselves trapped abroad with no promise of American government escort to safety.

As war breaks out in Israel following Hamas' terrorist attack on the country, Biden encouraged Americans who want to leave the country to book a commercial flight or utilize ground options. But just hours before Biden made the announcement, commercial airlines such as Delta, United and American halted services in and out of Israel, leaving Americans scrambling and without many avenues out.

The scenes of Americans abandoned in Israel bear a striking similarity to the Biden administration's withdrawal from Afghanistan and its flee from war-torn Sudan, which both abandoned citizens in each country.

U.S. officials abandoned Sudan in April, leaving thousands of Americans behind. At one point the U.S. government estimated that at least 16,000 Americans were in Sudan, though the true number of Americans who were in the country and wished to leave was much lower, as many were dual-citizens. After telling Americans not to expect military help in order to evacuate, the U.S. was able to transport roughly 1,000, though it is unknown how many were left behind.
White House officials said that Hamas has killed at least 14 American citizens and that 20 or more were missing.
"Jake Sullivan, Mr. Biden's national security adviser," noted The New York Times, "told reporters on Tuesday that it remains unclear how many of the missing were in the hands of Hamas, the Palestinian group that controls Gaza and carried out the attacks that began on Saturday morning and have killed more than 1,000 people in Israel.
Mr. Sullivan said the government was in regular contact with the families of the missing, some of whom have pleaded with authorities in the United States and Israel to help find and bring back their loved ones."
While Biden pretends that his hands are tied, other countries have stepped up to help their citizens. The Guardian reported that Canada would "send military aircraft to Tel Aviv 'in the coming days' for citizens and permanent residents as well as their spouses and children.
The Australian government confirmed on Wednesday it had asked Qantas and Virgin for urgent help to repatriate Australians from Israel as the death toll in the region mounts. However, foreign minister Penny Wong urged people not to wait for government-backed repatriation flights if they could find a commercial option to leave the region.
Germany has chartered Lufthansa to evacuate its citizens who want to leave on Thursday and Friday, the foreign ministry said on Tuesday. German media reported there were thought to be about 4,500 Germans in Israel, including many school and youth groups.
Denmark will also offer to evacuate its citizens from Israel and the Palestinian territories, the government said on Wednesday while Fiji's defence minister Pio Tikoduadua said a Fiji Airways flight had left Tel Aviv with almost 200 Fijian religious pilgrims, plus citizens of Australia, New Zealand, Canada and the US on board and would arrive in Fiji on Thursday.
Hungary evacuated 215 people on two planes on Sunday, while Mexico said on Monday it was evacuating about 300 of its nationals who had asked to leave on humanitarian flights operated by its army."
Mexico has also taken action to protect their people abroad. "Three hundred Mexican citizens in Israel have signed up to leave the country, Mexico's President Andrés Manuel López Obrador said Monday, noting the country would send two aircraft to carry out evacuations.
The majority of Mexicans in Israel are there for tourism and religious purposes, the president said. The government decided to send the aircraft — one will go in the morning, the other in the afternoon — due to commercial flight cancelations," according to CNN.
While Americans are trapped in an escalating war zone and being told by their government to check out Kayak.com to escape, the White House continues to have its eye on the ball. This morning, the administration invited a mother to speak at the White House about airline fees.
The Biden Admin is currently hosting a mom who is complaining that she had to pay an unwanted service fee while recently buying airplane tickets pic.twitter.com/xhhIoTaUSC

— Tom Elliott (@tomselliott) October 11, 2023
Later in the evening, the State Department did release how they are helping those stuck abroad in the war, telling them that they will take them to a place where they can buy their own ticket home and will have to sign a promissory note to do it.
US STATE DEPARTMENT TELLS CITIZENS STUCK IN ISRAEL IT MAY HELP THEM EVACUATE – BUT ONLY IF THEY SIGN A PROMISSARY NOTE. pic.twitter.com/PfFI0i5mk1

— The Meturgeman (@HaMeturgeman) October 11, 2023
[Read More: Gavin Newsom Implements Race-Based System For Missing Kids]