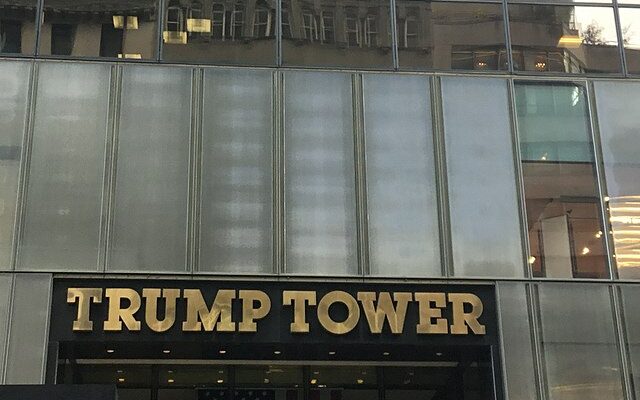 Donald Trump's New York business empire is, effectively, no more. Judge Arthur Engoron ruled on Tuesday that the former president committed fraud for years as he built the real estate empire that made him one of the most famous people in the world. He then ordered parts of the Trump Organization to be removed from his control and dissolved.
The Associated Press explained that Judge Engoron was "ruling in a civil lawsuit brought by New York Attorney General Letitia James, found that Trump and his company deceived banks, insurers and others by massively overvaluing his assets and exaggerating his net worth on paperwork used in making deals and securing loans."
This may explain why Trump has used so much of his campaign funds to pay for his legal defense rather than attacking Biden. 
Former President Donald Trump, his top executives, and heirs were declared completely liable of "persistent and repeated fraud"—and the real estate empire was unceremoniously stripped of its business licenses in New York—after a judge's powerful ruling Tuesday ahead of a massive trial that seeks to hit them with more than $250 million in penalties for bank fraud, writes The Daily Beast.

And in a stunning development, the judge has already ordered the complete dissolution of the fabled Trump Organization–the tycoon's pride and joy, the empire that made him famous and elevated him into the White House. The Trump Organization and its sister companies will be sent into receivership to be under the control of a court-appointed officer.

Even before the trial officially starts, the ruling handed New York Attorney General Letitia James a near total victory, meaning that next week's trial will mostly focus on damages that could pulverize whatever is left of Trump's many business entities and bank accounts.

In his 35-page opinion, Justice Arthur F. Engoron tore apart what he called the Trump family's "bogus arguments" and obstreperous conduct. And he summed up the entire defense as "a fantasy world, not the real world."

"In defendants' world: rent regulated apartments are worth the same as unregulated apartments; restricted land is worth the same as unrestricted land, restricts can evaporate into thin air… all illegal acts are untimely if they stem from one untimely act; and square footage [is] subjective," he wrote.
The ruling by the judge is not merely an attack on Trump's wealth. It also cuts to the heart of his identity. It's a move that doesn't look just to punish the former president, but erase him altogether. 
Maggie Haberman of The New York Times, a confidant of Trump, wrote that "by effectively branding him a cheat, the decision in the civil proceeding by Judge Arthur Engoron undermined Trump's relentlessly promoted narrative of himself as a master of the business world, the persona that he used to enmesh himself in the fabric of popular culture and that eventually gave him the stature and resources to reach the White House.
Whether the effect of Engoron's ruling is any different remains to be seen. But his finding imperils both Trump's public image and his business empire. The former president now faces not only the prospect of having to pay $250 million in damages, but he could also lose properties such as Trump Tower that are inextricably linked to his brand.
The ruling was the latest remarkable development to test the resilience of Trump's appeal as he seeks to win election again despite the weight of evidence against him in cases spanning his years as a New York developer, his 2016 campaign, his efforts to overturn his 2020 election loss and his handling of national security secrets after leaving office.
The federal case accusing him of plotting to retain power despite his defeat at the polls three years ago paints him as a threat to democracy, as does a similar prosecution in Georgia. The classified documents case portrays him as willing to obstruct justice to cover up a reckless disregard for the laws that govern the handling of such documents. A New York prosecution stemming from hush-money payments to a porn actor in the closing stages of the 2016 election sets out evidence of the kind of political skulduggery he professes to want to eradicate from Washington."
Under the ruling, according to ABC News, "limited liability companies that control some of Trump's key properties, such as 40 Wall Street, will be dissolved and authority over how to run them handed over to a receiver. Trump would lose his authority over whom to hire or fire, whom to rent office space to, and other key decisions.
'The decision seeks to nationalize one of the most successful corporate empires in the United States and seize control of private property all while acknowledging there is zero evidence of any default, breach, late payment or any complaint of harm,' Kise said after the decision.
The Trump Organization was convicted of tax fraud last year in an unrelated criminal case for helping executives dodge taxes on perks such as apartments and cars. The company was fined $1.6 million. One executive, Trump's longtime finance chief Allen Weisselberg, pleaded guilty and served five months in jail."
The prosecutor in the fraud case, the outlet noted, "previously sued Trump for misusing his charitable foundation to further his political and business interests. Trump was ordered to give $2 million to charity as a fine while his own charity, the Trump Foundation, was shut down."
In yet another long, strange rant, President Trump responded to the ruling by calling out the "highly politicized Democrat judge." 
The former president said on Wednesday that the judge "made up this crazy 'KILL TRUMP' decision, assigning insanely low values to properties, despite overwhelming evidence….[The judge's] anger & hatred is politically motivated & unprecedented by those who watched!" 
Eric Trump, the former president's middle son, took to Twitter to argue that Mar-a-Lago was worth much more than the judge ruled. 
In an attempt to destroy my father and kick him out of New York, a Judge just ruled that Mar-a-Lago, in Palm Beach Florida, is only worth approximate "$18 Million dollars"… Mar-a-Lago is speculated to be worth we'll over a billion dollars making it arguably the most valuable… pic.twitter.com/b0U6J5ykWJ

— Eric Trump (@EricTrump) September 26, 2023
Twitter users responded to the claim however, noting that Mar-a-Lago was designated a National Landmark and its deed requires it to be a club, which drastically undercuts the property's value compared to if it were an unrestricted property. 
Worth noting that in 1969, Mar-A-Lago was designated a National Historic Landmark. That means it can't be developed or turned into a single-family estate. Its deed requires it to remain a club, which reduces its re-sale value.

Zillow currently gives the estate an estimated…

— Darlene McDonald (@iamdarlenemcd) September 27, 2023
The Hill reported that Trump will appeal the decision.
[Read More: NYC Kicks Vet Out Of Home For Despicable Reason]