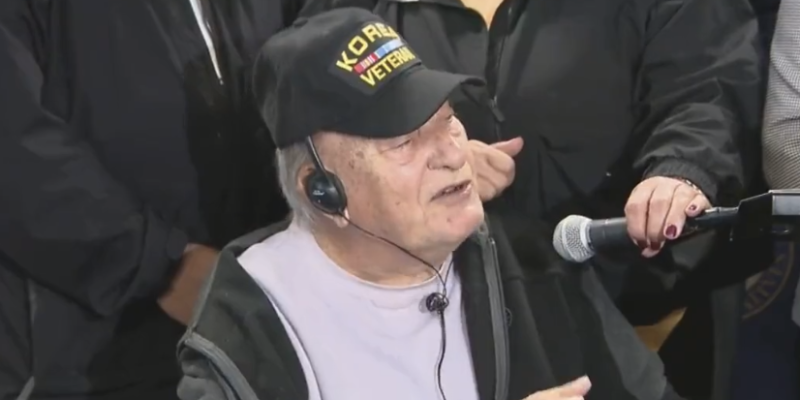 A 95-year-old veteran of the Korean War living in New York City was close to being left on the streets after leaders in the Big Apple continued to panic over the large increase of migrants flooding into their "sanctuary city." 
Last year, Frank Tammaro was one of several veterans honored for his service to his nation in Staten Island. Now, he was given six weeks to leave the Island Shores Senior Residence after it was sold to city authorities last month. Officials intend to turn the nursing home into a facility to house illegal immigrants who have come to the city.
Fox News reported that Tammaro joined Rep. Nicole Malliotakis, R-N.Y., a vocal critic of New York City's handling of the migrant crisis, at a press conference on Monday to discuss the reported deal.

"The thing I'm annoyed about is how they did it, it was very disgraceful what they did to the people in Island Shores," Tammaro said, referencing the assisted living facility he was in.

He said that Island Shores "gave us time to get out," but not enough time to protest the decision to boot residents – which Tammaro said he tried to do.

"Then one day there was a notice on the board. I think that gave us a month and a half to find out where we were going to go," he said. "I thought my suitcases were going to be on the curb because I'm not that fast."

"If it wasn't for my daughter, they would've been on the curb. That was it. I said, 'No, no, no, no, you're not moving me,' and they said, 'Yes, yes, yes we are.' Everything was done behind closed doors – we didn't have a chance to actually make any attempt to stop them because there wasn't enough time."
Veteran Frank Tammaro, a 95-year-old Korean War veteran said he was given less than two months' notice to figure out where he was going to live after the nursing home he resided in was sold to become a facility for undocumented migrants.

"The thing I'm annoyed about is how they… pic.twitter.com/4YIM2EDBgW

— Wesley Hunt (@WesleyHuntTX) September 27, 2023
The tens of thousands of people crossing into the United States has become a problem for Democratic-run cities ever since the governors of Texas and Florida began sending new arrivals to destinations of their choice farther up north. Staten Island has become a major flashpoint as liberal policies and liberal reality and Democrat Eric Adams decided to follow Joe Biden's lead and send new arrivals to "red" parts of town. 
[Joe Biden Announces 'Stay In Texas' Policy]
NPR wrote, "Up until recently, an eerie recording reverberated 24 hours a day in the usually quiet Staten Island neighborhood of Arrochar: "This building is not safe for humans. The community wants you to go back to New York City. Immigrants are not safe here."
A couple of years ago, this might have been unthinkable: for a city in which a third of its population is foreign-born to become one of the focal points in the national argument over immigration. But in the last year or so, New York City has received about 100,000 migrants seeking shelter.
Staten Island Borough President Vito Fossella was among those who filed suit against city government to shut the shelter down.
"These ordinary folks wake up one day, they have, you know, migrants living next door to them, there's nothing to do", he told NPR. "And we're just being told 'Tough luck.' And what we've said is Staten Island didn't cause this problem. Why are we obligated to solve the problem?"
Fossella says the city's budget can't handle taking care of so many migrants and Staten Island shouldn't have to suffer the consequences. In fact, Fossella is one of several Staten Island leaders who has supported secession."
Over all, roughly 100 hotels in New York City have been turned into shelters for those coming to the country illegally. Adams announced plans to spend an extra $1 billion on hotel accommodation for migrants over the next three years. He is currently devising ways to cut the city's public services to pay for it and it's not just Republicans who are upset.
While some Washington liberals claim that it's only Republicans who are opposed to immigration, local Democratic officials have gone after Biden's policies, saying that the cost is hurting their cities.
The person Rep. Alexandria Ocasio-Cortez (D) is lecturing in this viral clip is not a Republican. It is NY Assembly Member Jaime Williams, a Democrat from Brooklyn. Williams was objecting to taxpayers spending $27 million to house 2,000 illegal migrants in tents in her district. https://t.co/hAfkkf60ku

— RRH Elections (@RRHElections) September 27, 2023
Williams is not alone. Democratic Queens Councilman Robert Holden told The Daily Mail, "The migrant crisis has evolved into a financial boondoggle, with quietly extended contracts fattening the pockets of a few at the taxpayer's expense.' 
The outlet explained that "city planners have estimated the cost at $4.7 billion this year alone, equal to the budgets for the city's sanitation, fire and parks departments combined.
Adams has warned that the cost could reach $15 billion over three years, and that library hours, meals for senior citizens, and day care for three-year-olds are at risk as he lops 15 percent of departmental spending."
In August, preliminary data acquired by The Washington Post revealed an unprecedented surge in the arrival of migrant families at the U.S.-Mexico border. This surge has disrupted the Biden administration's attempts to dissuade parents from unlawfully crossing the border with their children and may once more make immigration a central focus during an upcoming presidential election.
The situation has some in New York wondering if a 95-year-old veteran can't be secure in their nursing facility, what's next? 
[Read More: Dems Worried About Biden's Health]