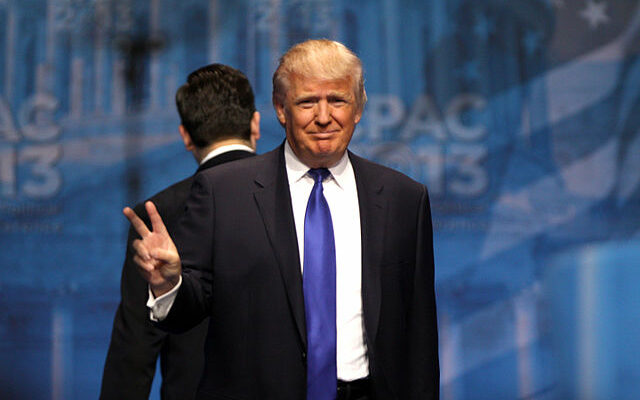 A few hours after being called "Donald Duck" for ducking the Republican presidential debates by former New Jersey Governor Chris Christie, former President Donald Trump called on the Republican National Committee to end the debates altogether. 
During an interview with The Daily Caller, Trump "slammed the Republican National Committee (RNC) early Thursday morning, saying he is deeply concerned the RNC will not be able to do its job and that they should call off any future debates.
In an exclusive sit-down interview with the Daily Caller, Trump said there would not be a breakout candidate and the debates are bad for the Republican Party.
"They have to stop the debates. Because it is just bad for the Republican Party. They are not going anywhere. There is not going to be a breakout candidate," Trump said, before saying who he thought performed best in the second presidential debate.
"I am very concerned about the RNC not being able to do their job," Trump added.
He apparently believes he should not face challengers, much like Hillary in 2016. Politico writes, "Trump has largely discarded the hard, steady work of campaigning against his Republican opponents on the stump and limited his appearance to "spot" events, TV interviews, or tele-rallies. Instead of fighting for votes, Trump people have worked the nomination process to make sure that rules that reward delegates tip his way. Where he can't raise money, he tries to persuade potential donors not to give to his foes. On Monday, he took to Truth Social to urge the Republican National Committee to stop spending time on the "meaningless" debates because he's leading in the polls and to start suing Pennsylvania for switching to automatic voter registration."
It's not a surprise that the former president would want to end the primary now. His rallies have grown increasingly smaller over the past year and his counter programming during the Republican debate was mocked for its size. 
Trump takes the stage in Michigan: @DailyCaller pic.twitter.com/LBqgEfaIaJ

— Henry Rodgers (@henryrodgersdc) September 28, 2023
The Independent reported, "Donald Trump skipped the second GOP debate to hold a rally for auto workers on strike in Michigan – but the crowd has come under suspicion after some attendees reportedly revealed they don't fit in that category.
Mr. Trump visited Drake Enterprises, a non-unionized auto parts factory, on Wednesday night while seven of his rivals in the 2024 election faced off in California."
In a speech during his visit, Trump claimed "thousands of people" had gathered to listen to his speech to autoworkers on strike, but local news in Michigan said the rally was much smaller and that those in attendance were not actually UAW workers. 
Ouch.

Just on Rumble, which was not the main platform for the GOP debate and where Trump's account has almost 50X as many followers as the GOP account, the GOP debate got over 2X as many views as Trump's fake UAW speech (1.32M vs 571K). Both were streamed at the same time. pic.twitter.com/JTED4DyGls

— AG (@AGHamilton29) September 28, 2023
The Detroit News wrote, "About 400 to 500 Trump supporters were inside a Drake Enterprises facility for the speech. Drake Enterprises employs about 150 people, and the UAW doesn't represent its workforce. It wasn't clear how many auto workers were in the crowd for the speech, which was targeted at them.
One individual in the crowd who held a sign that said 'union members for Trump,' acknowledged that she wasn't a union member when approached by a Detroit News reporter after the event. Another person with a sign that read "auto workers for Trump" said he wasn't an auto worker when asked for an interview. Both people didn't provide their names."
The small rally outside of Detroit comes as Trump is facing multiple problems. Although the former president believes the primary should be considered over, voters in early states are keeping their options open. 
CBS recently ran a poll showing that "just a fifth in Iowa and about a quarter in New Hampshire are considering Trump and nobody else, making his support "floor" a bit lower in these early states than it looks nationwide. Most of Trump's backers are considering at least one other candidate, and these voters are more likely to say they're supporting him "with some reservations" than Trump-and-only-Trump voters are. And in both states, only-Trump voters are outnumbered by the third of the electorate who aren't considering him at all.
Voters considering choices other than Trump say they are doing so to keep their options open. They also show concern about Trump's controversies and legal fights, and think the party should consider someone new. Few say it's because he could lose to Mr. Biden. And few say they don't like Trump personally or that he doesn't represent their state's values (though they're likelier to say so in New Hampshire than in Iowa).
Non-Trump voters tend to be actively considering more candidates on average — half of them are currently considering three or more, underscoring that fragmentation. DeSantis is being considered by the most non-Trump voters in Iowa, while Haley leads in consideration by that group in New Hampshire, followed closely by DeSantis."
Chris Christie isn't the only Republican to go after Trump for not debating. Florida Governor Ron DeSantis has upped the ante, as well, challenging the former president to a one-on-one debate with Sean Hannity as moderator.
DeSantis on Trump this morning:

– Trump is MIA
– Trump lost to biden in the 2020 debate. RD questions how anyone could lose to biden in a debate.
– Calls trump a keyboard warrior.
– Challenges Trump to say it to his face.
– Reiterates 1v1 challenge.

— Spaceman 🇺🇸 (@crypto_magellan) September 28, 2023
During the Fox News debate last night, DeSantis blasted Trump for his record. "He should be on this stage tonight. He owes it to you to defend his record, where they added $7.8 trillion to the debt. That set the stage for the inflation we have now."
Trump has already announced that he will duck out of debate number three, which will take place in Miami on November 8. One might wonder if he hasn't read the story of the tortoise and the hare and is making a fatal mistake. 
[Read More: Will Trump Have To Sell His Tower?]