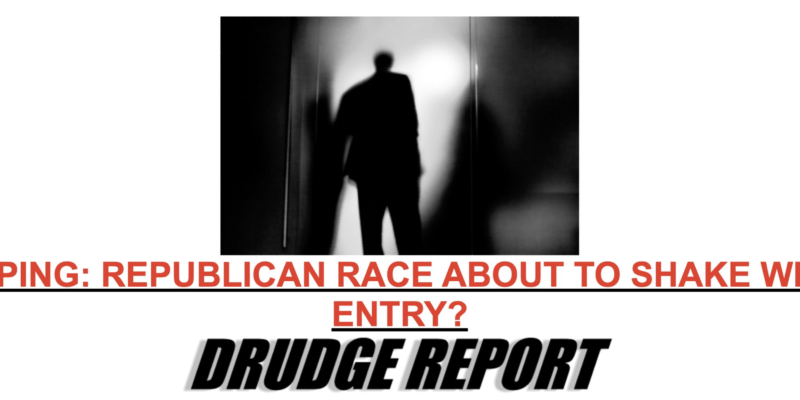 In 2016, the GOP donor class could not decide who to back for president against an outsider candidate by the name of Donald Trump. As the ups and downs of the campaign continued, they first backed Jeb! Bush, then they backed Chris Christie, then they backed Marco Rubio, and then, finally, they thought John Kasich was the great Trump Stopper. In the end the splitting of the vote allowed Trump to win the nomination without a majority of the vote.
The rest, as they say, was history.
This time around, the same billionaires, desperate to stop Trump because of his growing scandals and low approval rating among general election voters, have come up with a brilliant scheme: they want to add another governor to the current GOP field and the famous Drudge Report is reporting that it could shake up the race.
They hope Glenn Youngkin can save them.
Some of the biggest Republican donors in the country will converge next month at the historic Cavalier Hotel in Virginia Beach for a two-day meeting to rally behind Gov. Glenn Youngkin. The closed gathering, named the "Red Vest Retreat" after the fleece Youngkin wore during his 2021 campaign, will begin Oct. 17 and be focused, officially, on the Republican effort to win full control of the General Assembly in Virginia's upcoming elections. But unofficially, several donors tell me, it will be an opportunity for them to try to push, if not shove, Youngkin into the Republican presidential race, writes The Washington Post.

Others say they will be busy prodding Youngkin and his allies in phone calls from afar. "He appears to be leaving the door open," Thomas Peterffy, a billionaire who has already given millions of dollars to Youngkin's PAC, told me this week. "And if Republicans win in Virginia, maybe we can talk him into it. He obviously wants to see what emerges, what the state of play is.

"The money would be there," Peterffy assured me.

Drafting Youngkin as a last-minute addition to the sclerotic Republican presidential field is something that has lingered for months as a donor fantasy — a whispered, can-you-imagine gambit rarely meriting much discussion because there has been widespread hope that somebody, anybody, would gain traction against former president Donald Trump. But now, fantasy talk of an audacious, break-the-glass moment for the anti-Trump faction has morphed into not-so-quiet consideration.
The push for Youngkin from billionaire GOP donors is, according to WaPo, "not a well-orchestrated power play. It is the latest slapdash scheme in a long search for a standard-bearer and a portrait of the powerlessness so many Republicans feel as Trump plows ahead, shrugging off criminal indictments and outrage over rhetoric they fear is growing dark and dangerous."
And there we have it. Youngkin is not announcing, but there is a clamoring amongst donors for him to enter.

This makes sense. Youngkin strikes me as too smart to enter — there is no path to victory for him. But donors aren't smart enough to recognize that. https://t.co/AmJTpxuPxd pic.twitter.com/gO7yENWX17

— Tim Meads (@TimMeadsUSA) September 28, 2023
This move looks more like a bunch of bored billionaires who want to get excited about the Next Big Thing. The article offers no explanation as to why Youngkin would fare better against Trump than Republicans like Ron DeSantis or Nikki Haley, both of whom have been laying the groundwork for a long campaign.  
Counterpoint: It's still a richly detailed fantasy https://t.co/TgBpeODxMB

— Liam Donovan (@LPDonovan) September 28, 2023
One person who has said that Glenn Youngkin will not run for president in 2024 is Glenn Youngkin. 
In an interview with Fox Business, the GOP governor said, "Well, Maria, as I've said, there's nothing more important than us holding our House and flipping our Senate in Virginia. That's where my full attention is. And I'm not, I am not paying attention to the filing deadlines, etc.," the governor said. "I'm paying attention to making sure we hold our House and flip our Senate. I think this is so important for Virginians and for the nation to see that this can happen. That we can put to work conservative common sense policies, and we can win. And we can bring together a state that was truly blue. People thought it was purple — we can turn it red."
"I've said over and over again how humbling it is to even talk about my name in this context," Youngkin said when Maria Bartiromo asked him about running for president. "But I am so focused on Virginia elections this year to make sure that we deliver. We've got a giant agenda, and therefore I'm campaigning across Virginia for our House and Senate delegates and senators. I'm not in Iowa, and I'm not in South Carolina, New Hampshire. We're focusing on Virginia."
Glenn Youngkin basically admits to Maria Bartiromo that he will miss several filing deadlines to get on the ballot in early GOP presidential primary states.

Simply put, he's not running, folks. pic.twitter.com/cNlucWYBEM

— Curtis Houck (@CurtisHouck) August 30, 2023
Speculation about Youngkin's presidential ambitions began shortly after his victory over Democratic Governor Terry McAuliffe in the 2021 gubernatorial race, marking the first Republican win in Virginia since 2009. However, Youngkin has, to date, refrained from taking many of the traditional steps typically associated with potential presidential candidates. This includes avoiding visits to key early primary states such as Iowa, New Hampshire, Nevada, and South Carolina.
One conservative commentator has suggested that the push for Youngkin is actually being made by pro-Trump supporters. Marc Caputo had an interesting theory: 
Draft Glenn Youngkin = Make Trump The Nominee Again

The only real practical value of this chatter in the primary is to ensure DeSantis looks weak —unable to grow — and that the rest of the non-Trump GOP field looks even weaker

Youngkin has no real shot. And everyone knows it https://t.co/IqnpVFRTwL

— Marc Caputo (@MarcACaputo) September 28, 2023
[Read More: Donald Trump Demands No More Debates]