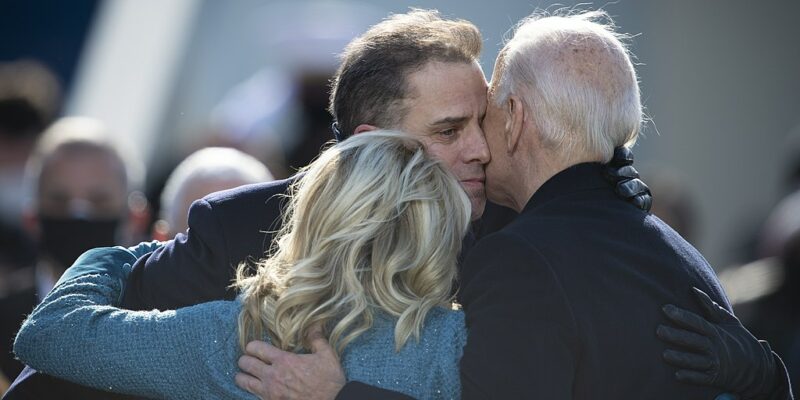 While Joe Biden served as vice president, his office worked directly with Hunter Biden's business, new emails held by the National Archives indicate. Earlier last month, House Oversight Chairman James Comer revealed that the current occupant of the White House was routinely using fake names to communicate with his son about what he was doing in Ukraine. 
In a new letter asking for documents related to the president's fake names to the National Archive, which previously sent a SWAT Team to Mar-a-Lago to recover documents from Donald Trump, the Kentucky Congressman offered an example of how Joe Biden lied to the American people about the alleged "wall of separation" between him and his son's business with foreign oligarchs.  
The chairman's letter demands unredacted copies of the documents included in NARA's "Records on Hunter Biden, James Biden, and Their Foreign Business Dealings" file. 
"Will you call me when you get a chance," Schwerin wrote Bedingfield in the afternoon of December 5, 2015, after passing along a quote attributable to "a Hunter Biden spokesman" to the vice president's office. Both the Wall Street Journal and the New York Times were working on stories about the Biden family's business ties to Ukraine.

"VP signed off on this," Bedingfield, then communications director for the VP, replied before adding, "will give this quote to both reporters in my name shortly."

The statement that followed read like so many of the subsequent denials now offered by the Biden White House. It stressed that Hunter Biden was "a private citizen" and that his father Biden had "no involvement" in the Ukrainian natural gas company Burisma. It also contained a typo, writes RealClearPolitics.

"Ah! Thank you," Bedingfield replied after Schwerin noted the mistake in grammar. Half an hour later, the vice president's spokeswoman sent an email to the New York Times with the corrected quote – sans typo. Two days later, the vice president was en route to Kyiv.
Eric Schwerin was at Rosemont Seneca when he was appointed by then-President Obama to the Commission for the Preservation of America's Heritage Abroad, an independent U.S. government agency, in early 2015.
"'The timing of this email traffic is concerning to the Committee,' Comer writes in the letter, obtained by National Review. "According to Devon Archer (another longtime Biden family business associate), after a Burisma board of directors meeting in Dubai—on the evening of December 4, 2015 (midday in Washington, D.C.)—Hunter Biden 'called D.C.' to discuss pressure that Burisma asked him to relieve.'
Archer previously testified that then–vice president Biden joined at least 20 phone calls and/or in-person meetings with Hunter's foreign business associates during their time working together. He explained that access to the vice president served as the selling point of the Biden "brand" that allowed he and Hunter several lucrative financial opportunities, including joining the board of Burisma. At the time, Burisma's founder and CEO Mykola Zlochevsky was being investigated by Ukrainian prosecutor Viktor Shokin, whom the elder Biden later bragged about having fired.
Schwerin formerly served as the managing director of Rosemont Seneca Advisors, a now-defunct financial advisory firm that Hunter Biden co-founded. Schwerin also worked in Hunter's lobbying shop Oldaker, Biden & Belair from 2002 to 2008, according to financial disclosure forms. He visited the White House and the Naval Observatory at least 36 times while Biden was serving as vice president, Fox News reported.
Emails found on Hunter's abandoned laptop and reported by the New York Post show that Schwerin was deeply involved in the Biden family's finances, often moving money around for Hunter and his father," explains the political magazine.
"VP signed off on this."

That should be the final line of Biden's presidency.

— Kyle Becker (@kylenabecker) September 6, 2023
According to the Washington Examiner, Devon Archer's testimony earlier in July before the Oversight Committee revealed that on December 4, 2015, the same day Schwerin sent the quotes, "Mykola Zlochevsky, the head of Burisma, told Hunter Biden that the Ukrainian energy company needed 'help from the United States government' to deal with the pressure the company was under from Viktor Shokin, the former prosecutor general in Ukraine who was allegedly investigating Burisma. Archer walked away, and Hunter Biden was told to call "D.C.'
Biden then traveled to Ukraine three days later and gave a speech against Shokin and the corruption in his agency. Biden also threatened to withhold $1 billion in loan guarantees meant to help rebuild Ukraine's economy unless the country got rid of Shokin."
The National Archives has claimed that it will not release the emails unless signed off on by Joe Biden himself, something that smacks of corruption. 
🚨 UPDATE 🚨
 
Today is the deadline for the National Archives to produce the records related to then-VP Joe Biden's pseudonyms. NARA has informed us that the emails and records have been sent to representatives for former President Obama and Joe Biden for their approval to be…

— Oversight Committee (@GOPoversight) August 31, 2023
The National Archives has until September 20 to send over the requested documents to the investigating committee. 
[Read More: Biden Cabinet Member Caught In Cover Up]