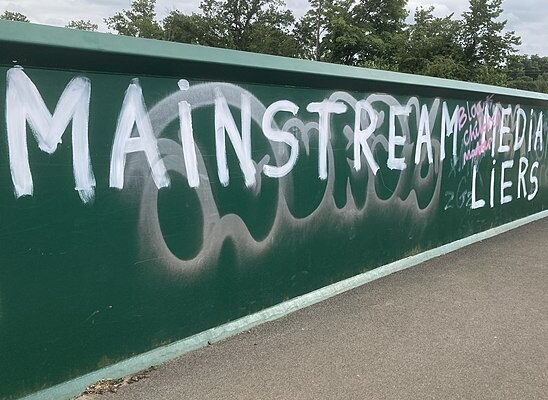 In the United States, the First Amendment is supposed to ensure that we don't have a state-run media, but the current presidential administration seems to have missed that. We shouldn't be surprised, however. As we noted, it's already rather clear that much of the liberal media is running cover the the Biden Crime? Family. 
Just because there doesn't have to be a state media doesn't mean that the media itself doesn't want to be directed by those in power, so long as it's Democrats pulling the levers. 
With the announcement from Speaker Kevin McCarthy that the House will be launching an impeachment inquiry, the White House dispatched a letter to top American news executives demanding they do their part to shut down the investigation, pushing the line that's already been adopted by much of the media that there is "no evidence" that Joe Biden and his family have been influence peddling for a decade.
Biden failed to report 5.2 Million dollars in income on government financial transparency reports. The same amount Hunter's Chinese business partners wired to Hunter 10 days after the WhatsApp messages. https://t.co/OjHKG7lXig

— Stephen L. Miller (@redsteeze) September 13, 2023
The millions of dollars pouring in from Eastern European oligarchs and communists from China to several members of the Biden Family just happened magically. Nothing to see here. 
The New York Post reports that President Biden's White House is planning to send a letter to some of the country's most prominent news organizations — including CNN, the New York Times and Fox News — urging them to "ramp up their scrutiny" of House Republicans "for opening an impeachment inquiry based on lies."

House Speaker Kevin McCarthy (R-Calif.) on Tuesday ordered an impeachment inquiry into the president's alleged involvement in his son Hunter Biden's foreign business deals.

"Through our investigations, we have found that President Biden did lie to the American people about his own knowledge of his family's foreign business dealings," the speaker charged, claiming that "these allegations paint a picture of a culture of corruption."

In a draft letter to news executives obtained by CNN Tuesday, Ian Sams, a spokesperson for the White House Counsel's Office, said the inquiry has no supporting evidence, which "should set off alarm bells for news organizations."
CNN, like they always do, happily supported being the mouthpiece for the Democratic president. Mediate captured CNN parroting the talking points on air, writing that the news channel's "anchors and other on-air staffers told viewers dozens of times there's 'no evidence' against President Joe Biden after news broke of an impeachment inquiry into Biden."
This is a CNN fact check claiming to show McCarthy was being misleading but which actually confirms exactly what McCarthy said. Amazing. pic.twitter.com/WIYLXbdIt6

— David Marcus (@BlueBoxDave) September 13, 2023
The White House's directing of the media comes as Speaker McCarthy has launched an impeachment inquiry into Biden's alleged involvement and influence in his son's foreign business dealings, especially as it relates to the huge amount of money he received from the Ukrainian energy company Burisma. 
The House speaker noted that House Oversight Committee chair James Comer, with the help of House Judiciary Committee chair Jim Jordan, writes The National Review, "will continue leading the investigation effort into whether the president during the House GOP's investigation showed preferential treatment to Hunter Biden because of their relation.
'This logical next step will give our committees the full power to gather all the facts and answers for the American public,' McCarthy told reporters Tuesday. 'It's exactly what we want to know – the answers. I believe the president would want to answer these questions and allegations as well.'
The memo listed nine different statements from House Republicans, supporting the White House's argument that there is no supporting evidence to warrant an impeachment inquiry."
Not everyone in the media wants to be Biden's laptop, however. Washington Post columnist wrote a blistering oped earlier in the week in which he calls for the president to stand down and not seek a second term. 
Unlike other Democrats, who have simply said the president is too old, too disliked, and unlikely to win, the WaPo foreign policy correspondent tried flattery. 
"In sum," Ignatius writes, Biden "has been a successful and effective president. But I don't think Biden and Vice President Harris should run for reelection. It's painful to say that, given my admiration for much of what they have accomplished. But if he and Harris campaign together in 2024, I think Biden risks undoing his greatest achievement — which was stopping Trump."
Ignatius suggested Biden's age is a liability heading into 2024, reported The Hill. He cites "recent polling that shows a majority of voters believe the president's age is an issue when it comes to serving a second term. Biden is 80 and would be 86 at the end of a possible second term.
The columnist and occasional novelist argued that, as a result of Biden's age, voters may focus more on Vice President Harris, who he noted carries a favorability rating around 40 percent."
Ignatius concludes by arguing that Biden "has never been good at saying no," claiming he should have "resisted" choosing the deeply unpopular Harris as his vice president in the first place. He also contends the now-president should have stopped his son, Hunter Biden, from joining the board of a Ukrainian energy company, which has become fodder for GOP attacks and investigations.
"Biden has another chance to say no — to himself, this time — by withdrawing from the 2024 race," Ignatius wrote. "It might not be in character for Biden, but it would be a wise choice for the country."
With the way the White House is responding to Republicans, it looks like you can't teach an old dog new tricks. 
[Read More: Mitt Romney Calls It A Career]