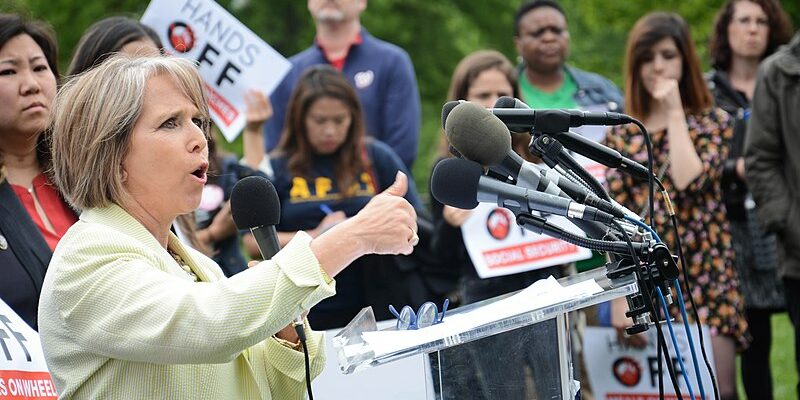 Throughout the 20th and 21st centuries, several examples have illustrated how emergency measures, when abused or used to serve political interests, threaten the principles of democracy and the rule of law. 
Adolf Hitler, the Chancellor of Germany, used the Reichstag Fire as a pretext to push through the Reichstag Fire Decree in 1933, which suspended civil liberties. In the 1980s, the Turkish military declared a state of emergency and seized control over the people, and now, in New Mexico, liberal Governor Michelle Lujan Grisham has used the murder of an 11-year-old boy and a 5 -year-old girl as a pretext to suspend civil liberties and the right to carry a gun in the Land of Enchantment. 
She has done exactly what most critics of liberals have said they would do if the people did not stand up to "public health emergencies."
The National Review writes that The Democratic governor of New Mexico issued an emergency order banning carrying firearms throughout Bernalillo County, which contains the city of Albuquerque, citing public health concerns following the shooting death of a child outside a baseball game in in the city on Wednesday.

"When New Mexicans are afraid to be in crowds, to take their kids to school, to leave a baseball game — when their very right to exist is threatened by the prospect of violence at every turn — something is very wrong," Governor Michelle Lujan Grisham said in an official statement announcing the 30-day prohibition, which police and licensed security guards are exempted from.

The order, enacted on Thursday, has divided public officials and drew Grisham to preemptively address critics. "I welcome the debate and fight about how to make New Mexicans safer," the governor said during a news conference the following day at which the local district attorney was present.
A shooter in a black SUV fired 17 shots at a family's truck outside a minor league baseball stadium last week, killing a boy named Froylan Villegas. His aunt was critically injured. Villegas' mother and infant brother were in the backseat but were not struck by gunfire.
Last month, 5-year-old Galilea Samaniego was shot to death while asleep in a motor home. Four teens entered the community in two stolen cars on August 13 and opened fire on the trailer, according to police. 
In neither case is it likely that a concealed carry permit, which the governor suspended, played a role in the murders. 
The moratorium has been classified "as an emergency public health order, and applies to open and concealed carry in most public places, excluding police and licensed security guards. The restriction is connected to a threshold for violent crime rates met only by the Albuquerque area," according to Fox News.
Violators face civil penalties of up to $5,000, Caroline Sweeney, a spokesman for the governor said. The governor said state police are will enforce her unconstitutional order, but also acknowledged not all law enforcement officials, including the district attorney for the Albuquerque area, agree with it.
The order also prohibits firearms on state property, including state buildings and schools, as well as parks and other places where children gather.
Grisham's seizure of power has revealed the weakness of local leaders in her state. The Democratic Sheriff of the county, John Allen, said in a statement late Friday, "While I understand and appreciate the urgency, the temporary ban challenges the foundation of our constitution, which I swore an oath to uphold. I am wary of placing my deputies in positions that could lead to civil liability conflicts, as well as the potential risks posed by prohibiting law-abiding citizens from their constitutional right to self-defense."
After the statement, however, he said he would uphold the order. 
Maybe the sheriff should have paid closer attention to what the governor herself said about the constitutionality of her order. "I can invoke additional powers," Lujan Grisham said. "No constitutional right, in my view, including my oath, is intended to be absolute."
Governor Lujan Grisham says her duty to uphold her oath to the constitution is "not absolute" pic.twitter.com/Mla4rcNXMX

— Beau Hightower (@beauhightowerdn) September 8, 2023
Not all local leaders are as cowardly as the county sheriff, however. The Santa Fe New Mexican reported that "conservatives immediately criticized Lujan Grisham, calling the order a violation of the state and U.S. constitutions. Albuquerque City Councilor Dan Lewis called on the governor to rescind the order, saying in a statement that it would make Albuquerque more dangerous.
'If the governor does not rescind this order, I'm calling on law enforcement to follow the constitution and not unconstitutional edicts from a wannabe dictator,' Lewis said in a statement Friday. 'Law enforcement officers took an oath to defend the constitution.'
Senate Minority Leader Greg Baca, R-Belen, slammed Lujan Grisham's order as "unconstitutional" in a statement from Senate Republicans, saying her "soft-on-crime approach has failed and put the safety of all New Mexicans in great jeopardy."
'A child is murdered, the perpetrator is still on the loose, and what does the governor do? She throws the mayor of Albuquerque under the bus and then targets law-abiding citizens with an unconstitutional gun order,'" Baca said. 
Miranda Viscoli, co-president of New Mexicans to Prevent Gun Violence, writes The Hill, "applauded the governor's order as a courageous and necessary step to curbing gun violence, even if the measure's legal fate is uncertain.
'If it saves one life, then it's worth doing,' Viscoli said.
Since 2019, Lujan Grisham has signed a raft of legislation restricting access to guns, including a 2020 'red flag' law allowing police or sheriff's deputies to ask a court to temporarily remove guns from people who might hurt themselves or others, an extension of background-check requirements to nearly all private gun sales.
She also signed a ban on firearms possession for people under permanent protective orders for domestic violence."
That seems like quite a standard. Maybe pro-lifers should start using the "Save One Life" standard when discussing to restrict abortion in the future. 
[Read More: Biden Creates Remain In Texas Policy]