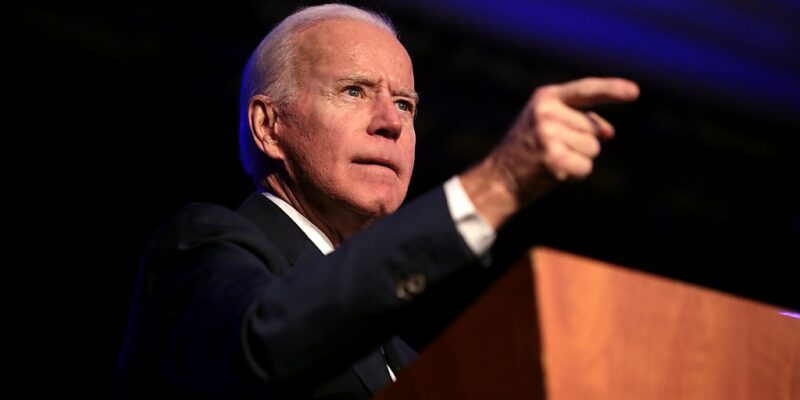 A British newspaper may have discovered what happened with Joe Biden's "missing millions." The Daily Mail writes an eye-popping headline: EXCLUSIVE: Joe's missing millions! Financial records reveal Biden had $5.2million in unexplained income – as emails show he paid Hunter's legal bills for one megabucks Chinese deal and was tapped as 'big guy' to get a 10% cut in another."  
The American media has mostly kept its head in the sand, spending much of its recent days worrying that Twitter won't be able to suppress negative stories about Democrats anymore now that Elon Musk controls the social media giant. They apparently have had no time to look into why Joe Biden was paying for his son's legal bills related to China.  
The newspaper states that "Emails from Hunter's laptop reveal Joe Biden agreed to pay his son's legal fees for his deal with a Chinese government-controlled company.

But an analysis by DailyMail.com of the president's financial records shows $5.2 million is unexplained. The 'missing millions' and emails on Hunter's abandoned laptop suggest Joe would have a 10% share in Hunter's blockbuster deal with the Chinese. The revelation ties the president even closer to Hunter's overseas business dealings, despite the White House's denials.

In January 2019, Hunter's assistant Katie Dodge wrote an email to book-keeper Linda Shapero and Biden aide Richard Ruffner, saying Joe had agreed to pay his hundreds of thousands of dollars of bills.

'I spoke with Hunter today regarding his bills. It is my understanding that Hunt's dad will cover these bills in the short-term as Hunter transitions in his career,' Dodge said.

The assistant attached a spreadsheet of bills with the email, totaling $737,130.61. One of the last items was $28,000 in legal fees for the 'restructuring' of Hunter's joint venture with the government-controlled Bank of China."
Hunter Biden is currently being investigated by the Department of Justice for his shady business dealings. In the Senate, Attorney General Merrick Garland said that his department would not interfere in the investigation and "emphasized an appointee of former President Donald Trump is leading the investigation."
CNN has reported that the probe, "led by the US Attorney in Wilmington, Delaware, began as early as 2018 and concerns multiple financial and business activities in foreign countries dating to when Biden's father was vice president. Investigators have examined whether Hunter Biden and some of his associates violated money laundering, tax and foreign lobbying laws, as well as firearm and other regulations."
We are supposed to believe that the sitting president of the United States paid millions of dollars for his son's legal fees without expecting anything in return. I guess the massive income explosion the Bidens received after leaving office has nothing to do with it.
The Daily Mail continued: "Between 2017 and 2019 he and First Lady Jill Biden reported $16.5million in gross income on their federal tax returns, released by the Biden campaign. The vast majority came from their two companies, CelticCapri Corp and Giacoppa Corp, which they use for speaking and writing engagements. But in Office of Government Ethics (OGE) fillings for the same period, Joe only reported $9.6million in income for himself and his wife. But a comparison of the income reported by Joe from his CelticCapri company on OGE reports versus what he told the IRS, shows a difference of almost $5.2 million, which remains unaccounted for."
Although there has not yet been conclusive, smoking-gun evidence, the Daily Mail's inspection of Biden's finances are undoubtedly eyebrow-raising. 
Part of the reason Hunter Biden's activities receive so much attention comes from the fact that he appears to be a such an amoral person. Fox News reported that "Hunter Biden sent an email to his brother's widow, Hallie Biden, pressuring her to get an HIV test as their relationship deteriorated in July 2018, about a month before he fathered a child with another woman. In an email titled, "YOU NEED TO GET TESTED FOR HIV HALLIE,"…Hunter demanded that Hallie get tested for HIV and inform him of the results that day."  
Hunter Biden started "dating" the widow of his dead brother less than two years after his death from cancer. They broke up in 2019 right as Joe Biden was beginning to launch a campaign for the White House. 
Today, the president's son is an artist who gets $500,000 a painting to anonymous buyers even though he's never been a professional artist before. The Biden administration has claimed they have protocols in place to prevent influence, but President Obama's former ethics chief, Walter Shaub, attacked the arrangement. He said, "no ethics program in the world that can be built around the head of state's staff working with a dealer to keep the public in the dark about the identities of individuals who pay vast sums to the leader's family member for subjectively priced items of no intrinsic value."
[Read More: Biden Worried About Musk Buying Twitter]