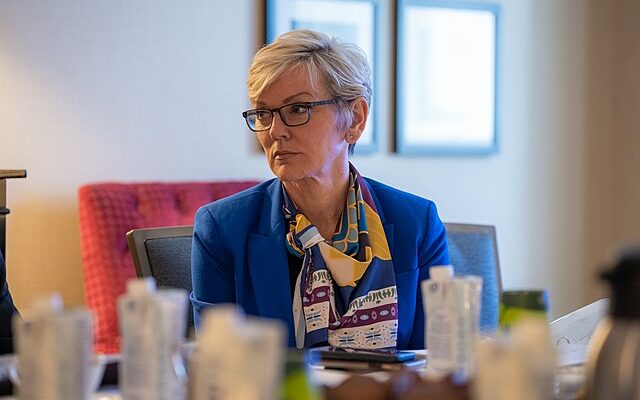 Days before the Biden administration announced tapping the Strategic Petroleum Reserve (SPR) to "fight high gas prices," Energy Secretary Jennifer Granholm had a series of talks with China's top energy official.
Was she asking for China's permission? It wouldn't be the first time that the Department of Energy under Biden has pulled a favor for the communist regime that allegedly funneled his family millions.
Granholm's previously-undisclosed talks with China National Energy Administration Chairman Zhang Jianhua — revealed in internal Energy Department calendars obtained by Americans for Public Trust (APT) and shared with Fox News Digital — reveal that the Biden administration likely discussed its plans to release oil from the SPR with China before its public announcement, according to Fox News.

According to the calendars, Granholm spoke in one-on-one conversations with Jianhua, who is a longstanding senior member of the Chinese Communist Party, on Nov. 19, 2021, and two days later on Nov. 21, 2021. Then, on Nov. 23, 2021, the White House announced a release of 50 million barrels of oil from the SPR, the largest release of its kind in U.S. history at the time.

"Secretary Granholm's multiple closed-door meetings with a CCP-connected energy official raise serious questions about the level of Chinese influence on the Biden administration's energy agenda," APT Executive Director Caitlin Sutherland told Fox News Digital.

"Instead of focusing on creating real energy independence for America, Granholm has been too busy parroting Chinese energy propaganda and insisting 'we can all learn from what China is doing,'" Sutherland continued. "The public deserves to know the extent to which Chinese officials are attempting to infiltrate U.S. energy policy and security."
The administration insists that the timing was just a coincidence and that the meetings were about climate change, which makes sense because every single thing the administration does to undermine America's standard of living and make the nation weaker is put under the banner of fighting climate change by this White House. 
We also shouldn't expect Biden to say that they were consulting China because a company tied to Hunter Biden was about to get a deal on gasoline sold from the United States to China.
"The Biden administration last year oversaw sales of about 250 million barrels from the Strategic Petroleum Reserve, bringing the nation's backup fuel supply to its lowest level since 1983. Nearly one million barrels went to Unipec, the trading arm of the Chinese state-controlled gas giant Sinopec, the Washington Free Beacon reported.
Republicans have accused the Biden administration of mismanaging the strategic oil reserve and undermining U.S. energy security, according to House Republicans.
The Chinese sales have highlighted first son Hunter Biden's ties to Sinopec. Biden—whose influence peddling in China and other foreign countries is the subject of multiple congressional investigations—cofounded a private a private equity firm that in 2015 bought $1.7 billion stake in Unipec's parent company.
In recent months, the Biden administration has boasted about efforts to replenish the strategic oil reserve, "at a good deal for American taxpayers." Recent U.S. moves to buy oil, however, have been delayed due to persistently high global energy prices."
Nearly 1 million barrels a day were released from the Strategic Petroleum Reserve and Biden drained American reserves to the lowest point since 1986, when we used significantly less oil. 
Granholm's meetings with China are only the latest revelation in long line of eyebrow-raising decisions made by the Department of Energy as it relates to China. 
In 2022, the Department of Energy gave Microvast, a Texas-based maker of technology for electric vehicle batteries a huge sum of money. At the time, Fox News noted, "Microvast was one of just 20 American companies to receive a portion of the nearly $3 billion appropriated for a program designed to boost domestic battery manufacturing capabilities.
However, 69 percent of Microvast's revenue was generated in China and just 3 percent came from the U.S., according to a third-quarter financial disclosure it filed with the Securities and Exchange Commission (SEC) last month. In the same filing, the company acknowledged that the Chinese government 'exerts substantial influence' over its business activities and 'may intervene at any time and with no notice.'
'Microvast is an American battery company,' a DOE spokesperson told Fox News Digital in a statement. "And thanks to the Bipartisan Infrastructure Law, it no longer needs to look to China to establish its manufacturing facilities. The President's historic agenda is helping to reshore manufacturing back to the U.S.'"
New Conservative Post investigated the issue and noted how disturbing the SEC filings for Microvast were: "The PRC government may exert, at any time and with no notice, substantial interventions and influences over the manner in which we conduct our business activities, which we may not be able to anticipate," the company stated. 
"If the PRC government decides to substantially intervene, influence or establish new policies, regulations, rules or laws affecting our business, said substantial intervention or influence may result in a material change to our operations … and could significantly limit or completely hinder our ability to offer or to continue to offer securities to investors, and/or cause the value of such securities to significantly decline or be worthless," it added.
Over the past month, gas prices in the United States have risen 30 cents on average to $3.82 per gallon, according to AAA. On the day of Biden's inauguration, the price of a gallon was $2.39.