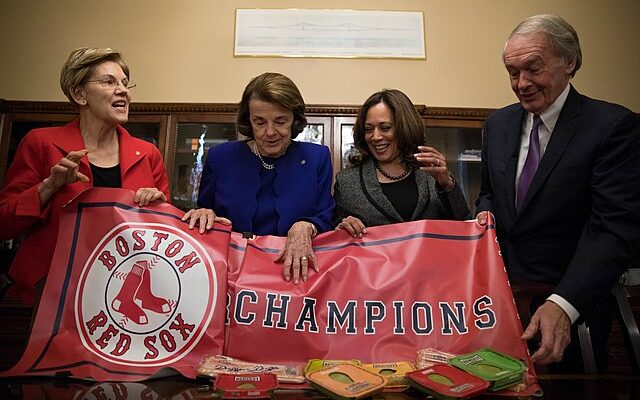 Vice President Kamala Harris will not return the phone calls of her once-Senate ally Elizabeth Warren. According to reports, Harris became offended that the Massachusetts Democrat recognized the electoral reality that the vice president is deeply unpopular and won't add much to the reelection of Joe Biden. 
CNN writes, "In a local Boston radio interview in late January, Warren was enthusiastic about President Joe Biden running for reelection but, asked if Biden should keep Harris as his running mate, she said, "I really want to defer to what makes Biden comfortable on his team."

The incident and its aftermath, different details of which were described to CNN by multiple people close to the Massachusetts senator and people close to the vice president, has fed an ongoing breakdown of accusations and purported misunderstandings.

"Pretty insulting," is how one person close to Harris described the feelings of many in the vice president's office and in her wider orbit.

Several people close to Warren said the senator was calling to explain her statement as purely a mistake – a fumbling, unintentional attempt to avoid stepping on a campaign announcement from the president. A spokesperson for Warren pointed to the statement the senator issued hours after the original interview clarifying what she said, and an additional person close to Warren cited a personal and political relationship that goes back to being the first senator to endorse Harris for Senate and said of her support, "she didn't mean to imply otherwise.

Following her interview, Warren released a statement trying to unring the bell. "I fully support the President's and Vice President's re-election together, and never intended to imply otherwise," Warren told GBH News in a statement Sunday. "They're a terrific team with a strong record of delivering for working families."
The top Democrats have warned that unless people start to view the next person in the line of succession for the presidency in a more favorable light, they may just tune out the Biden-Harris ticket entirely," wrote The New York Post. 
"They're urging a reconciliation for Biden's sake or for the future of the party.
'People who are denigrating her are aggrandizing themselves,' Illinois Gov. J.B. Pritzker said of Harris' critics. 
A state Democratic Party chair expressed concerns about Harris' poll numbers and the president's re-election chances, saying 'right now, she seems to be an albatross.'"
Harris's time as vice president has been rocky at best. Some have pointed to her "deep insecurities" for her failures and dysfunction. The LA Times recently noted that as of December 20, only 39 percent of registered voters hold a favorable opinion of her, compared to 53 percent who think she's terrible at her job. 
The vice president has undoubtedly been bewildering Democrats (and the nation) since she took office in 2021. In March 2022, typically friendly media even wondered if Harris might be the worst vice president of all time. They tallied up her failings, saying she was put "in charge of addressing the crisis at the southern border, which has grown exponentially worse since she took on that responsibility. And Biden occasionally sends her off to make speeches. But that's turned out to be even worse than her handling of the border crisis — because a vice president's only real job is to not embarrass the president and the administration. That's something Biden is able to do, and often does, without any help from Harris.
Social media has had a field day compiling her word-salad speeches and making them available for everyone to snicker at. And that tendency will likely only get worse with the 'passage of time,' because 'there is great significance to the passage of time,' as Harris is fond of saying."
A former staffer told Chris Whipple, a White House chronicler, that Kamala Harris simply does not do the work to not sound like an idiot, saying she "refused to do the kind of preparation that you need to do before going public on a hardcore policy matter. And then she became incensed and outraged when things wouldn't go the way she thought they were supposed to."
"There was a lot of magical thinking," added the person, who spent years working for Harris. "I think it's helpful for people to know," the former Harris aide went on to Whipple, "that this is not new, and it will inhibit any administration that she is the leader of."
Whipple also reported that Biden finds the vice president and her husband, Doug Emhoff, annoying because of how much they complain about the assignments she's given.
Warren's greatest sin was outing what Democrats really think about Harris. In February, The New York Times wrote, "the painful reality for Ms. Harris is that in private conversations over the last few months, dozens of Democrats in the White House, on Capitol Hill and around the nation — including some who helped put her on the party's 2020 ticket — said she had not risen to the challenge of proving herself as a future leader of the party, much less the country. Even some Democrats whom her own advisers referred reporters to for supportive quotes confided privately that they had lost hope in her."
[Read More: Bridge Standoff Threatening Border Town]