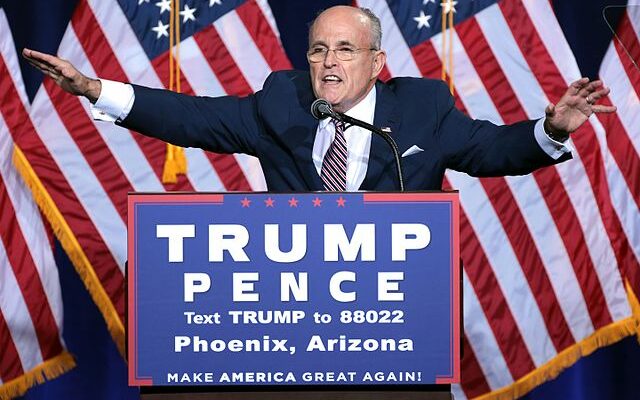 Things keep getting worse for former New York City Mayor Rudy Giuliani. A federal judge has ruled that he should be held liable for defaming two Georgia election workers. A close confidant of former President Donald Trump, Rudy repeatedly made claims that Ruby Freeman and Wandrea Moss manipulated 2020 ballots to rig the election in favor of Joe Biden.
In an unsparing, 57-page ruling, U.S. District Court Judge Beryl Howell said Giuliani had flagrantly violated her orders to preserve and produce relevant evidence to the election workers, Ruby Freeman and Shaye Moss, resulting in a "default" judgment against him. She also ordered him to pay Freeman and Moss "punitive" damages for failing to fulfill his obligations, reports Politico.

The ruling means the case will now proceed to a trial purely to determine the amount of damages Giuliani will have to pay the two election workers.

"Just as taking shortcuts to win an election carries risks — even potential criminal liability — bypassing the discovery process carries serious sanctions," Howell wrote.

Giuliani spent weeks accusing Freeman and Moss of manipulating ballots during Georgia's vote-counting process after the 2020 election, despite repeated investigations that debunked and discredited the allegations.
In 2021, Freeman and Moss, a mother and daughter, sued Rudy Giuliani for unspecified damages.
"Giuliani had targeted the two women as President Donald Trump and his allies spread the lie that the 2020 election was stolen. As part of the campaign in Georgia, Giuliani, Trump and others made Moss and Freeman the targets of debunked fraud claims," according to NPR.
"One of Giuliani's false accusations included a claim that Moss handed her mother a thumb drive "like they were vials of heroin or cocaine" as the two worked at the State Farm Arena for the Fulton County Board of Elections in 2020. In reality, Moss has said her mother had just handed her a ginger mint.
Last month, Giuliani conceded in a court filing in this case that he did make false statements about the two women."
The ruling comes at a bad time for Rudy. Last week, he "turned himself in at a jail in Atlanta on Wednesday on charges related to efforts to overturn then-President Trump's loss in the 2020 presidential election in Georgia.
The former New York mayor, was indicted last week along with Trump and 17 others. Fulton County District Attorney Fani Willis said they participated in a wide-ranging conspiracy to subvert the will of the voters after the Republican president lost to Democrat Joe Biden in November 2020.
Bond for Giuliani, who was released after booking like the other defendants, was set at $150,000," wrote The Associated Press.
The former mayor is also hurting for cash as he's racked up debt for remaining loyal to Trump. He's learned the hard way something that most observers can plainly see: when it comes to loyalty to the former president, it only goes one way.
When it comes to using Trump 2024 ampaign funds to cover legal bills, Rudy is mostly on the outside looking in. 
Earlier in the month, The New York Times noted, "To recover the millions of dollars he believes he is owed for his efforts to keep Mr. Trump in power, Mr. Giuliani first deferred to his lawyer, who pressed anyone in Mr. Trump's circle who would listen.
When that fizzled out, Mr. Giuliani and his lawyer made personal appeals to the former president over a two-hour dinner in April at his Mar-a-Lago estate and in a private meeting at his golf club in West Palm Beach.
When those entreaties largely failed as well, Mr. Giuliani's son, Andrew, who has an independent relationship with the former president, visited Mr. Trump at his club in New Jersey this month, with what people briefed on the meeting said was the hope of getting his father's huge legal bills covered.
Mr. Giuliani, 79, who was criminally charged alongside Mr. Trump this week in the election conspiracy case in Georgia, is currently sitting on what one person familiar with his financial situation says is nearly $3 million in legal expenses. And that is before accounting for any money that Mr. Giuliani, the former mayor of New York City, might be owed for his work conducted after Election Day on Mr. Trump's behalf.
Mr. Trump's political action committee, which has doled out roughly $21 million on legal fees primarily for Mr. Trump but also for a number of people connected to investigations into him, has so far covered only $340,000 for Mr. Giuliani, a payment made in late May."
In July, it was reported that Rudy may have "flipped" on the former president. That leads to a kind of chicken-or-the-egg kind of question: Did the former mayor flip because Trump wouldn't help him out? Or does the former president refuse to help out his friend and lawyer because he flipped? 
Only time will tell. 
[Read More: A Fox News Favorite Breaks Their Hearts]