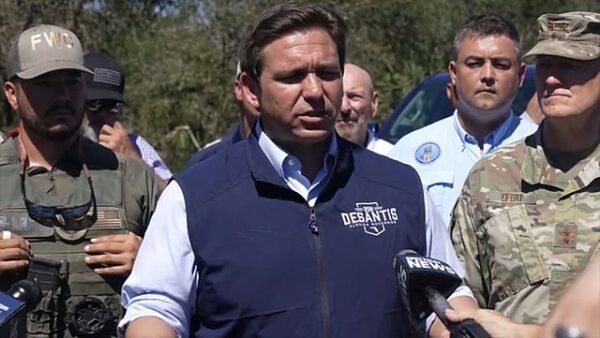 It appears that Ron DeSantis's Never Back Down PAC has begun to back down, at least in one important state. The super PAC campaign arm for the Florida governor has decided to cease campaigning in Nevada and has decided to concentrate on other early primary states. 
Never Back Down, the super PAC backing Florida Gov. Ron DeSantis' presidential campaign, has ceased its door-knocking operations in Nevada, home to a key early nominating contest, and California, a delegate-rich Super Tuesday state, officials confirmed to NBC News Wednesday.

They added that in recent weeks, the group also ended its field operations in North Carolina and Texas, two additional states that vote on Super Tuesday in March.

Never Back Down had pitched a wide-ranging canvassing effort throughout the early nominating states as the centerpiece of its effort to help boost DeSantis in the primary — even letting reporters inside its door-knocking boot camp in Iowa where it trained hundreds of canvassers earlier this year. The super PAC had planned to spend $100 million on the effort.

The decision to fold its door-knocking operations in Nevada and some Super Tuesday states coincides with DeSantis' rough summer, which has featured him struggling to gain traction against the GOP front-runner, former President Donald Trump, since launching his campaign in late May. In recent weeks, DeSantis' campaign has publicly promoted resets and staff shake-ups as he seeks to generate momentum.
Door knocking can be an essential and effective strategy for political campaigns, especially underdogs. The strategy involves campaign volunteers or staff members visiting constituents' homes, engaging in face-to-face conversations, and distributing campaign materials. 
According to CNBC, Nevada's "Democratic-dominated Legislature revamped its presidential primary system, eliminating caucuses in favor of a traditional state-run primary. The move stemmed from a push by the Democratic National Committee to move away from caucuses in 2024. The Nevada Republican Party, however, has pushed back on the change, demanding to hold a party-run primary anyway."
The move was seen as a way to insulate Joe Biden from potential challengers.
The Republicans there, however "took the matter to court, where a Carson City judge denied the GOP bid, saying it could not block a state-run primary. The party now is appealing the matter to the state Supreme Court. A caucus run by the state party is considered advantageous to Trump, given that several members of the party acted as false electors for him in 2020, and some earlier this year traveled to Mar-a-Lago."
Never Back Down's leader in the Silver State "blasted Nevada GOP Chairman Michael McDonald as a 'Trump puppet' who is 'conducting that caucus/primary, primary/caucus routine that he's doing.'
"When you have that kind of uncertainty about how the election's going to be conducted, that becomes a pretty unstable environment to be investing the kind of resources that we're investing," she said to CNBC.
Never Back Down has shifted money away from boots on the ground and to television commercials in the first few states. "Supporters of Florida Gov. Ron DeSantis (R) plan to buy at least $25 million in advertising in Iowa and New Hampshire between Labor Day and Halloween, hoping to reverse his summer slide in the polls after what they view as a strong first debate performance this week," noted The Washington Post.
While his campaign may be changing tactics, the governor himself was busy guiding his state through a hurricane, and he passed with flying colors. DeSantis has received praise for how quickly he has gotten basic services up and running after Hurricane Idalia caused massive damage in parts of Florida. 
Seems like this guy knows how to manage the basic functions of government well, in contrast with the leadership of places like California and Hawaii.

Maybe the people who take their cues from The West Wing should pay some attention here instead. https://t.co/AbBuBxJKew

— Patrick Ruffini (@PatrickRuffini) August 31, 2023
Thank you and well said, @guypbenson. Ron DeSantis puts politics aside to get the job done when it matters most. His leadership through this hurricane has enabled the ongoing swift and efficient recovery. https://t.co/rk6AtnfDBG

— Bryan Griffin (@BryanDGriffin) August 31, 2023
One place the governor did not receive help from during the hurricane, however, was the other famous Florida resident in the 2024 primary campaign. Former President Donald Trump allegedly ordered that his supporters from the Sunshine State refrain from retweeting emergency messages from the governor as the storm battered the coast. 
LEAK

1) Sources close to the Trump campaign have reported that the former president has demanded that his Florida congressional endorsers are not to repost news events featuring Gov. Ron DeSantis' preparations for Hurricane Idalia…

— Max Twain (@MaxTwain24) August 29, 2023
Commentators noted the side by side differences of the two leaders. 
Contrast of the last 24 hours quite stunning.

DeSantis calmly and efficiently guiding his large state through yet another crisis, this one a category-4 hurricane, which he's done so many times now it is almost taken for granted.

Trump telling Beck he has no regrets for how he…

— Steve Deace (@SteveDeaceShow) August 31, 2023
The Messenger summed things up: "Ron DeSantis stood in front of a toppled 100-year-old oak tree Wednesday night, a picture-perfect TV shot with the Florida governor's mansion in the background, as he told Fox's Sean Hannity about his administration's response to Hurricane Idalia's aftermath.
'Well, Sean, we were ready for this,' DeSantis said, staged like a TV reporter doing a standup in front of eye-catching devastation. He rattled off rapid-fire stats about deploying 5,500 National Guard members, 1.2 million gallons of backup gasoline supplies and 30,000 linemen who were already restoring power.
Adding to the pro-DeSantis sentiment was the contrast with Trump.
As the hurricane approached and hit, Trump said nothing about the storm on his social media site, Truth Social. A Florida resident who summers in New Jersey, Trump instead posted four separate videos attacking DeSantis the day before the storm. 
DeSantis wouldn't take the bait Tuesday when a reporter asked him about Trump's silence on Idalia.
'Not my concern. My concern is protecting the people of Florida, being ready to go,' DeSantis said."
[Read More: Things Go From Bad to Worse For Rudy Giuliani]