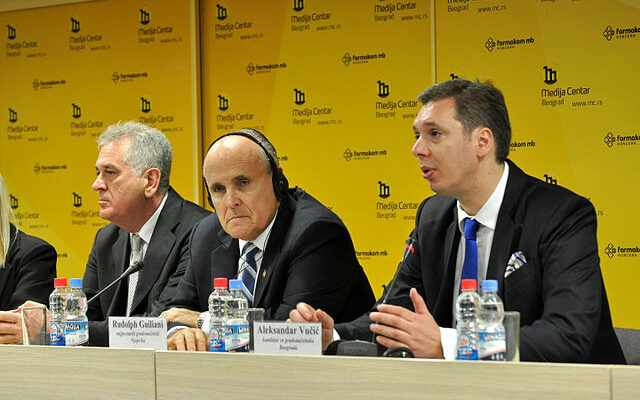 According to reports, another former Trump official has "flipped," and legal watchers have called it "devastating" for the president's defense related to an investigation into his "fake elector" scheme. 
Mike Roman, the director of Election Day operations for Trump's campaign has spoken to Special Counsel Jack Smith's office as part of a growing criminal investigation into attempts to change the vote in the Electoral College in 2021. 
"Roman reportedly spoke to prosecutors under what is known as a proffer agreement, Newsweek writes. "This means he can share information with investigators on the understanding that the statements will not be used against him in future criminal proceedings. Roman also may not have to appear before the grand jury as part of the agreement. It is unclear what precisely Roman was asked about during his meeting with prosecutors, or what information he may have provided." 
CNN spoke with multiple sources close to the investigation, and it looks like the former president may be getting a third indictment soon as more of his closest advisors flee the ship attempting to save themselves from legal jeopardy. 
"Roman, who received a grand jury subpoena months ago and had his phone seized, was involved in efforts to put forward slates of fake Trump electors following the 2020 election.

Investigators have recently zeroed in on the efforts to put forward alternate slates of electors in seven states Trump lost and the role of lawyers who were working for the former president after the 2020 election, multiple sources have said.

Until recently, Roman had little substantive contact with the Justice Department since his phone was seized and only recently began to engage in conversations about his possible cooperation, according to one of the sources.

The House select committee that investigated January 6, 2021, interviewed Roman – a senior adviser to Trump's 2020 reelection campaign and tasked with Election Day operations – as part of its inquiry.

Speaking to House investigators, Roman invoked his Fifth Amendment right against self-incrimination for the committee's questions about his efforts after the election. However, he did answer some of the committee's questions about his activities ahead of Election Day.
The entire premise of the plan to overturn the 2020 election was thrown out the window by the Supreme Court earlier this week, and the news about Roman allegedly turning on Trump adds to the growing speculation that Rudy Giuliani is about to "flip" on the former president, as well. 
The Daily Beast noted yesterday that the former mayor of New York City, and close confidant of Trump, has spoken with prosecutors about cutting a deal similar to Roman, writing, "Rudy Giuliani has had a lot of titles before his name but the one he wants to avoid is defendant. He is the former Associate Attorney General of the United States (the number three at the Justice Department), U.S. Attorney for the Southern District of New York, Mayor of New York City, and personal lawyer to Donald Trump.
But now, following reports that he met with Special Counsel Jack Smith's team in their criminal investigation of the Jan 6 uprising, Giuliani finds himself the focus of speculation whether he will 'flip' on Donald Trump.
Much of that speculation is hype over the reporting by The New York Times and CNN that Giuliani met with prosecutors under conditions known as a 'proffer.' But proffers do not always lead to a cooperation agreement. Rather they are a method by which white-collar defense lawyers seek to probe what the prosecutor's interest is in the client and to see if they can assuage any suspicions by the prosecution that the client has committed crimes.
The gravity of the situation may be testing Rudy's loyalty to Trump. The former mayor is already facing a massive lawsuit from Dominion Voting, one similar to the landmark case that saw Fox News pay the company a huge sum.
"Prosecutors working for Mr. Smith asked Mr. Giuliani about a plan to create fake slates of pro-Trump electors in key swing states that were actually won by Mr. Biden, one person familiar with the matter said, speaking on the condition of anonymity to discuss an ongoing criminal investigation. They focused specifically on the role played in that effort by John Eastman, another lawyer who advised Mr. Trump about ways to stay in office after his defeat," wrote The New York Times.
"Mr. Giuliani also discussed Sidney Powell, a lawyer who was briefly tied to Mr. Trump's campaign and who made baseless claims about a cabal of foreign actors hacking into voting machines to steal the election from Mr. Trump, the person said.
Ms. Powell, who was sanctioned by a federal judge for promoting conspiracy theories about the voting machines, also took part in a meeting in the Oval Office in December 2020 during which Mr. Trump was presented with a brazen plan — opposed by Mr. Giuliani — to use the military to seize control of voting machines and rerun the election.
The person said that prosecutors further asked Mr. Giuliani about the scene at the Willard Hotel days before the attack on the Capitol. Mr. Giuliani and a group of close Trump advisers — among them, Mr. Eastman, Mr. Trump's former chief strategist Stephen K. Bannon and Mr. Trump's current adviser Boris Epshteyn — had gathered at the hotel, near the White House, to discuss strategies before a violent mob stormed the Capitol on Jan. 6, 2021, disrupting the certification of Mr. Biden's victory over Mr. Trump."
Appointed as special counsel by Attorney General Merrick Garland in November, longtime federal prosecutor Jack Smith made headlines by recently charging the former President Trump with 37 counts over his hoarding of classified documents in his Florida mansion. He's also been tasked with a fraud investigation related to Trump's attempt to prevent the Electoral College from voting on January 6, 2021. 
Although the investigations have worn on Trump's popularity overall, especially against Joe Biden, the former president still maintains a strong standing within the GOP, which as NCP noted, is probably the plan. 
[Read More: Wuhan Researcher: COVID Was A Weapon]