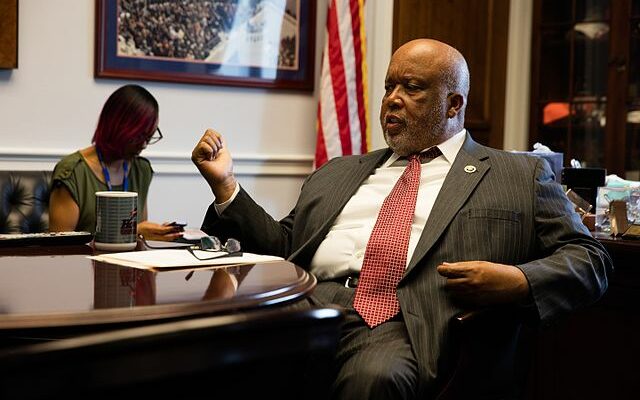 The January 6 Committee refused to save their documents and other records that were requested by incoming Speaker Kevin McCarthy earlier in the year. Instead, they destroyed most of the gathered "evidence" in what appears to be a cover up to protect then Speaker Nancy Pelosi. 
Rep. Barry Loudermilk (R-GA) told Fox News Digital that the committee had not looked into possible security lapses at the Capitol, a topic you'd think would be of supreme importance to a committee investigating the mobbing of the Capitol on January 6, 2021. 
He also said that most of the items that the ramshackle, heavily politicized committee saved was completely disorganized, making it difficult for any kind of oversight after the fact.
All the criticism that the committee was formed not to make a positive change but rather to serve as a platform for grandstanding liberals to continue to focus on Trump rather than Joe Biden appear to be true.  
The House select committee that investigated the Capitol riot on January 6, 2021 failed to adequately preserve documents, data and video depositions – including communications it had with the Biden White House that are still missing – according to the Republican lawmaker overseeing the GOP investigation into the committee's work, according to Fox News.

The now-disbanded "J6" committee, which was run by Democrats and included only two GOP members, has also failed to provide any evidence that it looked into Capitol Hill security failures on the day of the riot, Rep. Barry Loudermilk, R-Ga., chairman of the Subcommittee on Oversight for the Committee on House Administration, told Fox News Digital.

"Nothing was indexed. There was no table of contents index. Usually when you conduct this level of investigation, you use a database system and everything is digitized, indexed. We got nothing like that. We just got raw data," he said. "So it took us a long time going through it and one thing I started realizing is we don't have anything much at all from the Blue Team [which was to have investigated security lapses]."

The "Blue Team," as described by Loudermilk, represents the group within the J6 committee that was directed to investigate security failures at the Capitol. Loudermilk explained that sources have told him the Blue Team was essentially "shut down" by the committee in order to focus on placing the blame on former President Trump.

"We've got lots of depositions, we've got lots of subpoenas, we've got video and other documents provided through subpoenas by individuals. But we're not seeing anything from the Blue Team as far as reports on the investigation they did looking into the actual breach itself," he said.
Nancy Pelosi blessed the special committee with its official name: "The House Select Committee to Investigate the January 6th Attack on the United States Capitol." 
Although the committee was supposed to be made up of eight Democrats and five Republicans, Pelosi rejected two Republican nominees, proving it was a kangaroo court and sparking Kevin McCarthy to pull all of the Republican nominees. Pelosi then handpicked two anti-Trump Republicans instead to add a little "bipartisan" spice.
At the time, the January 6 Committee portrayed itself as an immense historically significant moment. Now we see that it was "historical," so long as it didn't mean they had to leave all historical evidence that might show what they actually did, especially behind the scenes.  
"The committee included an extensive staff of lawyers, including former prosecutors, and spent millions of dollars," writes Breitbart. "The committee conducted more than 1,000 interviews of witnesses who testified, usually under oath, in closed-door depositions. Only a few of the witnesses were called to testify publicly at hearings that were scripted, with committee members reading from teleprompters. Videos and transcripts were made, but only a few clips were shown to the public, and only a few transcripts were released.
Several witnesses complained that testimony had been selectively edited to distort or even reverse its meaning, and that members of the committee had publicly accused them of wrongdoing, without evidence, and which they had denied in their testimony. Republicans also suspected that the committee was communicating with President Joe Biden's White House, and with the Department of Justice — perhaps to circumvent witnesses' procedural rights in obtaining material for future prosecutions.
Because of such concerns, McCarthy wrote to Thompson in November 2022, shortly after Republicans won the House back in the midterm elections. 'It is imperative that all information collected be preserved not just for institutional prerogatives but for transparency to the American people,' he wrote. 'The American people have a right to know that the allegations you have made are supported by the facts.'"
After taking power, Republican members of the House Administration Committee also asked that Thompson maintain their documents.
"Mr. Thompson disputed Mr. Loudermilk's letter in a correspondence with the Republican lawmaker, saying that Mr. Loudermilk's letter had 'significant factual errors,'" noted The Washington Times. 
"Mr. Thompson added that the committee worked to archive over 1 million records, and provided over 4 terabytes of data.
A footnote in Mr. Thompson's letter said that the panel 'was not obligated to archive all video recordings of transcribed interviews or depositions,' and instead provided written transcripts of the depositions and interviews as the official records."
Earlier in the week, conservative radio host Mark Levin explained that Democrats were destroying January 6 Committee documents as a way "to obstruct future Republican investigations." The committee had already prevented former President Trump from access to evidence that could help his defense in the criminal prosecutions that the committee itself had urged the Department of Justice to launch. They also wanted to keep the witnesses they slimed during the process from having a chance to clear their names.
[Read More: Biden's Old Man Defense Dies With New Evidence]