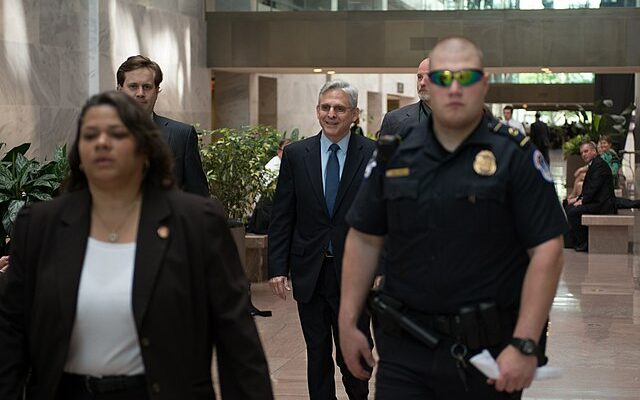 After being caught trying to protect the White House by giving Hunter Biden a "sweetheart deal," the Department of Justice is trying to give the false appearance that it has self-respect. Attorney General Merrick Garland announced earlier this afternoon that a special counsel will be investigating the president's shady, former drug-addicted son.
The special counsel is David Weiss, the prosecutor who tried to give Hunter the sweetheart deal in the first place. 
NBC reports that Weiss will be responsible for the "ongoing investigation" of President Joe Biden's son "as well as for any other matters that arose or may arise from that investigation," the Justice Department said in a statement. Weiss, who was already overseeing the Hunter Biden probe and is based in Delaware, asked to be appointed special counsel on Tuesday and Garland agreed it was "in the public interest" to do so, the attorney general said.

DOJ noted that Weiss was nominated by then-President Donald Trump in 2017 and confirmed by the Republican-controlled Senate in 2018.

Hunter Biden agreed to plead guilty to misdemeanor charges related to his failure to pay income taxes earlier this year. But while standing in court last month waiting to enter the plea, the agreement fell apart over confusion about a separate gun charge.

The judge asked the parties to hammer out the agreement and return later, leaving Hunter Biden to enter a not-guilty plea while it's litigated.

Lawyers for Hunter Biden had also indicated they believed that the plea agreement would settle all matters facing the president's son, but prosecutors said that other investigations continued.

The investigation into Hunter Biden has stretched on for years under Weiss' lead. Garland has said he gave Weiss free rein to pursue the probe as he saw fit, but actions spoke louder than words.
Well Sam you're also forgetting this shields Weiss from having to testify to Congress and he can stonewall the House Subcommittee now. https://t.co/SKTNQAM51d

— Stephen L. Miller (@redsteeze) August 11, 2023
The Wall Street Journal noted, "But two criminal agents from the Internal Revenue Service who worked on the investigation have alleged that political considerations appeared to infect investigative decisions at various stages in the probe, and that Biden appeared to receive preferential treatment not afforded other investigative targets.
The agents told lawmakers that prosecutors and Weiss had earlier recommended felony tax charges against Biden, even though Biden was ultimately offered a deal that involved only pleading guilty to two misdemeanor counts of willful failure to pay federal income tax, and Weiss's office had agreed to recommend a sentence of probation alone. A felony tax crime would likely entail some prison time, though any sentence is ultimately up to the judge overseeing the case.
In an op-ed last month, one of the IRS agents, Joseph Ziegler, urged Garland to appoint a special counsel to independently review the matter. 'What I saw during the investigation was entirely outside the norm,' Ziegler said."
House Judiciary Chairman Rep Jim Jordan lambasted the appointment of Weiss in a statement issued through a spokesman. 
"David Weiss can't be trusted and this is just a new way to whitewash the Biden family's corruption. Weiss has already signed off on a sweetheart plea deal that was so awful and unfair that a federal judge rejected it. We will continue to pursue facts brought to light by brave whistleblowers as well as Weiss's inconsistent statements to Congress." said Jordan spokesman Russell Dye.
Garland did not explain why giving Weiss a special title would suddenly make him act according to the law rather than according to Biden, and his boss, Garland's, wishes. 
[Read More: The Bidens Will Be Forced To Testify]