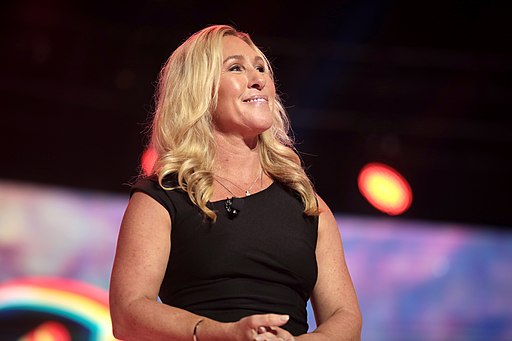 Georgia Representative Majorie Taylor Greene has raised some eyebrows over her work with the Republican establishment over the last few months, especially when she went to bat for Kevin McCarthy's Speaker of the House bid. 
Earlier last fall, The Washington Post reported, "In late September, when House GOP leader Kevin McCarthy of California privately unveiled his policy agenda to Republican lawmakers, Rep. Marjorie Taylor Greene (R-Ga.) approached the microphone to offer her praise.
Holding up the small card that outlined the key tenets of McCarthy's proposal, known as the "Commitment to America," Greene — long a far-right rabble rouser and critic of Republican leadership — praised it as a solid framework, according to someone in the meeting, who spoke on the condition of anonymity to share candid details of a private gathering.
Greene touted how the document allowed Republicans to show not just what they were against but what they were for. She also said that while everyone might not agree with everything, the proposal represented a great start, added this person, who described Greene's support as 'super surprising.'
Greene's evolution was part of a deliberate effort that began during her turbulent first term in Congress, in which she alienated both Democrats and Republicans by parroting conspiracy theories and making a series of offensive comments."
It's now beginning to pay off.
The Hill writes, "Former Trump White House strategist Stephen Bannon has said Rep. Marjorie Taylor Greene (R-Ga.) "sees herself on the short list" to be named former President Trump's running mate in his 2024 bid to retake the Oval Office.  
"This is no shrinking violet, she's ambitious — she's not shy about that, nor should she be. … She sees herself on the short list for Trump's VP," Bannon said.
When Greene "looks in the mirror, she sees a potential president smiling back," he added. 
A second source who has advised Greene said her "whole vision is to be vice president." The source, who has ties to Trump and spoke on the condition of anonymity to describe private conversations, said he also believes Greene would be on Trump's short list, according to NBC.

That goal is at the heart of Greene's recent efforts to rebrand herself as a politician who can stand astride the divide between the party's hard-liners and its establishment wing, the sources said.

It also helps explain why she threw herself into helping elect Rep. Kevin McCarthy, R-Calif., speaker of the House after the midterm elections and took assignments on two committees — Homeland Security and Oversight and Accountability — where she can participate in high-profile investigations of President Joe Biden's administration. McCarthy also chose her to be part of the panel investigating how the government handled the Covid-19 pandemic.

Her support for Kevin McCarthy's Speakership bid was offputting to some in the House Freedom Caucus and like-minded conservative activists, but Bannon told NBC it was a risk worth taking.

"She's both strategic and disciplined — she made a power move, knowing it would run up hard against her most ardent crew," he said. "She was prepared to take the intense heat/hatred short-term for the long-term goal of being a player."
The Daily Beast recently put Greene as the frontrunner to be Trump's vice president if he wins the nomination again. It wrote, "Greene's positioning within Trump's inner circle has only prospered in the former president's post-presidential tenure bunkering down at Mar-a-Lago. She has become a fixture at his MAGA rallies, with the congresswoman often lingering in the press pen to give exclusive interviews to Right Side Broadcasting, a YouTube channel that streams the rallies in their entirety to an audience of 1.57 million subscribers.
Back in August, Trump hosted the congresswoman and Fox News kingpin Tucker Carlson at his Bedminster club to watch a LIV golf tournament. According to a source present at the event, while Trump was with Greene, the chant 'MTG for VP' broke out."
Being a lightning rod has gotten the attention of Democrats and Republicans alike. Despite sitting in a relatively safe Republican district, her opponent raised and wasted over 10 million dollars in campaign funding in his longshot bid to unseat the then-freshman member of the House. 
The Georgia congresswoman has proven to be a substantial fundraiser in her own right. CNN said that her campaign took in "an astonishing $3.2 million in the Georgia Republican's first three months in office, after reports detailed her embrace of conspiracy theories and support for executing prominent Democratic politicians."
She ended the campaign cycle as one of the 10 highest fundraisers in all of the House, a prominent position that allows her to hold more sway among her colleagues, especially when she did it without being a committee or caucus leader. 
In a statement, she said, "I am humbled, overjoyed, and so excited to announce what happened over the past few months as I have been the most attacked freshman member of Congress in history. I stood my ground and never wavered in my belief in America First policies and putting People Over Politicians! And I will NEVER back down! As a matter of fact, I'm just getting started."
As the primary heats up starting this summer, expect the G in MAGA to stand for Greene. 
[Read More: Biden Misleads About FBI Cooperation]