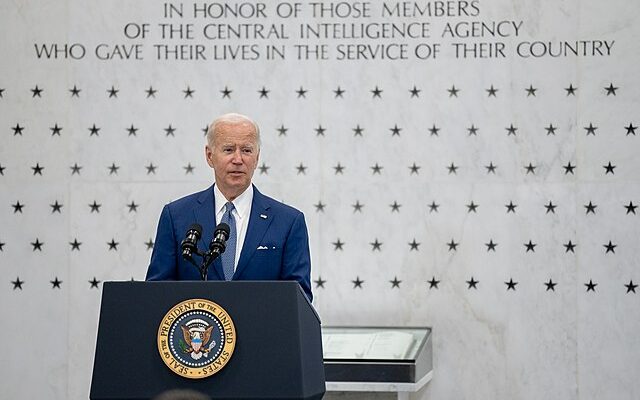 Joe Biden may have been too tired to attend all of the events at the NATO meeting last week in Vilnius, Lithuania, but that didn't stop him from making a major military move after everything concluded. 
The president's decision to skip a state dinner raised some eyebrows across the pond. The Daily Mail, for example, wrote, "President Joe Biden has raised eyebrows after skipping dinner with NATO leaders on Tuesday night and instead heading straight to his hotel in Lithuania.
A US official blamed the 80-year-old president's busy schedule over four days and said he's preparing for a 'big speech' on Wednesday when asked why he wasn't attending.
Biden, who has only been in Europe since Sunday night and went to the beach on Saturday, had Secretary of State Antony Blinken attend instead.
The president's snub came after he told Turkish President Recep Erdogan he would win re-election – and would be working with him for the next five years.
Despite mounting concerns about his health and age, he was confident about his chances in 2024. Biden would be 86 by the end of his second term."
Some people on social media said that the snub showed the president was "sundowning." 
Biden skipped the NATO dinner last night.

This is the third time he's skipped a dinner with world leaders while on an international trip.

The White House says it's from his "tough schedule."

It's not.

It's called "SUNDOWNING."

People who have Alzheimer's tend to crash around…

— James Bradley (@JamesBradleyCA) July 12, 2023
 The Mayo Clinic defines "sundowning" as "a state of confusion occurring in the late afternoon and lasting into the night. Sundowning can cause different behaviors, such as confusion, anxiety, aggression or ignoring directions. Sundowning can also lead to pacing or wandering.
Sundowning isn't a disease. It's a group of symptoms that occur at a specific time of the day. These symptoms may affect people with Alzheimer's disease and other types of dementia. The exact cause of this behavior is unknown."
The snub came after Biden appeared to be confused when meeting with King Charles of England a few days before, which raised some concerns about the president's health.
The president, however, made more news with what he did after the meetings across Europe rather than what he didn't do while spending time across the pond. The president announced that has called up thousands of American reservists in order to bolster European troop numbers as the war in Ukraine rages on. 
According to a copy of the order released by the White House, it allows the military to use up to 3,000 reserve service members to augment its forces in Europe, which grew in reaction to Russia's invasion of Ukraine, reported Military.com.

The Pentagon said last year it increased the troop presence on the continent by about 20,000 troops as Russian President Vladimir Putin attempted to seize the country, bringing the total U.S. force in Europe to more than 100,000.

"It's unlocking additional forces for use in support of this operation," the Pentagon's top spokesman, Brig. Gen. Pat Ryder, told reporters on a phone call Thursday.

Lt. Gen. Douglas Sims, the Joint Staff director for operations who also briefed reporters, said, "These authorities will enable the department to better support and sustain its enhanced presence and level of operations" in Europe.

Sims stressed that "these are not additional forces."

"Over time, where we may have had someone from an active component organization doing something, that job now, under these authorities, may be something that a reserve component unit may be able to do," he said.
"The order comes on the heels of the president's five-day trip to Europe, which wound through the U.K., Lithuania and Finland. The trip was meant to demonstrate the force of the international coalition against Russia's invasion of Ukraine. And Biden appeared confident he had accomplished that mission, proclaiming that he and other NATO leaders showed the military alliance "more united than ever."
Although Ukraine's demand for an explicit path to NATO membership remained elusive, Biden emphasized that agreements with countries in the alliance would support Kyiv's long-term security even without its formal entry. 
During a meeting with Finnish President Sauli Niinistö earlier Thursday, Biden insisted that Zelenskyy 'ended up very happy' despite his expressed frustrations at the lack of a clear timetable for Ukraine to join the alliance," explained Fox News.
The calling up of reserves to be deployed in Europe comes at a time in which military recruiting has hit near-crisis levels. The Council on Foreign Relations has discussed the problem in depth, and the news should be concerning to anyone who believes in strong national defense. 
"The U.S. military is having trouble attracting new recruits. The Army is having a particularly hard time. It missed its goal of new recruits by fifteen thousand last year. This year, it's on track to miss its goal by twenty thousand new recruits. The Air Force, the Marine Corps, and the Navy are facing similar challenges. Only the military's newest branch, Space Force, is meeting its recruiting target. Part of that is a function of size. The other services are trying to recruit thousands of service members; the far smaller Space Force needs just several hundred new recruits each year. Space Force also benefits from the high level of interest in all things related to space. While the services are struggling on the recruiting front, they are doing well when it comes to retention. Nora noted that "the people who are serving in the military are choosing to stay at it at higher rates than the past few years.
The size of the U.S. armed forces is shrinking as a result. The Army, for example, had to cut its active-duty end-strength this year to 466,000 from 476,000 last year because it missed its recruiting goal by 25 percent. This has the Department of Defense worried. As Nora put it, in an era of great power completion, 'the risk is if the US military is too small to conduct the kinds of missions that it needs to conduct in future wars, that that will go badly for the United States.'
 Many factors contribute to the military's recruiting troubles. The percentage of Americans of service age who are eligible to serve in the armed forces is the lowest it's ever been. It dropped from 29 percent in recent years to 23 percent last year. Fewer young Americans meet the military basic fitness standards, and more young Americans have used drugs. While marijuana is legal in twenty-one states plus the District of Columbia, its use is still disqualifying when it comes to joining the military. The decline in the percentage of Americans eligible to serve in the military has become accompanied by a declining interest in service. Just 9 percent of Americans of service age say they want to serve, down from 23 percent a few years ago. A mix of factors looks to be a work. A robust job market reduces the economic incentive to join the military. The political right has raised concerns of "wokeism," while the political left has raised concerns about far-right extremism among service members. And the military's well-documented problems in curbing sexual harassment and assault, epitomized by the murder of Army solider Vanessa Guillén, has likely discouraged many young women from wanting to join the military."
One often overlooked problem facing the American military is retention. Gen. James McConville, the Army's chief of staff, told Stripes that the service is undergoing the "biggest transformation in 40 years" as it implements new recruiting efforts, new doctrines, new organizations and new ways of training soldiers. 
Sgt. Maj. of the Army Michael Grinston also stressed the importance of retaining soldiers, not just recruiting them, saying, "Once people go in the Army, they want to stay," Grinston said, noting new members eventually are retained and promoted. Retention, he argues, will help the Army avoid a shortage of noncommissioned officers in a few years.
[Read More: Texas Takes Drastic Actions To Cover For Biden's Missteps]