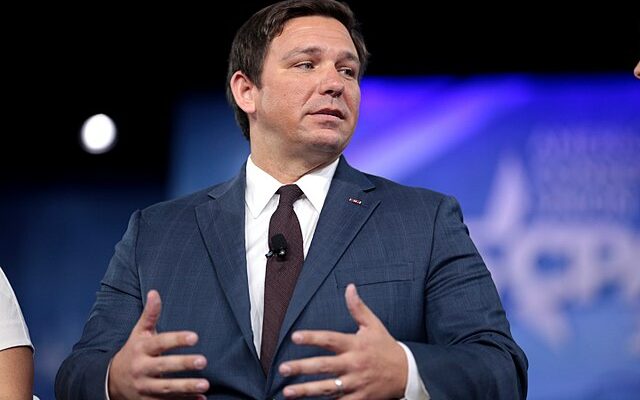 In yet another sign that he's changing course, and for detractors, another example that he's not ready for primetime, Ron DeSantis has fired his campaign manager, Generra Peck. 
Peck will be shifted to a role of chief strategist as part of the new order. 
Outgoing campaign manager Generra Peck will remain as chief strategist on the campaign as part of the restructuring. Peck guided DeSantis's blowout reelection bid last year, but she quickly became the subject of criticism from DeSantis advisers and donors in mid-July after his presidential campaign stalled and money dried up, reports The Messenger.

The campaign then twice cut staff and expenses and retooled DeSantis's press strategy to make him more available to the mainstream media.

But donors and some outside advisers weren't satisfied, leading DeSantis last week to ask Uthmeier to diagnose problems with the campaign and see if he could fix them. Ultimately, it led the governor to ask Uthmeier to take the job.

Uthmeier shies away from calling the reshuffling a "reboot." It's a despised word in the campaign, where advisers prefer to call this the last campaign "reload" — and say they're going to win, despite the naysayers and early polling.

"People have written Governor DeSantis's obituary many times," Uthmeier said in a written statement to The Messenger. "From his race against establishment primary candidate Adam Putnam, to his victory over legacy media-favored candidate Andrew Gillum [in 2018], to his twenty point win over Charlie Crist [in 2022], Governor DeSantis has proven that he knows how to win. He's breaking records on fundraising and has a supporting super PAC with $100 million in the bank and an incredible ground game. Get ready."
The move comes as Team DeSantis has promised to spend money more wisely and no longer shy away from mainstream media outreach.
The DeSantis campaign began their race for the White House under the belief that the United States wants to be Florida. Rather than running a national campaign based on broad values, the governor has tried to nationalize his "war on the woke," which has flopped among Republicans just begging for someone normal. 
"A recent New York Times/Siena College poll confirmed what has become increasingly clear: Donald Trump has no real competition in the Republican presidential field. Despite all his legal troubles, including a federal indictment for attempting to subvert American democracy, the former president was 37 points ahead of his main rival, Florida Gov. Ron DeSantis, among likely Republican primary voters. Trump overwhelmingly outperformed the other GOP candidates with virtually every demographic, reported Mother Jones. 
"The poll also indicates that DeSantis' war-on-wokeness campaign strategy is a flop. The Florida governor has made the culture wars a central tenet of his presidential bid, from picking a losing fight with Disney to his incessant attacks on public education. "Florida is where woke goes to die," he likes to say. It turns out that his obsession with wokeness could also be what kills his campaign. 
According to the Times/Siena poll, only 24 percent of national Republican voters chose "a candidate who focuses on defeating radical 'woke' ideology in our schools, media and culture" over "a candidate who focuses on restoring law and order in our streets and at the border." Sixty-five percent of voters and 59 percent of those who are "very conservative" favored a candidate running on law and order. In another scenario, voters were given a choice between a candidate who vows to fight corporations that promote "woke" left ideology and another who says the government shouldn't interfere with what corporations can support. Fifty-two percent opted for the latter candidate." 
Uthmeier most recently served as DeSantis' chief of staff in the governor's mansion.
[Read More: Federal Judge Blocks Biden Power Grab]