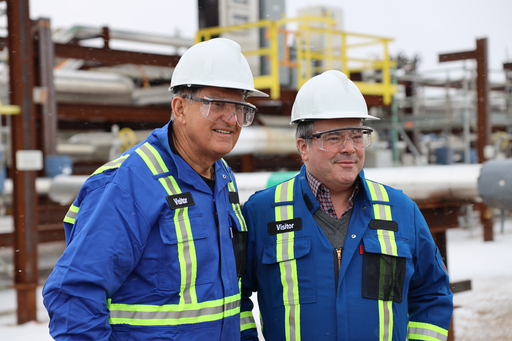 A month or so ago. President Joe Biden and Joe Manchin met at the White House to discuss the implementation of the massive Inflation Reduction Act, Biden's signature legislation that only passed with Manchin's approval. The new law is chock full of taxes and climate and healthcare regulations that both officials deeply care about. 
Biden promised moderation and got Manchin's vote. At the bill signing, Manchin smiled, but he's been less cheerful sentiment coming from the West Virginia senator now that he realizes that progressives are abanding their pledges.
Politico reports, "if you ask Manchin, things have not gone well since that huddle. That's because the West Virginia Democrat is livid about how his party's president and his administration are rolling out a party-line bill that served as a crowning achievement for both men — and he's particularly peeved at a delay in new guidelines on who gets the law's generous electric vehicle tax credits.

In addition to lobbying the president at the previously unreported Jan. 3 sitdown, Manchin has introduced a bill that would halt the credits until Treasury Secretary Janet Yellen implements strict requirements for electric-vehicle battery sourcing. As Manchin sees it, using the credit to boost U.S.-manufactured rather than overseas-made vehicles is essential to making the law succeed.

He's even talked directly to Yellen several times about the matter. Summing up his approach of late, Manchin said: "I've been raising hell."

"They almost act like they gotta send $7,500 or a person won't buy a car. Which is crazy, ludicrous thinking for the federal government," Manchin said in an interview this week. "I just totally and absolutely am disagreeing with what they're doing."

A frustrated Manchin is nothing new for Democrats, but the current situation is plainly untenable for them. He's still undecided on reelection next year in a state that's critical to keeping their Senate majority. And as Energy Committee chair, he has the power to wreak havoc by slowing down nominees, hauling in Biden officials for public testimony and pushing legislation against the administration's wishes.
While anyone with half a brain can see that Manchin is a fool for having trusted the left to keep its word, especially when the ringleader is the biggest fabulist in DC, Joe Biden, but the senator may still have an ace up his sleeve: the 2024 election. 
Last week Manchin stoked the fires that he might run for president against Biden in 2024 because he's upset with the country's direction. He wouldn't be alone. Most of the country dislikes Biden, and his policies have caused millions to live paycheck to paycheck.  
CBS Poll – Are Biden's policies…

Making your own family's finances better or worse?

Better – 18%
Worse – 49%

Making political division better or worse?

Better – 19%
Worse – 50%

Making illegal immigration better or worse?

Better – 21%
Worse – 51%https://t.co/y1Og2QFF7a

— InteractivePolls (@IAPolls2022) February 7, 2023
The Hill noted, "Manchin has criticized Democratic leaders for refusing to negotiate with Speaker Kevin McCarthy (R-Calif.) over a package of fiscal reforms to attach to legislation raising the debt limit and has repeatedly voiced frustration over the lack of progress in Washington on energy permitting reform and addressing the nation's $31 trillion debt.  
"I can tell you one thing: I feel, like most Americans, we've got to come together. Americans want to be united, they want to be together and right now we're going further apart," he said.  
He predicted that voters are going to be looking for "somebody" to bring the country together but didn't say whether he would be the politician to do that as the next president.  
'I'm not saying I have any aspirations' to run for the White House, he said, adding a caveat: 'I've been [in Washington] 12 years. I don't like what I see; I don't the direction we're going and I'm going to work and commit myself to try to get people who want to do the right thing to find the pathway forward, bringing the country back together.'" 
Manchin's statements are a sure sign that beneath the veneer of smiles, most Democrats recognize the disaster that the Biden Administration has become. The president has failed to deliver the unity he promised at his inaugural. He is instead using misleading statements about his critics as a way to bolster his own standing. 
The State of the Union was a case in point. Acting as the demagogue he is, Biden claimed that Republicans want to cut Social Security and Medicare and was met with scolds. 
 Fox News wrote, "During his second State of the Union address Tuesday night, Biden face strong resistance from the GOP, who he accused of wanting to take the economy "hostage."
"Some of my Republican friends want to take the economy hostage, which I get it, unless I agree with their economic plans." Biden said. "All of you know should know what those plans are."
Before that, the first boos at the State of the Union came as Biden mentioned the amount of debt added by the Trump administration.
"Nearly 25% of the entire national debt that took over 200 years to accumulate was added by just one administration alone – the last one," Biden said as Republicans grumbled. "They're the facts. Check it out. Check it out."
This was not the only time that the president seemed to be out of touch with reality. The congressional audience burst into laughter when Biden said that he demanded oil companies invest in new, expensive oil wells because "we will need only for at least another decade." 
Republicans laughed as ⁦@POTUS⁩ said US will need oil 'for at least another decade.' GOP senator accused Biden of 'living in a green hallucination.' But environmentalists, Dems say US needs to wean itself off fossil fuels ASAP.

My ⁦@AP⁩ story https://t.co/SaeapbMRvP

— Matthew Daly (@MatthewDalyWDC) February 9, 2023
[Read More: Democratic Congresswoman Attacked In Apartment Building]