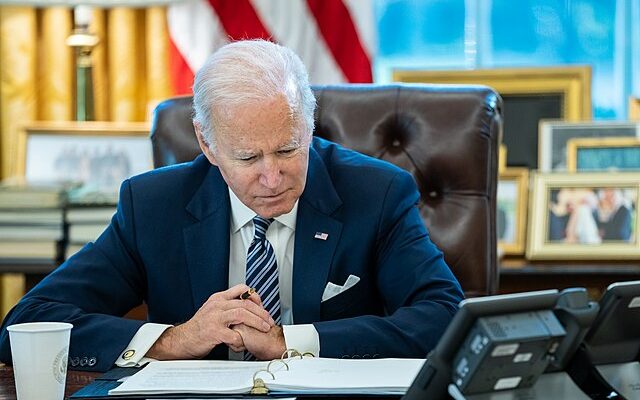 If it walks like a duck and quacks like a duck, it's probably a duck. If the son of the sitting president suddenly becomes an artist and starts selling his artwork for six figures, it's probably connected to corruption. 
An investigation into who has been buying Hunter Biden's "art" has finally been revealed as the mainstream media begins to look for ways to get Joe Biden to exit stage left. 
Business Insider reports, "On the campaign trail, President Joe Biden pledged that there would be an "absolute wall" between his official duties and his family's private business interests. The Biden White House repeatedly made reference to that wall when responding to questions about the fledgling art career of Hunter Biden, the president's son. In 2021, when a New York art gallery debuted Hunter Biden's paintings with asking prices as high as $500,000, the White House said that his team had a process for carefully vetting buyers, and that their identities were known only to the gallery, and not to Hunter Biden himself. The messaging seemed to suggest that his art patrons came from a rarified universe of collectors who had nothing to do with the hurly-burly of politics.

Neither of those things has turned out to be the case. Hunter Biden did, in fact, learn the identity of two buyers, according to three people directly familiar with his own account of his art career. And one of those buyers is indeed someone who got a favor from the Biden White House. The timing of their purchase, however, is unknown.

That buyer, Insider can reveal, is Elizabeth Hirsh Naftali, a Los Angeles real-estate investor and philanthropist. Hirsh Naftali is influential in California Democratic circles and a significant Democratic donor who has given $13,414 to the Biden campaign and $29,700 to the Democratic Congressional Campaign Committee this year. In 2022, she hosted a fundraiser headlined by Vice President Kamala Harris.

In July 2022, eight months after Hunter Biden's first art opening, Joe Biden announced Hirsh Naftali's appointment to the Commission for the Preservation of America's Heritage Abroad. It is unclear whether Hirsh Naftali's purchase of Hunter Biden's artwork occurred before or after that appointment. Membership on the commission is an unpaid position often filled by campaign donors, family members, and political allies — the same crowd that often winds up with US ambassadorial appointments. Hirsh Naftali's fundraising activities mark her as the kind of well-connected donor who often wins such appointments, regardless of any relationship they might have with the president's family. But they do not address the possibility that Hunter Biden might have voiced his support for her appointment."
Insider's report serves as the most detailed examination of the first son's art sales to date, but it's not the first time that a potential appointee by the president tried to use Hunter's "art shows" as a way to curry favor with the White House. 
The New York Post noted that Hunter's show "drew ethics concerns over the fact that President Biden's embattled nominee for US ambassador to India, Eric Garcetti, attended the show." 
Democrats in the Senate eventually confirmed Garcetti after the White House stood by him for almost two years, including during criticism from fellow Democrats about his handling of sexual harassment claims against an aide while he was Los Angeles mayor.
Garcetti also received criticism that he took millions of dollars from Qatar to be used as a slush fund while leading the City of Angels. 
Fox News Digital reported in January that Rep. James Comer, R-Ky., chairman of the House Committee on Oversight and Accountability, sent a letter to Hunter Biden's art dealer, Georges Bergès, demanding he turn over all communications between his gallery and the White House related to a reported deal to withhold all records of the prices and final buyers for Biden's art. 
The art broker staunchly defended Hunter's work, claiming that the embattled first son has a "personal narrative" to tell through his art.
"I represent Hunter Biden because I feel that not only his art merits my representation, but because his personal narrative, which gives birth to his art, is very much needed in the world," Bergès said. 
"Hunter Biden will become one of the most consequential artists in this century because the world needs his art now more than ever," he added. "In a world that beats us down, we need art in our lives that reminds of the unrelenting divinity within each of us."
The president and his son are currently preparing for one of Hunter's best friends and former business partner to testify that Joe Biden took calls with foreign business interests at Hunter's behest while serving as vice president. 
[Read More: DeSantis Campaign In Trouble]