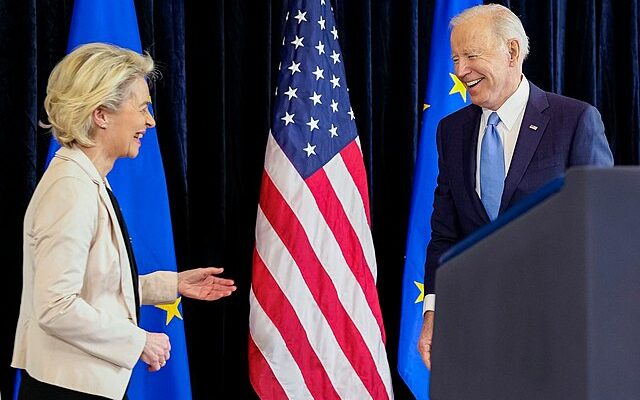 Not content to use the problem of inflation to interject his "green" policies into the economy, Joe Biden's obsession with climate change may now shape world diplomacy and war, as well. As NATO continues to be tested by the ongoing war between Russia and Ukraine, the White House has begun to push European Commission's President Ursula von der Leyen to be the Secretary-General of NATO. According to reports, she has gotten the attention of the president by recently advocating the European version of the "Green New Deal."
The president of the European Commission was said to be the United States' preferred candidate after the White House rejected the Defence Secretary for the role, writes The Telegraph.

On Tuesday, Nato allies agreed a one-year extension for Jens Stoltenberg, who has been secretary general since October 2014, to lead the alliance until autumn 2024.

Nato leaders had hoped to reach a deal on a successor to Mr Stoltenberg at their annual summit in Vilnius, Lithuania, next week, but have failed to agree on a candidate.

A Nato source said that the US president was attempting to convince Mrs von der Leyen, a former German defence minister, to succeed Mr Stoltenberg amid fears a suitable candidate will not emerge in the next 12 months.

Mr Biden and Mrs von der Leyen have built "a strong bond" in recent years, fostering close transatlantic ties over China, Ukraine and the climate, another source said.
Von der Leyen has come to epitomize the Green Movement in Europe, which has focused more on getting rid of fossil fuels and making our lives worse by making energy less available than supporting potential replacements for oil and gas, such as nuclear.  
In March, for example, she claimed that nuclear power was not "strategic" for the EU's push for decarbonization. Instead, she wants to focus on things like "solar panels, batteries and electrolysers." 
The Daily Caller noted that "Von der Leyen, who previously served as Germany's defense minister, has since 2020 sought to implement the "European Green Deal," which aims to make Europe a net-zero emitter of greenhouse gases by 2050. Its provisions include an "Energy Taxation Directive" to eliminate subsidies for fossil fuel industries and tax exemptions for emission-heavy industries such as airlines and shipping, as well as new incentives to farmers to avoid growing crops that are carbon intensive.
"I am convinced that the old growth model that is based on fossil fuels and pollution is out of date, and it is out of touch with our planet. The European Green Deal is our new growth strategy – it is a strategy for growth that gives more back than it takes away," said von der Leyen when the plan was approved by the European Commission in 2019.
The idea of the plan, as well as its name, was drawn from a proposal by left-wing American politicians, known as the 'Green New Deal.'"
The push from the White House comes during an especially fraught time for NATO. Recently, with a major meeting scheduled for next week, Ukrainian President Volodymyr Zelenskyy has begun to double his pressure on the West to allow Ukraine to join the defense organization. 
There is exactly one week left until the key day of the @NATO Summit in Vilnius. That means a week until the key moment for our common security in Europe. We are working with our partners as hard as we can to ensure that our common security in Vilnius prevails. It all depends on… pic.twitter.com/WgnVaKhqL8

— Володимир Зеленський (@ZelenskyyUa) July 5, 2023
Ukraine has gotten support for its membership from Lithuania. During an interview with Reuters, "President Gitanas Nauseda advised NATO allies to disregard fears that bringing Ukraine into the U.S.-led military alliance would provoke Russia, which invaded Ukraine on Feb. 22, 2022.
"We should not hesitate to take bolder decisions because otherwise the Putin regime will decide that the Western allies are too weak, (that they should be) pushed to the corner and they will surrender", Nauseda said on Monday.
"Our stronger wording on Ukraine's (membership) perspective would for sure increase the fighting spirit of Ukrainian soldiers on the battlefield. And this is very important", he added.
Ukraine has been pressing NATO to declare at the July 11 and 12 summit that Kyiv would join the alliance soon after the end of the war, and to set out a roadmap to membership."
However, Biden Administration and other European allies have pushed back back against "efforts by some European allies to offer Ukraine a 'road map' to NATO membership at the alliance's July summit, exposing divides in the west over Kyiv's postwar status.
The US, Germany and Hungary are resisting efforts from countries such as Poland and the Baltic states to offer Kyiv deeper ties with Nato and clear statements of support for its future membership, four officials involved in the talks told the Financial Times."
According to a Russian Security Council official, if Kyiv is allowed to join NATO, the war in Ukraine is likely to escalate into World War III. 
[Read More: White House Changing Its Tune On Where Drugs Were Found]