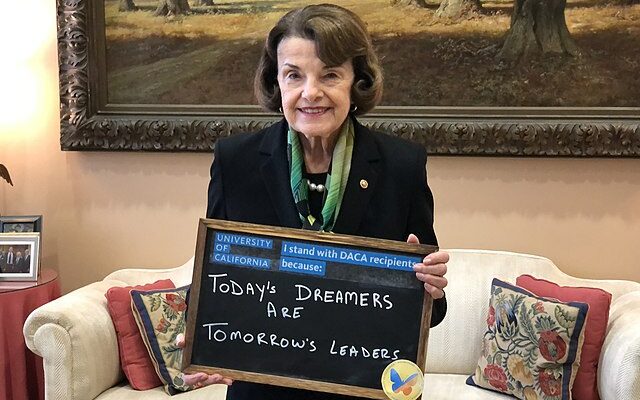 Eight-term senator Dianne Feinstein has been missing in action since February, and it's begun to put Senate Democrats in a bind. They are desperate to continue to fill the judiciary with far-left judges, but without Feinstein sitting on her seat in the Judiciary Committee, they can't do so. 
Now they find themselves begging "for kindness" from their Republican counterparts, hoping they'll just be a rubber stamp for the liberal packing of the courts. 
Durbin says GOP should show "kindness" and agree to replace Feinstein on Judiciary.

"Tomorrow this could happen to the Republicans…she's in a delicate part of her life and her Senate service. They should stand by her and give her a dignified departure"

— Igor Bobic (@igorbobic) April 17, 2023
Mitch McConnell, who's missed some time in the Senate himself after a nasty fall, is standing up to the pressure. 
NPR writes that "Senate Minority Leader Mitch McConnell said that Republicans would block an effort by Democrats to replace ailing California Sen. Dianne Feinstein on the Senate Judiciary Committee temporarily as she recovers from shingles at home.
McConnell said the bulk of President Biden's judicial nominees have bipartisan support and replacing Feinstein would allow Democrats to approve nominees he labeled 'unqualified.'
'So let's be clear: Senate Republicans will not take part in sidelining a temporary absent colleague off a committee just so Democrats can force through their very worst nominees,' McConnell said Tuesday."
Other powerful Republican senators balked at the idea of temporarily replacing Sen. Dianne Feinstein on the Judiciary Committee, as well, leaving Democrats in a predicament as several of President Joe Biden's judicial nominees are "bottled up in the panel."
John Cornyn, one of the senior Republicans on the Judiciary Committee, echoed Mitch McConnell when speaking to NBC News: "These are, by definition, the most controversial nominees. And if Democrats are depending strictly on their own party-line vote to get them out of committee— I don't think there's any appetite on our side to help what we consider to be controversial or unqualified nominees to get confirmed."

NBC said the "likely GOP rejection of a committee replacement puts the onus back on Feinstein, who has no timetable to return and has conceded that her absence is a problem for Democrats. The Judiciary Committee is divided 11 to 10 between Democrats and Republicans, and a tie vote means a nominee cannot advance.

Cornyn said he hopes Feinstein returns, but he said that if she retired and was replaced by a new senator, Republicans might be more amenable to overhauling committee seats permanently, as there is precedent for that. A committee assignment can be changed quickly with unanimous consent in the Senate.

"That would be a different set of circumstances than this," Cornyn said of reorganizing committees to accommodate new members of the Senate. "But not on a temporary basis."
Feinstein's absence is teaching a valuable lesson, though. It does not matter how long you've served the country as a senator, won progressive policy battles, or taken on leadership rolls. The most dangerous place to ever be is between a liberal and obtaining power.  
The move by Republicans has led liberals to call for Senator Feinstein to resign from office. Newsweek noted, "Feinstein, 89, was hospitalized with shingles in early March and has missed dozens of Senate votes in Washington D.C. while she recovers at her San Francisco home."
Now leftwing House members want to throw her overboard.
"U.S. Rep. Ro Khanna of California was one of the first Democratic lawmakers to openly call for Feinstein to resign as her continued absence is hindering the judicial confirmation process, saying she can "no longer fulfill" her duties in the Senate. Shortly afterwards, Rep. Dean Phillips of Minnesota tweeted that it is a "dereliction of duty" for Feinstein to remain in the Senate."
The two were recently joined by Jamaal Bowman and Alexandria Ocasio-Cortez who also called on the California legend to step down. "She's had a very long and stellar career, you know, but missing that many votes, stopping us from moving forward with our judge nominations," Bowman said.
New York Democratic congresswoman Alexandria Ocasio-Cortez said that Feinstein resigning is "unfortunately something that I think it is appropriate to consider."
[Read More: Ordinary Citizen Gets Settlement After Suing Pelosi]