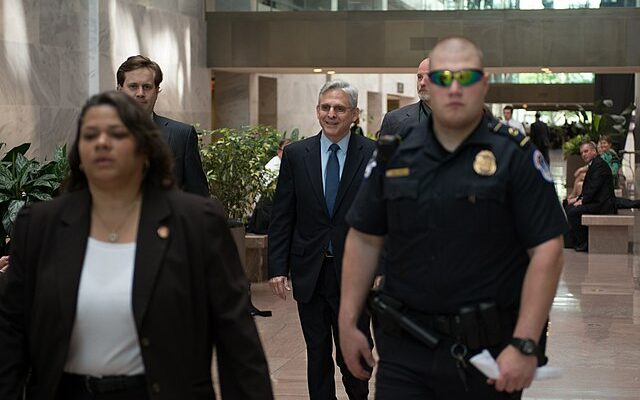 It now makes more sense that Merrick Garland left the country the day that the "sweetheart deal" given to Hunter Biden was announced. Testimony from the two IRS whistleblowers given to the House Ways and Means Committee implicate the Attorney General in perjury.   
The Daily Caller reports, Gary Shapley and another whistleblower both testified before Ways and Means Committee attorneys for more than seven hours, Republican Reps. Kevin Hern of Oklahoma and Greg Murphy of North Carolina told the Daily Caller. The members emphasized that the testimony implicates both Garland and IRS Commissioner Daniel Werfel in lying to Congress about political interference in the Biden probe. Ways and Means voted Thursday in a closed-door hearing to release their transcripts.

Both congressmen emphasized the credibility of the whistleblowers, with Hern noting that they were questioned by both Republican and Democrat committee attorneys.

"Whistleblower One's story was corroborated by Whistleblower Two," the Oklahoman said. "The attorneys for the Democrats had the ability to ask any questions, any clarifications they wanted to and review the final transcript."

"One individual came forward and laid out the full case of what's going on. The second individual, through his attorney, asked Ways and Means to contact him and ask for testimony. So we didn't seek these, they sought us," Murphy added.

Shapley's letter to Congress accuses Attorney General Merrick Garland of lying to Congress when he asserted that investigations into Biden would go on without political interference. Garland denied the charge. Werfel testified to Ways and Means in April and promised that whistleblowers would not be retaliated against. The second whistleblower alleged in his interview that he was retaliated against as early as October 2022.
During an exclusive interview with CBS News said he had to come forward to expose the Department of Justice for interfering in the Hunter Biden criminal investigation and pointed to the hypocrisy of the Democrats.
Why is the "equal justice under the law" crowd so quiet right now?
Democrats previously have made claims that "no man is above the law" when discussing various charges against Republicans, especially Donald Trump. 
"When I took control of this particular investigation, I immediately saw deviations from the normal process. It was way outside the norm of what I've experienced in the past," Shapley said.
"For a couple years, we'd been noticing these deviations in the investigative process. And I just couldn't, you know, fathom that DOJ might be acting unethically on this," he added.
JUST IN: During an exclusive interview with CBS News, IRS whistleblower Gary Shapley exposed the Department of Justice for interfering in the Hunter Biden criminal investigation.

Why is the 'equal justice under the law' crowd so quiet right now?

"When I took control of this… pic.twitter.com/If9MnTheE3

— Collin Rugg (@CollinRugg) May 25, 2023
The question remains. Is Merrick Garland above the law? 
The attorney general "had repeatedly vowed to ensure that Weiss would be insulated from any political interference. Sen. Chuck Grassley (R-IA) pressed Garland in March about this, suggesting that Garland's testimony last year "could be misleading because without special counsel authority, he could need the permission of another U.S. attorney's office in certain circumstances to bring charges" beyond Delaware, writes The Washington Examiner.
"The U.S. attorney has been advised that he has full authority to make kind of those referrals you're talking about or to bring cases in other jurisdictions if he feels it is necessary, and I will assure that if he does, then he will be able to do that," Garland promised. "He has been advised that he should get anything he needs. … I have not heard anything from that office that suggests they are not able to do anything that the U.S. attorney wants them to do."
House Ways and Means Chairman Jason Smith said, "I can now confirm that we have credible whistleblower testimony alleging misconduct and government abuse that is resulting in preferential treatment for the president's son, Hunter Biden," He also noted that Hunter Biden "has been under investigation for tax crimes that include evading taxes on income" from foreign sources.
The committee has been working separately from the House Oversight Committee, which is leading an investigation into the Biden (Crime?) Family's alleged "influence peddling" and its chairman recently asked Garland to hold off on his charges until he was finished. 
Obviously, Merrick had other plans than letting that happen.