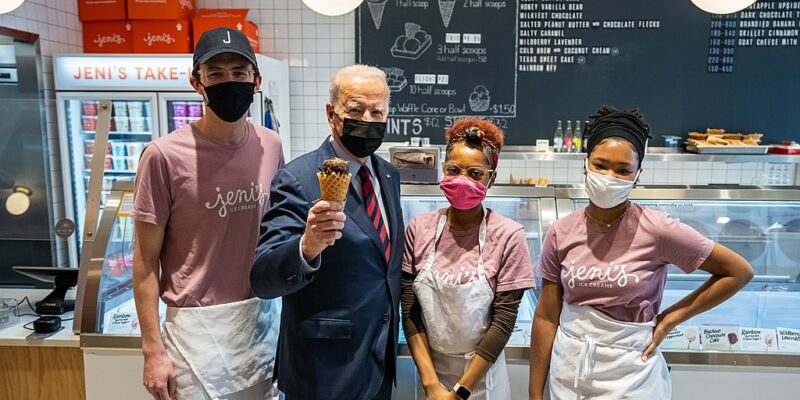 A battle inside the House GOP is brewing over whether or not they should move to impeach President Joe Biden over allegedly accepting bribes from foreign nationals during his time as vice president. 
Axios reports that "House Republicans erupted into infighting on Wednesday as leadership and members across the conference pushed back on a burst of impeachment votes being forced by right-wing lawmakers.
It's an escalation of an increasingly acrimonious internal GOP dynamic as members of the right-wing Freedom Caucus try to seize control of the party's agenda.
"I think they've kind of gone rogue," said Rep. Ken Calvert, an ally of House Speaker Kevin McCarthy."
The debate rests on whether or not the GOP should let the investigations "play out," which is preferred by House leadership. Others, such as Marjorie Taylor Greene, think that it's now clear that Joe Biden is a criminal. 
The outspoken Georgian told Breitbart that she intends to introduce articles of impeachment against President Joe Biden under a privileged resolution, meaning that leadership will have more difficulties in shutting down the vote. 
In an interview with Breitbart, the Georgia congresswoman unloaded on fellow Republicans. 
"Joe Biden is a criminal," she said. "And as vice president of the United States, he committed crimes. He committed crimes, high crimes, and misdemeanors."

"We now know on the Oversight Committee through our investigation that he took a $5 million bribe from a Ukrainian oligarch in order to get Victor Shokin fired — the prosecutor that was investigating Burisma," she said.

"We have bank records after bank records after bank records showing that money was transferred, wire transferred in, from all kinds of countries all over the world, from all kinds of foreign nationals and businesses and state governments into the fake LLC, paying the Biden family members," Greene continued.

"Everyone knows this," she said. "But for some reason, Republicans in Congress can't even start the process of impeachment. They can't even begin it at this point."

"Everyone knows that Joe Biden is a criminal, and they [Republicans] will not move forward with impeachment anywhere in Judiciary, because you know what, you know what it is? There's a couple of Republicans that sit on the Judiciary Committee, Ken Buck and [Tom] McClintock who don't want to vote for impeachment."
For his part, Speaker Kevin McCarthy has not ruled out impeachment but has argued that the GOP needs to slow its roll. He has "urged House Republicans to vote against the resolution brought forward by GOP Rep. Lauren Boebert of Colorado forcing a vote to impeach President Joe Biden this week, arguing now is not the right time, multiple sources in the closed door meeting told CNN." 
Boebert's impeachment articles are identical to Greene's but are couched in a procedural move that would allow it to receive a vote from the entire House of Representatives. 
"McCarthy said Wednesday evening that the House will refer Boebert's impeachment resolution to the Homeland Security Committee, confirming CNN's earlier reporting on that approach. There will be a rule vote on the floor to make the referral to committee, allowing Republicans to diffuse the politically thorny issue for now, though internal party tension over the issue was on display for much of Wednesday," CNN continued.
Asked about the strategy to send the resolution to committee, McCarthy told CNN: 'I think that's best for everybody.'
At Wednesday's closed door meeting, McCarthy argued that Republicans should let committee investigations play out and warning that jumping to impeachment now could threaten their slim majority, the sources said. The speaker noted that House Republicans have taken back the House five times in the last 100 years, and two of those times lost the majority the next cycle.
'What majority do we want to be,' McCarthy asked his conference, according to a source in the room 'Give it right back in two years or hold it for a decade and make real change?'"
However, delaying and letting the committee investigations play out may not be in the Speaker of the House's cards. This afternoon the House Ways and Means Committee released transcripts from an IRS whistleblower showing that Joe Biden was indeed in the room when his son Hunter worked with Chinese agents to receive a huge payoff. 
Will this be enough "committee work" for McCarthy?
Ladies and gentleman: JOE BIDEN WAS IN THE ROOM pic.twitter.com/sGEd09Ljbv

— Geoffrey Ingersoll (@GPIngersoll) June 22, 2023
The Daily Mail writes, "The testimony revealed that U.S. Attorney David Weiss – the Trump-era holdover who prosecuted the case against Hunter Biden – asked for special counsel status and was denied by the Department of Justice.  
The unverified testimony came from two IRS whistleblowers as news broke this week that Hunter Biden would enter into an agreement that will see him plead guilty to two misdemeanor tax crimes and avoid prison on a felony gun charge.
In one revelation a July 2017 text message from Hunter Biden to Chinese business partner Henry Zhao the president's son invoked his father to threaten Zhao for payment. 
'I am sitting here with my father and we would like to understand why the commitment made has not been fulfilled. Tell the director that I would like to resolve this now before it gets out of hand, and now means tonight,' the text message read. 
'And, Z, if I get a call or text from anyone involved in this other than you, Zhang, or the chairman, I will make certain that between the man sitting next to me and every person he knows and my ability to forever hold a grudge that you will regret not following my direction. I am sitting here waiting for the call with my father.'"
How much longer can Kevin McCarthy hold back the flood of evidence that the sitting president of the United States, or at least his family, should have registered as a foreign agent for Beijing?
They were trying to execute this warrant BEFORE the election … jeeeeezus

And then the slow-walking is what KILLED the FARA element of this investigation. That's KEY … and clutch for the Biden family, because Trumpers went down for FARA and they would be scene as AGENTS of… pic.twitter.com/ZoeTu0KOVg

— Geoffrey Ingersoll (@GPIngersoll) June 22, 2023
Are you having fun yet?
[Read More: Democrats Freak Out Over Third Party Candidate Running]