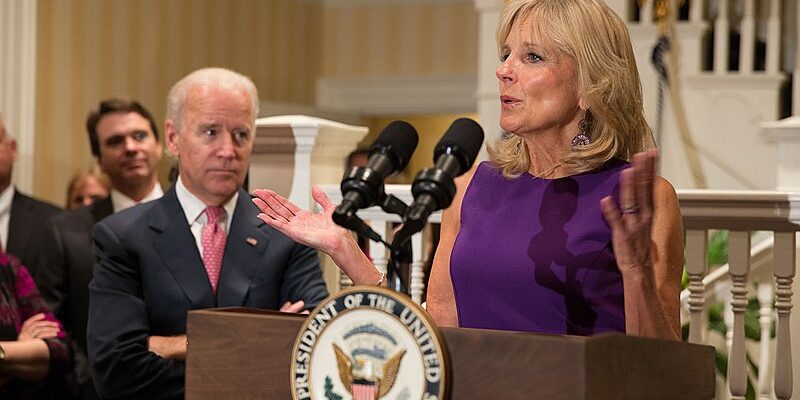 They say a final decision will not be announced anytime soon, but it sounds like the Biden Family is preparing for the octogenarian president to run for re-election in 2024. While staying in a swanky, donor-owned home in Nantucket, the president and his "closest relative" allegedly have been plotting whether "the Big Guy" should run for a second term.
As we documented earlier, the decision is less Joe's to make than it is Jill's because she's the one in charge. Nantucket is where the First Lady must go to put on her thinking cap.
Bloomberg writes, The president and first lady Jill Biden arrived Tuesday at Nantucket, where they have regularly spent Thanksgiving dating back to before Biden was vice president. A few close family accompanied them, including Biden's daughter Ashley and his son Hunter, who is expected to be a target of House Republican investigations in the next two years.

Biden has the wind at his back, after his Democratic Party enjoyed a historically successful midterm election. His aides widely expect him to run again, and his team is moving forward as if a final announcement is a formality. But the president has said his family will have an out-sized say in the decision, which isn't expected until next year.

"If his heart is in it, they are there for him. It is highly unlikely they will not support him," said Michael LaRosa, a former aide to Jill Biden. "He's running. And I don't know who else but him should be running. He's proven himself to be not just an effective campaigner, but an effective executive."
Bloomberg does note that "storm clouds loom again for Biden's family. House Republicans are planning a raft of investigations next year, including into Hunter Biden's business ties, which they allege could compromise the president."
"Storm clouds" is one way to put it. It's not just Republicans who think Hunter broke the law. Biden's own administration is looking to bring charges. NCP reported, "Federal agents investigating President Biden's son Hunter have gathered what they believe is sufficient evidence to charge him with tax crimes and a false statement related to a gun purchase, according to people familiar with the case. The next step is for the U.S. Attorney in Delaware, a Trump administration holdover, to decide on whether to file such charges, these people said.
The investigation into Hunter Biden began in 2018, and became a central focus for then-president Donald Trump during his unsuccessful 2020 reelection effort. Initially, the investigation centered around Hunter Biden's finances related to overseas business ties and consulting work. Over time, investigators with multiple agencies focused closely on whether he did not report all of his income, and whether he lied on gun purchase paperwork in 2018, according to the people familiar with the situation, who spoke on the condition of anonymity to discuss an ongoing case.
Agents determined months ago they had assembled a viable criminal case against the younger Biden. But it is ultimately up to prosecutors at the Justice Department, not agents, to decide whether to file charges in cases where prosecutors believe the evidence is strong enough to lead to a likely conviction at trial."
More recently, reports showed that Hunter Biden was also connected to a major Putin ally, helping her buy real estate in the United States. 
Although Hunter may be a problem for Biden 2024, Gavin Newsom will apparently not be. Politico writes that the California governor, rumored to be a 2024 contender, will not be challenging the president if he runs for re-election. 
The magazine claimed, "Newsom wants the word to go forth: He's not going to challenge President Biden for the Democratic nomination in 2024.
"I've told everyone in the White House, from the chief of staff to the first lady," he recounted to me as we sat on the top floor of California's now-ceremonial governor's mansion on election night.
His message to Ron Klain and Jill Biden over the summer — when he visited Washington amid growing speculation, and considerable West Wing irritation, that he was plotting a primary challenge — was to count him as a firm supporter of Biden's reelection: "I'm all in, count me in," he said he told them.
Newsom relayed the same to Biden himself on election night."
Despite Democrats doing well in the midterms due to the anchor of Donald Trump in critical contests for Republicans, Joe Biden continues to be one of the most unpopular presidents in modern history. 
[Read More: Fox News Favorite Announces Run For RNC Chair]