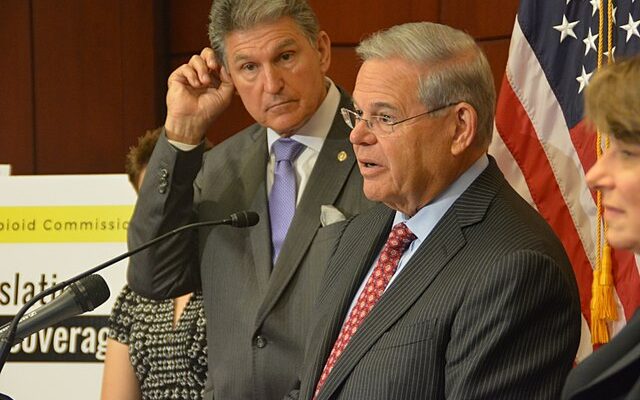 Another liberal Senator is facing a scandal that could further upset the precarious Democratic majority. A new report states that the Department of Justice has launched an investigation into New Jersey Senator Bob Menendez and his wife to see if they received illegal gifts from Garden State businesses, including a Mercedes-Benz, a beautiful apartment in the nation's capital, money, and even jewelry.
It turns out that the Biden family isn't the only Democrats in DC who receive nice "gifts" from foreign companies. 
According to an NBC affiliate in New York, investigators want to know if the gifts – which would be valued in the tens of thousands of dollars – came from the owner or associates of an Edgewater business that won a controversial exclusive contract to perform Halal meat certification with the Egyptian government – even though United States Department of Agriculture officials complained that the New Jersey firm had no previous experience in this field.

"I am sure it is going to end up in absolutely nothing," Menendez said last week denying any wrongdoing in connection with the ongoing federal corruption investigation.

Sources familiar with the matter say Damian Williams, U.S. Attorney for the Southern District of New York, along with FBI and IRS-Criminal Investigations agents are looking into whether the senator and his new wife Nadine Arslanian improperly took gifts from the owner or associates of IS EG Halal – and whether the senator took any action in return.

Menendez, a Democrat, serves as chair of the Senate Foreign Relations Committee helping to oversee billions of dollars in aid to Egypt.

"Prosecutors would obviously want to look if money, apartments, cars were given to the senator or someone close to him in return for one of his official acts," NBC News legal analyst Chuck Rosenberg said.
In 2019, IS EG Halal won the exclusive contract leading to several other companies being subsequently cut off by the Egyptian government, which led to millions of dollars in the company coffers. 
The DOJ is not just looking into a possible bribery scheme. The IRS has found a Democrat they're willing to investigate and wants to know if these "gifts" were accounted for in the senator's taxes. None of the items documented in the report appear listed on Menendez's senate disclosure forms of financial assets.
The New York Times noted that "until recently there had been few outward signs of movement in the federal investigation of Mr. Menendez since an initial blitz of subpoenas became public in October. And Mr. Menendez, 69, has continued to raise funds for his expected run next year for a fourth term in the Senate. The investigation is being conducted by federal prosecutors in Manhattan and the New York F.B.I. office.
Two weeks ago, as part of the same investigation, the Manhattan prosecutors subpoenaed documents tied to a bill that has stalled in the New Jersey Legislature that would limit the height of construction projects near the Palisades along the Hudson River. The subpoena asked for any correspondence about the bill from Mr. Menendez, Ms. Menendez or Fred Daibes, one of the region's most prominent developers, according to a person familiar with its contents who requested anonymity because they were not authorized to discuss the document publicly.
Mr. Daibes pleaded guilty last year to a federal banking crime as part of a negotiated agreement. The arrangement requires no prison time, and his sentencing has been delayed, fueling speculation that he was cooperating with the Menendez investigation."
A lawyer for Daibes, Timothy M. Donohue, told the newspaper that he had no comment regarding the investigation into the senator, but did "confirm that Mr. Daibes is absolutely not a cooperating witness in that matter or any other matter."
Menendez is seen as one of the shadiest people in Washington. He was first elected to a full term in 2006, wrote Politico, "despite a federal probe by then-New Jersey U.S. Attorney Chris Christie into a nonprofit that rented space from him while he helped it secure grants. No charges were ever filed and Menendez, who denied any wrongdoing, received a letter from federal officials in 2011 saying the investigation had been closed.
In 2015, after Menendez was indicted on federal bribery charges for allegedly doing political favors for a friend and political donor, Booker was one of the first New Jersey Democrats to publicly declare support for him.
Menendez beat those charges in 2017 after a lengthy trial, thanks to a hung jury in which 10 of 12 jurors wanted to find him not guilty on most charges.
During a courthouse speech after his trial's deadlock, Menendez decried prosecutors who 'could not understand or, even worse, accept that the Latino kid from Union City and Hudson County could grow up to be a United State senator and be honest.'"
[Read More: Biden Sending 'Anti-Terrorism' Money To Examine Conservative Groups]