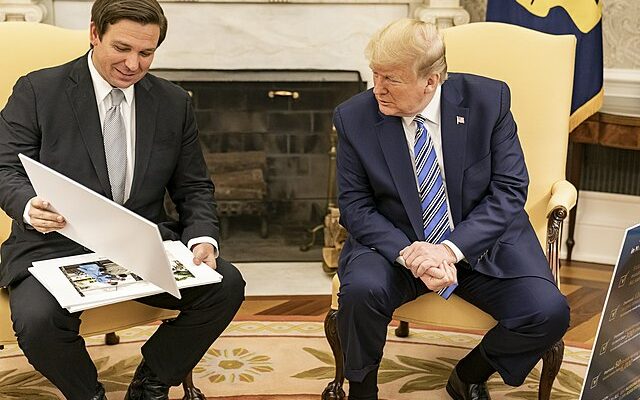 It was supposed to be a contest of dual rallies in Iowa over the weekend between Florida Governor Ron DeSantis and former President Donald Trump, but the latter got scared off by storm warnings in the area. For the first time, Ron DeSantis showed why so many of his supporters believe that he's in better position to beat Joe Biden and the Democrats rather than the former president who failed to be elected to a second term in 2020. 
Standing room only for @RonDeSantisFL in Iowa pic.twitter.com/krZcc6FthB

— Erin Perrine (@ErinMPerrine) May 13, 2023
After headlining two successful political events in Iowa, Mr. DeSantis made an unscheduled stop in Des Moines — a move aimed at highlighting the fact that Mr. Trump had abruptly postponed a planned Saturday evening rally in the area because of reports of possible severe weather, The New York Times wrote.

Mr. Trump's explanation for postponing the event drew skepticism from local Iowa officials and derision from DeSantis allies about the "beautiful" weather. And Mr. DeSantis — who has avoided direct conflict with Mr. Trump — essentially kicked sand in the former president's face by coming to an area that Mr. Trump claimed to have been told was too dangerous for him to visit.

After wrapping up his events on Saturday evening elsewhere in the state, Mr. DeSantis headed to Jethro's BBQ Southside, where he and his wife, Casey DeSantis, stood on a table outside and spoke to a cheering crowd. The barbecue joint was a short drive from where Mr. Trump had planned to host his own rally."
The rallies gave a foretaste for what is expected to DeSantis's theme against Trump. Republicans can either continue to play victims and lose with Donald Trump or win with Ron DeSantis. "Decrying a Republican 'culture of losing,' Florida Gov. Ron DeSantis sought Saturday to weaken former President Donald Trump's grip on the GOP," noted The Associated Press.
"DeSantis, expected to announce his 2024 presidential campaign any day, briefly flipped burgers and pork chops at an afternoon picnic fundraiser in Sioux Center that drew hundred of conservatives to the northwest corner of the state. From the podium, the 44-year-old governor highlighted his eagerness to embrace conservative cultural fights and sprinkled his remarks with indirect jabs at Trump.
'Governing is not about entertaining. Governing is not about building a brand or talking on social media and virtue signaling,' said DeSantis, who wore a blue button-down shirt without a tie or jacket. 'It's ultimately about winning and producing results.'
Video/audio "Republicans have lost a lot of elections recently," @RonDeSantisFL told Iowans assembled around him. "It requires commitment to principle. It requires courage. But if you are willing to do that and you are willing to deliver results, the people are there." pic.twitter.com/buUI6L89PC

— Dave Price (@idaveprice) May 14, 2023
Trump, a candidate since November, had hoped to demonstrate his political strength with a large outdoor rally in Des Moines, the capital, later in the day. He canceled the appearance hours before its scheduled start time due to a tornado warning."
Many on social media who were in attendance for the expected Trump rally posted pictures that made many question if the former president really canceled because of the weather and not because of a lack of a crowd.
Photos taken minutes after cancellation of the Trump "rally" in Des Moines, which was on its way to becoming an embarrassing bust. Note the lack of severe weather, which was cited as the reason for cancellation. Rough day for Team Trump. pic.twitter.com/03RG1i7SNv

— David Kochel (@ddkochel) May 13, 2023
A comment gathered by an AP reporter at the DeSantis rally showed the mindset that the Florida governor is up against as he tries to convince Republican primary voters that his time to lead is now rather than choosing Trump a third time. 
"I feel like it's still Trump's time," said Robert Bushard, 76, who said he drove about four hours from St. Paul, Minnesota, to see the former president. Of DeSantis, he said, "He'd be a good president after Trump."
Trump failed to win the popular vote twice against weak Democrats, but many Republicans seem willing to try nominating him a third time.
A recent poll showed that Trump currently leads DeSantis in both national polling and in Iowa. However, over the past few days, the Florida governor has received important endorsements from Iowa political leaders and conservative activists, which may prove vital in his campaign against Trump over the next nine months. 
Iowa was a stumbling block to Trump's first run for the presidency. He lost the state to Ted Cruz in 2016.
[Read More: China Labeled Problem By Most Important Intel Agency]